H

ave you ever had one of those days when everything just seems to be going the wrong way? Many would call it a bad day, or a day when you wake up on the wrong side of the bed. For example, you wake up late, get into traffic on the way to work, and get yelled at by your boss. Or maybe you also fail to deliver on a project that is past due and lose your phone on the way home. If all these things were to happen to you on the same day, that could be considered a very tough day. But what do you do on such days? How do you handle a bad day with elegance and grace? In this post, we will share certain tips you could use and fifteen bad day quotes to get you through.

Henry W. Longfellow was one of the most famous poets in the 19th century. Among his many works is one titled The Rainy Day. Within that poem is a now famous line in which he says, "into each life a little rain must fall". However, what is not so famous are his other lines, within the same poem, about hope beyond the clouds. He explains that even on those dark and deary, tough days, the sun is still shining somewhere. He concludes with the same encouraging thoughts we believe remain true today; that tough days don't come every day.

Before moving on, here are some related posts you might find just as inspiring:
In the next section, we will share five practical tips on what to do if you're having a bad day. We will then go on to share fifteen bad day quotes to get you through such days.
What to Do if You're Having a Bad Day
Here's something interesting to think about the next time you're having a tough day; everyone has them. Its an interesting thought because if everyone has them, how come one never knows when some people get them? Could it be that they just know how to handle them or are just more graceful in their efforts? Who knows?
Anyway, here are some useful tips one could employ when having a bad day:
Take deep Breaths and Calm down: While this may seem like a silly tip, it has the potential to work wonders. For example, did you know that most times, we ourselves are the reason why slightly difficult days become bad days? That's because we make things worse by overreacting and making rash, poor decisions that compound the problem. Sometimes, the best thing we can do when things go bad is take a minute to calm down and think.
Talk to Someone: Next, it may be helpful to talk to someone you can trust. Like we said earlier, it could be helpful if you had someone doublecheck the decisions you're making at such times. Ideally, this should be someone who isn't going through the same ordeal you are facing and can respond rationally.
Count your Blessings: While things may seem bad, sometimes, they are not quite as bad as we build them up to be in our heads. Instead of focusing on what things are going wrong, remind yourself of everything that's still right. By focusing on the good, you could get yourself in the right frame of mind to turn the day around.
Do something You Enjoy: Doing something you enjoy can also do a lot to lift your spirits and help you have a better day. If you can, try setting aside a few minutes to do something that could cheer you up. Simple, easy to do things like listening to a quick song or taking a quick walk could help you relax.
Read Inspirational Quotes: Another thing you could do, like you're doing now, is dive into some inspirational materials. For example, inspiring quotes have the potential to encourage, motivate, and even inspire you on the toughest of days. A few good quotes, rightly presented, could be all you need to turn a bad day into a great one. And as a reminder, we have lots of inspirational materials on our website, here at Innovate Design Studios Ltd.
Before moving on, we encourage you to subscribe to our electronic mailing list today. Your free subscription allows us to send you inspirational materials directly via email. Simply enter your name, email address, and click the submit button below to subscribe:
Please enter your name and email address to subscribe.
In the next section, we will share some specially curated bad day quotes to help you move along on tough days.
Fifteen Bad Day Quotes for Tough Days
Here are some inspiring bad day quotes to help get you through tough days:
Use your struggles and frustrations today to motivate you rather than annoy you. You are in control of the way you look at life. Be mindful. – Marc and Angel
Sometimes in life, we need a few bad days in order to keep the good ones in perspective. – Colleen Hoover
Maybe it's not about having a beautiful day, but about finding beautiful moments. Maybe a whole day is just too much to ask. I could choose to believe that in every day, in all things, no matter how dark and ugly, there are shards of beauty, if I look for them. – Anna White
No matter what the day brings and no matter how hard life hits you, if you can breathe, smile, and keep moving on! Once you have life, know that God is alive! – Ernest Agyemang Yeboah
When nothing goes my way, when all attempts fail, when the darkest clouds in the sky seem bent on hovering over me while everyone with whom I come into contact flashes a nasty scowl, I find some comfort in the thought of a fresh tomorrow. I am thankful for the opportunity to try again. – Richelle E. Goodrich
A day gone is a day gone. As they say, don't let a bad day turn into a bad year. Every sunset is an opportunity to reset. – Richie Norton
You have to remember that the hard days are what make you stronger. The bad days make you realize what a good day is. If you never had any bad days, you would never have that sense of accomplishment! – Aly Raisman
We don't have a choice in how or when our bad days will blindside us. But what we do choose is how we allow them to leave us once they're gone. You can use those moments as a catalyst to spur you on to greater things or you can let it be the event that breaks you and leaves you shattered and forever lost in darkness. – Sherrilyn Kenyon
When you're having what you feel like is a "bad day" and then someone comes along out of nowhere and extends to you the simplest of kind gestures, you feel it so deeply within your heart. – Miya Yamanouchi
There's always a way through every challenge. You need a heart full of commitment. A lens focused on positivity. And a willingness to travel unexplored paths. Faith forward. You'll get there. – Karen Salmansohn
What? You're having a bad day? Think of those who didn't wake up this morning and can no longer live this day. – Patty Medina
Bad days makes you stronger, those are the best days because God is talking to you, you just have to listen closely. Don't let your tears become louder than his voice. – Les Simple
You can become blind by seeing each day as a similar one. Each day is a different one, each day brings a miracle of its own. It's just a matter of paying attention to this miracle. – Paulo Coelho
There would be no cloud-nine days without rock-bottom moments left below. – Richelle E. Goodrich
So you had a bad day. Kick it aside and be grateful for one less bad day to pass through. – Richelle E. Goodrich
The sixth quote on this list of bad day quotes for tough days is our favorite of them all. Richie Norton, the bestselling author was right when he said a day gone is a day gone. If there's nothing that can be done when a day is very bad, we can be grateful for tomorrow.
Which quote on our list did you find most inspiring? Feel free to let us know by leaving a comment below or on social media. As always, we would love to hear from you.
Today's Funny Quote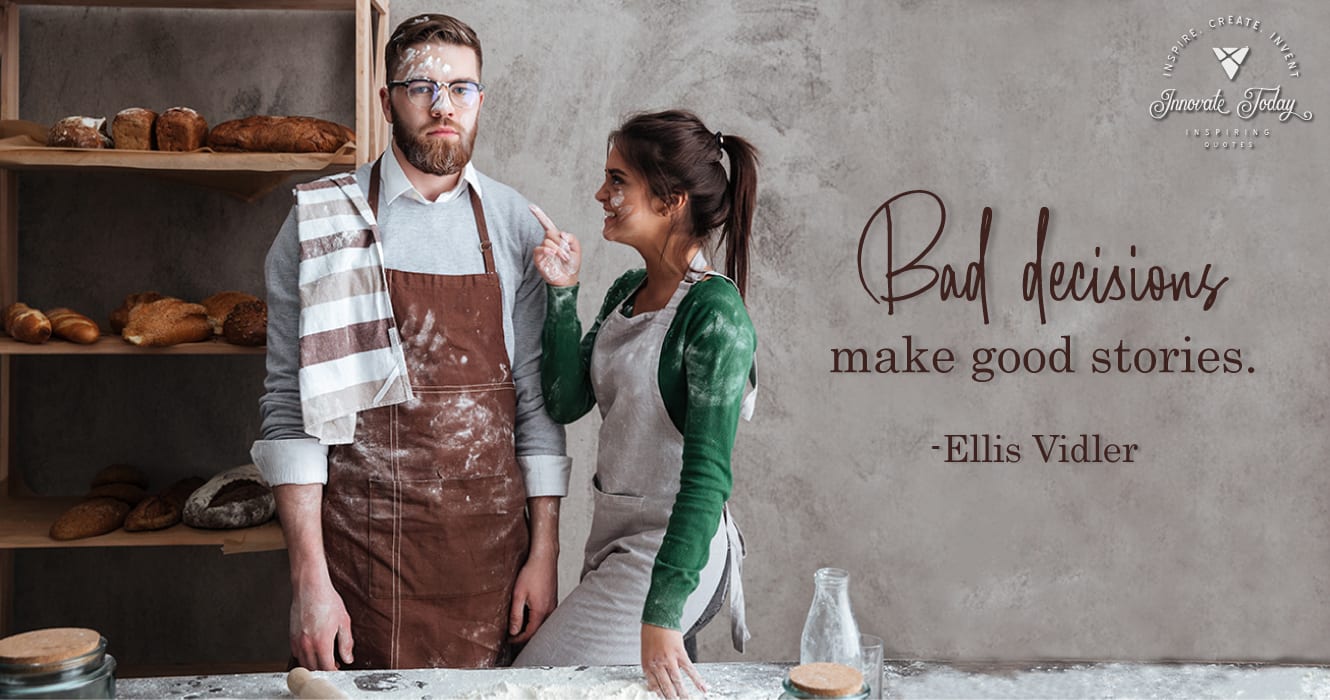 Our funny quote for today is by Ellis Vidler, the Author
Bad decisions make good stories.
Do you agree? What bad decisions have you made in the past that you have learnt from and that make good stories today? Feel free to leave us a comment with your thoughts at the end of this post.
Did you know that Innovate Today is a part of Innovate Design Studios Ltd? We are a web design company that provide premium web design, website maintenance and graphics services. If you'd like to know more about the service we provide, feel free to check out our Services page. On the other hand, if you'd like to get a free, no obligation quote for your web design project, contact us to submit a quote request.
If you found this post inspiring, kindly remember to share it on social media. Also remember to follow us on Facebook, Twitter, Instagram and LinkedIn. Our social media handle is @idscreate.
Have a great weekend, stay safe and we will see you again next week with more inspiring posts.

Innovate Design Studios creates innovative web design solutions that provide you with a secure, custom designed web presence that promotes your business and generates revenue and exposure.