I

n today's post, we would like to share some inspirational women's day quotes in celebration of International Women's Day. On March 8 every year, this global holiday is celebrated to recognize the cultural, political, and socioeconomic achievements of women. The United Nations is one of the many multi-national organizations around the world that celebrates this holiday. This year, the theme for the International Women's Day celebrations is Gender equality today for a sustainable tomorrow. So, in commemoration of the International Women's Day celebrations, here are some inspirational women's day quotes.

While it may not be discussed as often as it should, gender bias is an issue of global import. For example, did you know that on average, women earn 20% less than men for the same role? In some occupations, that gender pay gap could be even higher. As part of this year's celebrations for International Women's Day (IWD), the #breakthebias was created. Among other things, it encourages everyone to stand up against bias and discrimination against women.

Before moving on to share our inspirational women's day quotes, here are some related posts you might enjoy:
Also, as we like to encourage, if you're yet to subscribe to our electronic mailing list, you can do so today. Your free subscription allows us to send you inspiring posts like this via email. To sign up, simply enter your name and email in the subscribe section below:
Please enter your name and email address to subscribe.
With that said, let's get right to it and share twenty-two inspirational women's day quotes to celebrate women's day.
Twenty-Two Inspirational Women's Day Quotes to Celebrate Women's Day
Here are twenty-two quotes that celebrate women, their achievements and importance in the lives of everyone:
Women are the largest untapped reservoir of talent in the world. – Hillary Rodham Clinton
Women are leaders everywhere you look, from the CEO who runs a Fortune 500 company to the housewife who raises her children and heads her household. Our country was built by strong women, and we will continue to break down walls and defy stereotypes. – Nancy Pelosi
Whatever glory belongs to the race for a development unprecedented in history for the given length of time, a full share belongs to the womanhood of the race. – Mary McLeod Bethune
They may talk of a comet, or a burning mountain, or some such bagatelle; but to me a modest woman, dressed out in all her finery, is the most tremendous object of the whole creation. – Oliver Goldsmith
If you want something said, ask a man; if you want something done, ask a woman. – Margaret Thatcher
There's something so special about a woman who dominates in a man's world. It takes a certain grace, strength, intelligence, fearlessness, and the nerve to never take no for an answer. – Rihanna
A strong woman looks a challenge in the eye and gives it a wink. – Gina Carey
A woman with a voice is, by definition, a strong woman. But the search to find that voice can be remarkably difficult. – Melinda Gates
A woman is like a tea bag: You can't tell how strong she is until you put her in hot water. – Eleanor Roosevelt
What's the greatest lesson a woman should learn? That since day one, she's already had everything she needs within herself. It's the world that convinced her she did not. – Rupi Kaur
And one day she discovered that she was fierce and strong and full of fire, and that not even she could hold herself back, because her passion burned brighter than her fears. – Mark Anthony
Think like a queen. A queen is not afraid to fail. Failure is another steppingstone to greatness. – Oprah Winfrey
In our society, the women who break down barriers are those who ignore limits. – Arnold Schwarzenegger
What we women need to do, instead of worrying about what we don't have is just love what we do have. – Cameron Diaz
She is strong, but not in the ways most people think. She loves more than she'll ever get back and she knows it, yet she loves anyway. – J. M. Storm
The world needs strong women who will lift and build others, who will love and be loved. Women who live bravely, both tender and fierce; women of indomitable will. – Amy Tenney
You don't have to play masculine to be a strong woman. – Mary Elizabeth Winstead
I love women. They're the best thing ever created. If they want to be like men and come down to our level, that's fine. – Mel Gibson
Love yourself first and everything else falls into line. You really have to love yourself to get anything done in this world. – Lucille Ball
God gave women intuition and femininity. Used properly, the combination easily jumbles the brain of any man I've ever met. – Farrah Fawcett
Women are incredible in groups together. Terrifying. Men have nothing on them – Michael Hutchence
A man's got to do what a man's got to do. A woman must do what he can't. – Rhonda Hansome
Which of these inspirational women's day quotes did you like best? We liked the seventh quote about how a strong woman looks challenges in the eye and gives them a wink. Also, the thirteenth quote about women who break barriers is very instructive, especially for women of today.
Feel free to let us know which quote you liked best. As always, we would love to hear from you.
Today's Funny Quote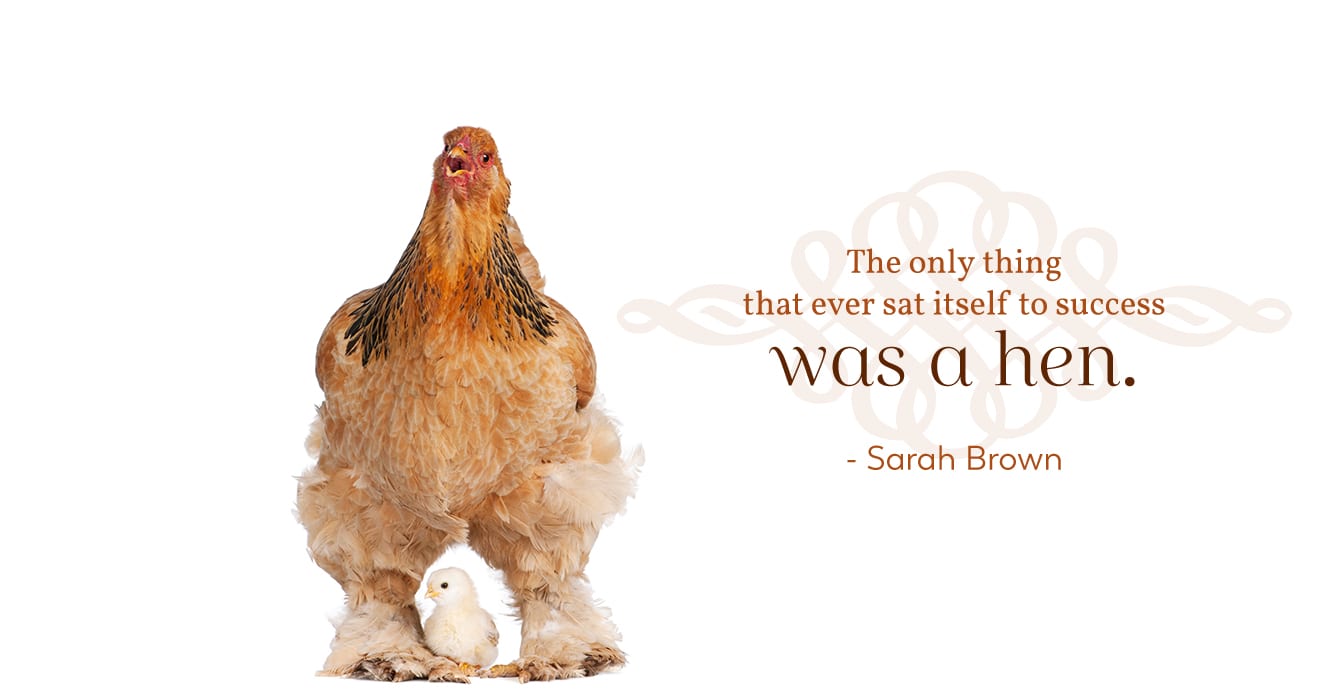 Our funny quote today is by Sarah Brown, the American Actress. She said:
The only thing that ever sat its way to success was a hen.
Do you agree? Let us know what you think in the comments section at the end of this post.
Did you know that Innovate Today is a part of Innovate Design Studios Ltd? We are a web design company that provide premium web design, website maintenance and graphics services. If you'd like to know more about the service we provide, feel free to check out our Services page. On the other hand, if you'd like to get a free, no obligation quote for your web design project, contact us to submit a quote request.
If you found this post inspiring, kindly remember to share it on social media. Also remember to follow us on Facebook, Twitter, Instagram and LinkedIn. Our social media handle is @idscreate.
Have a great weekend, stay safe and we will see you next week with more inspiring posts.

Innovate Design Studios creates innovative web design solutions that provide you with a secure, custom designed web presence that promotes your business and generates revenue and exposure.