I

t is not an understatement to say that leaders shape the world in which we all live. Whether for good or bad, the effects of leadership are wide ranging and affect everyone. In this context, we can understand that there are bad, good, and great leaders. The question though is this: what are the qualities of a great leader? In our post today, we will delve, once again, into the subject of leadership and what it is. We will also identify those unique qualities that make can make any leader an exceptional one.

Recently, the importance of great leadership and the role it plays in shaping our world has become apparent. A prominent example has been recent conflicts in Europe. Regardless of where one stands on the issues, one thing is clear; it can only be fixed by leaders.

Before discussing what leadership is though, here are some related posts we've written that you might enjoy:
In the next section, we will take a brief look at what leadership is. We will then go on to itemize those unique qualities that make a leader great.
What is Leadership?
Leadership can be defined using two simple words: influence and people. To put it differently, leadership is about influencing people. Leaders inspire, challenge, and encourage people to accomplish collective goals.
You've probably noticed that this definition of leadership is amoral. This is because we believe that leadership as a skill can be used to both positive and negative effects. Men like Adolf Hitler and Benito Mussolini come to mind as example of leadership used to negative effects.
How would you define leadership in your own words? Feel free to leave us a comment on social media or at the end of this post.
Also, if you are yet to subscribe to our electronic mailing list, you can do so today. Your subscription to our mailing list allows us to send you inspiring posts like this via email. To subscribe, simply enter your name and email address in the subscribe section below:
Please enter your name and email address to subscribe.
Its free and you can unsubscribe at any time.
In the next section, we will identify eight unique qualities of a great leader that anyone could emulate.
Eight Unique Qualities of a Great Leader
Here are eight unique qualities great leader have in common:
Vision: Earlier in this post, we mentioned how leadership has a way of shaping the world in which we live. One unique quality of all good leaders is that they have vision. In other words, they can see, with their mind's eye, what their accomplished goal looks like. However, unlike good leaders, great leaders also know how to share their vision with others and get them on board to accomplish it. Great leaders also know how to inspire others to see their vision and help them see it to fruition.
Integrity: Integrity is another trait great leaders have. Quite simply, integrity means being honest, trustworthy, and reliable. Leaders with integrity live their lives by a moral code and will not break it for anyone or anything.
Open Mindedness: Being open-minded is another crucial quality of all great leaders. This is the ability to break out of a set thinking pattern to find innovative and creative solutions to problems. Among other things, it involves surrounding oneself with skilled advisers and being willing to learn new things.
Patience: Patience, they say, is a virtue. However, it is more than just being willing to wait. Patience is rooted in an understanding that sustained efforts over time will produce positive results. That understanding is what gives great leaders the confidence to wait for their success to mature.
Resilience: Another unique quality of a great leader to emulate is resilience. The word resilience comes from a combination of words which include strength, toughness, resistance, and the sheer ability to last. As can be seen from this definition, resilience is not a quality that is immediately apparent. Rather, it is a quality of leadership that is revealed over time.
Excellent Communication Skill: Like we said earlier, great leaders have excellent communication skills. They know how to get their ideas across to others and how to receive useful feedback. Great leaders are intentional about clarity when expressing their ideas, sharing information, or receiving feedback. In addition, they usually leave communication lines open and encourage active listening.
Ability to Delegate: While this may seem like a common quality, it implies a heavy focus on teammates, and building the right team. After all, without trained, skilled teammates, there would be no one to delegate important tasks to. Great leaders get the right teammates, give them the right tasks for their skill level and invest in their growth.
Creativity: In our context, creativity goes beyond the ability to generate innovative ideas and solutions to include strategic thinking. Great leaders are creative in their approach to problem solving and changing situations. They are also willing to accept input from their teammates on how to move forward towards their goals.
Are there any other unique qualities great leaders have that we have not listed here? Feel free to let us know what you think they are and how useful they could be. Simply leave us a comment below or on social media.
What makes Great Leadership exceptional?
At this point, it is worth noting that most leaders have the potential to become great leaders. As you may have noticed, most of these qualities are similar to what a good leader would possess. However, we believe that the primary distinction between a good leader and a great one is consistency. For example, a great leader has integrity and is always honest, trustworthy are reliable. Also, while a good leader tries to communicate effectively sometimes, a great leader does so all the time.
In fact, it is possible to conclude that the difference between a good leader and a great leader is dependent on how consistent they are with the qualities listed above.
As we conclude, we would like to leave you with this question: what separates a great leader from a good one? Is it consistency, like we've said, or are there other qualities that make them exceptionally great? Feel free to leave us your thoughts and comments. As always, we would love to hear from you.
Today's Funny Quote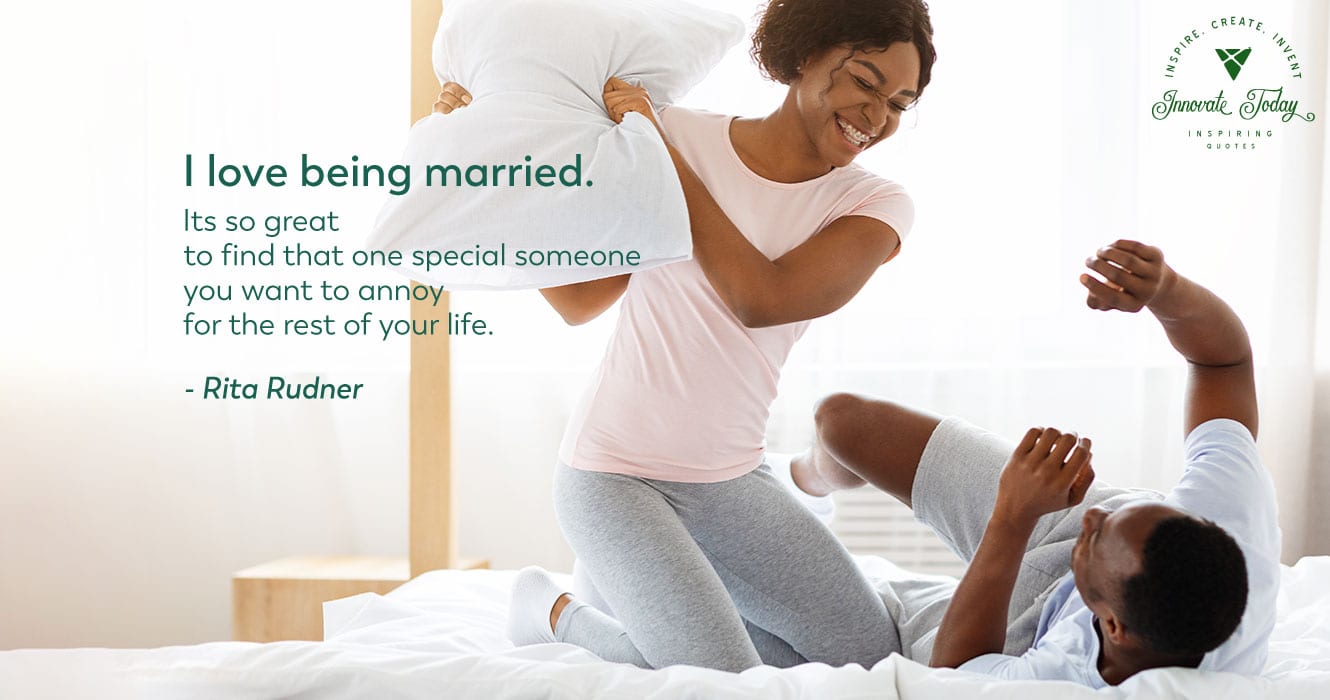 As is our custom, we will end today's post with a funny quote. Our funny quote for today is by Rita Rudner, the American Comedian. She says:
I love being married. It's so great to find that one special person you want to annoy for the rest of your life.
Do you agree with Rita on marriage? Leave us a comment below with your thoughts.
Did you know that Innovate Today is a part of Innovate Design Studios Ltd? We are a web design company that provide premium web design, website maintenance and graphics services. If you'd like to know more about the service we provide, feel free to check out our Services page. On the other hand, if you'd like to get a free, no obligation quote for your web design project, contact us to submit a quote request.
If you found this post inspiring, kindly remember to share it on social media. Also remember to follow us on Facebook, Twitter, Instagram and LinkedIn. Our social media handle is @idscreate.
Have a great week ahead, stay safe and we will see you later in the week with more inspiring posts.

Innovate Design Studios creates innovative web design solutions that provide you with a secure, custom designed web presence that promotes your business and generates revenue and exposure.