B

esides traditional and online marketing strategies, social media platforms can provide an excellent way for businesses to reach potential customers. For example, did you know that TikTok and Facebook have a combined total of 4 billion active users every month? That's amazing! In more practical terms, this means one has the potential to reach more than half the people on earth today. That should be enough reason for any business to get started with social media. However, for our more skeptical readers, in this post, we will present additional reasons why you should use social media. We will also list the top five best social media platforms for business marketing we believe you can use. By the end of this post, we believe you'll have a better understanding of the benefits of social media. We will also provide pointers on which platforms you could start with to promote your business.

Over the last fifteen years, social media has grown from a simple tool for connecting with friends into an ecommerce tool. One clear proof of this is the presence of all major businesses on social media platforms like Facebook and YouTube. It stands to reason therefore that if you want to grow your business, social media is the way to go. But what is social media and what benefits could it offer your business? Also, how does social media differ from having a business website and how much does it cost? We will attempt to answer these questions in the following sections.

Before proceeding though, here are some related posts we've written that you might find useful:
As we also like to remind, do consider subscribing to our electronic mailing list. Your subscription allows us to send you inspiring posts like this via email. To subscribe, simply enter your name and email address in the subscription box below:
Please enter your name and email address to subscribe.
Its completely free and you can unsubscribe at any time.
In the next sections, as mentioned earlier, we will explain what social media is and its benefits to your business. We will then conclude by highlighting five of the best social media platforms for business marketing.
What is Social Media?
According to Cambridge Dictionary, social media refers to "forms of media that allow people to communicate and share information using the internet or mobile phones". Originally, social media platforms began as websites people could use to connect with each other. Examples of original social media platforms include Myspace, Hi5, Yahoo Messenger and Skype.
Today, the cornerstone principles of modern social media platforms remain the same: connecting people. However, in addition, they also include marketing, connecting businesses with customers, and transacting business online.
Reasons Why your Business should use Social Media
Social media platforms have become an important part of marketing for businesses due to its tech enabled activities. For example, companies can now use these platforms to engage with customers, advertise, promote products, and offer customer service. Here are some practical reasons why you should use social media platforms for your business:
Increase Brand Awareness: First, social media platforms are an excellent way to create brand awareness for your business, products, or services. Also, access to the potential audiences available on these social media platforms, combined with marketing efforts could significantly increase sales.
Quicker and Faster Customer Service: Another benefit social media could offer your business is faster customer service. Through these platforms, businesses can interact directly with customers and provide support for their products. As a result, social media platforms also help create customer engagement, repeat sales, and provide customer satisfaction.
Increased Search Engine Ranking: Customer engagement on social media also helps increase one's ranking on traditional search engines. In other words, increased interaction translates to increased ranking and website traffic for your business.
Keep Track of Competitors: Another advantage social media provides is that it helps businesses keep track of competitors. Unlike websites which could be a closed book, on social media, one can identify sales tactics competitors use. Such information could help inspire one's online marketing strategies.
Generate more Sales: Social media marketing is cost effective and relatively inexpensive way to generate more sales, compared to other traditional advertising methods.
In your experience, what other benefits does social media have for businesses? Let us know by leaving a comment at the end of this post.
Top Five Best Social Media Platforms for Business Marketing
Earlier on, we raised the question of how social media pages differ from business websites. While there are several similarities, the primary difference is that social media pages are hosted on the social media platform. On the other hand, a website is self-hosted, with its own domain name, web hosting, etc.
Here are five of the best social media platforms to use for your business marketing efforts:
 As an entrepreneur or business owner, what social media platforms have you used for your business? Which of them gave you the best results for your marketing efforts? Feel free to leave us your comments and thoughts on social media or at the end of this post. As always, we would love to hear from you.
Today's Funny Quote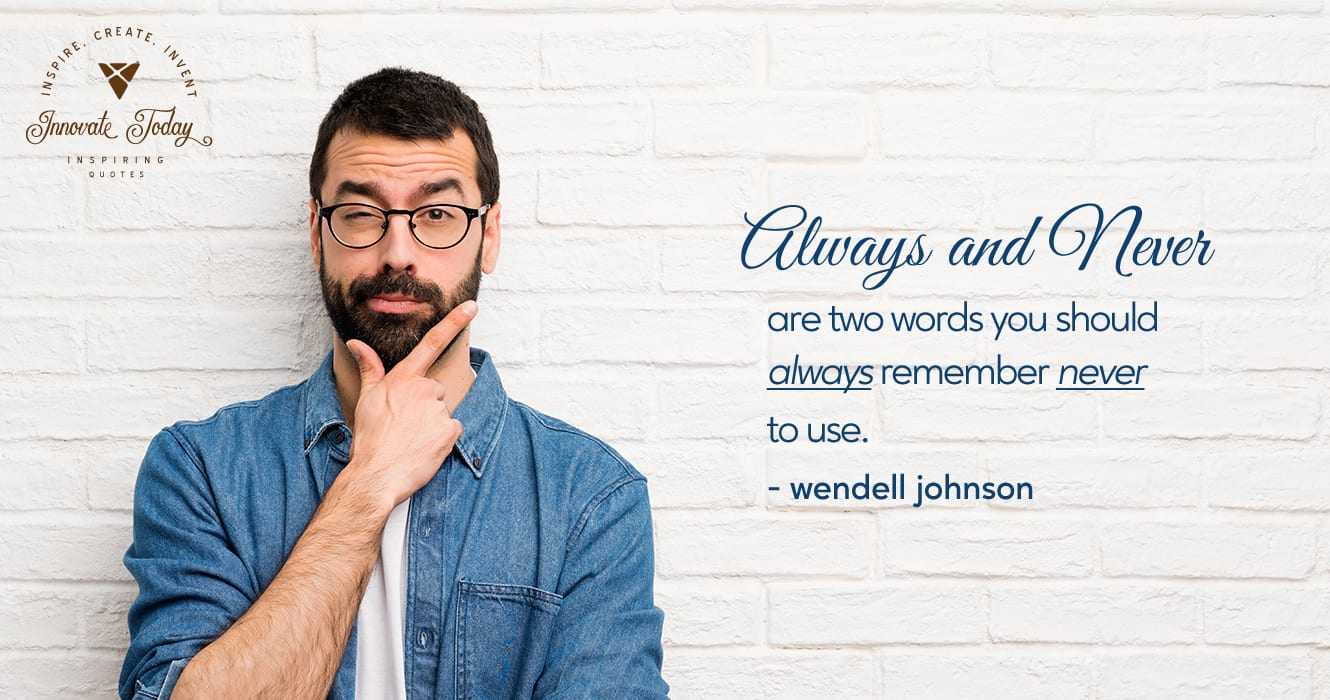 Our funny quote for today is by Wendell Johnson, the American Psychologist, Actor and Author:
Always and never are two words you should always remember never to use.
Did you get it? Let us know if you do in the comments section below.
Did you know that Innovate Today is a part of Innovate Design Studios Ltd? We are a web design company that provide premium web design, website maintenance and graphics services. If you'd like to know more about the service we provide, feel free to check out our Services page. On the other hand, if you'd like to get a free, no obligation quote for your web design project, contact us to submit a quote request.
If you found this post inspiring, kindly remember to share it on social media. Also remember to follow us on Facebook, Twitter, Instagram and LinkedIn. Our social media handle is @idscreate.

Innovate Design Studios creates innovative web design solutions that provide you with a secure, custom designed web presence that promotes your business and generates revenue and exposure.