R

unning a successful business as an entrepreneur is no easy task. It requires, focus, discipline, passion, and the courage to face problems, believing you will find creative solutions for them. That daily grind of the entrepreneur's life can be challenging. As a matter of fact, it is possible to lose your confidence and spark as an entrepreneur over time. So, in this post, we would like to share some powerful entrepreneur quotes every business minded person should live by. In addition, we will also share five common characteristics successful entrepreneurs have in common. Our hope is that these inspiring quotes for entrepreneurs will keep you motivated as you pursue your business goals.

Being an entrepreneur is like being a marathon runner. In both cases, your success is not a factor of speed but rather of stamina, consistency, and persistence. Being able to clearly outline your business goals and pursue them without relenting is key to becoming successful.

Before moving on to identify common characteristics among successful entrepreneurs, here are some related posts you might enjoy:
Also, as we like to remind, do subscribe to our electronic mailing list today. Your subscription allows us to send you inspiring posts like this directly through email. To subscribe, simply enter your name and email address below:
Please enter your name and email address to subscribe.
Your subscription is completely free, and you can unsubscribe at any time.
In the next section, we will discuss five common characteristics of successful entrepreneurs. We will then go on to share twenty-five powerful entrepreneur quotes to keep you motivated.
Five Common Characteristics of Successful Entrepreneurs
Being an entrepreneur requires a lot of courage and confidence. You are creating something new that you believe could help solve problems and make money. However, in many cases, you have no guarantees that your ideas will pan out or be successful. One excellent way to tell you're on the right track is to compare yourself to other successful entrepreneurs. Luckily, history is filled with the stories of many successful entrepreneurs who have become household names today. People like Microsoft's Bill Gates, Apple's Steve Jobs, or Hershey's Milton Hershey come to mind.
Here are five common characteristics you might find among most successful entrepreneurs:
They have Passion: Every successful entrepreneur is passionate about what they do. They believe in it and in its ability to solve problems and generate income. Passion is what motivates an entrepreneur and keeps her (or him) going in challenging times.
They are Risk Takers: Successful entrepreneurs know that sometimes, it is important to take calculated risks. In this regard, they are not afraid of failure and are willing to bet on themselves to succeed.
Successful Entrepreneurs are Resilient: Resilience is the ability to bounce back from difficult situations, including outright failure. Being tough enough to pick oneself up, find your mistakes and come back successfully is a unique trait.
They are Flexible: Being flexible is an essential part of problem solving and is common among most successful entrepreneurs. Also, they are willing to adjust their strategies in the face of changing circumstances and new information.
They are Knowledgeable: Successful entrepreneurs are voracious learners and consume as much information as they can about their industries. They know that information can give them an edge above their competition and provide the tools they need to succeed.
What other characteristics do you think are common among successful entrepreneurs? We would like to know which of them you think are most important. Feel free to leave us a comment at the end of this post or on social media.
In the next section, we will share twenty-five specially curated entrepreneur quotes with you.
Twenty-Five Powerful Entrepreneur Quotes to Live By
Here are twenty-five powerful quotes for entrepreneurs to live by. We encourage you to think over them deeply and let them guide your thinking and business plans.
Life is like the monkey bars; you have to let go to move forward. Once you make the decision to leap into entrepreneurship, be sure to loosen your grasp on old concepts so you can swing your way to new ones. – Leah Busque
Twenty years from now you will be more disappointed by the things that you didn't do than by the ones you did do. So, throw off the bowlines. Sail away from the safe harbor. Catch the trade winds in your sails. Explore. Dream. Discover. – Mark Twain
The price of success is hard work, dedication to the job at hand, and the determination that whether we win or lose, we have applied the best of ourselves to the task at hand. – Vince Lombardi
Entrepreneurship is living a few years of your life like most people won't so you can spend the rest of your life like most people can't. – Warren G. Tracy's Student
The most valuable thing you can make is a mistake – you can't learn anything from being perfect. – Adam Osborne
There is nothing more beautiful than someone who goes out of their way to make life beautiful for others. – Mandy Hale
You have to see failure as the beginning and the middle, but never entertain it as an end. – Jessica Herrin
If you're starting something on your own, you better have a passion for it, because this is hard work. – Sallie Krawcheck
Be undeniably good. No marketing effort or social media buzzword can be a substitute for that. – Anthony Volodkin
As a founder, lay all the possible scenarios – from best to worst – in front of you, so you don't get surprised when something happens. – Brian Wong
My biggest motivation? Just to keep challenging myself. I see life almost like one long University education that I never had – everyday I'm learning something new. – Richard Branson
Every time you state what you want or believe, you're the first to hear it. It's a message to both you and others about what you think is possible. Don't put a ceiling on yourself. – Oprah Winfrey
It takes 20 years to build a reputation and five minutes to ruin it. If you think about that, you'll do things differently. – Warren Buffett
Success is walking from failure to failure with no loss of enthusiasm. – Winston Churchill
I don't know the key to success, but the key to failure is trying to please everybody. – Bill Cosby
Keep away from people who try to belittle your ambitions. Small people always do that, but the really great ones make you feel that you, too, can become great. – Mark Twain
Your work is going to fill a large part of your life, and the only way to be truly satisfied is to do what you believe is great work. – Steve Jobs
If people are doubting how far you can go, go so far that you can't hear them anymore. – Michelle Ruiz 
Don't limit yourself. Many people limit themselves to what they think they can do. You can go as far as your mind lets you. What you believe, remember, you can achieve. – Mary Kay Ash
Our greatest fear should not be of failure but of succeeding at things in life that don't really matter. – Francis Chan
You've got to get up every morning with determination if you're going to go to bed with satisfaction. – George Lorimer
Success is not the key to happiness. Happiness is the key to success. If you love what you are doing, you will be successful. – Albert Schweitzer
It's more effective to do something valuable than to hope a logo or name will say it for you. – Jason Cohen
If you push through that feeling of being scared, that feeling of taking a risk, really amazing things can happen. – Marissa Mayer
Your reputation is more important than your paycheck, and your integrity is worth more than your career. – Ryan Freitas
Which of these twenty-five entrepreneur quotes to live by did you like best? We loved the second, seventeenth, nineteenth and twenty-third quotes. Most especially though, we loved the ninth quote about being undeniably good at what one does. Feel free to let us know your favorite quotes. As always, we would love to hear from you.
Today's Funny Quote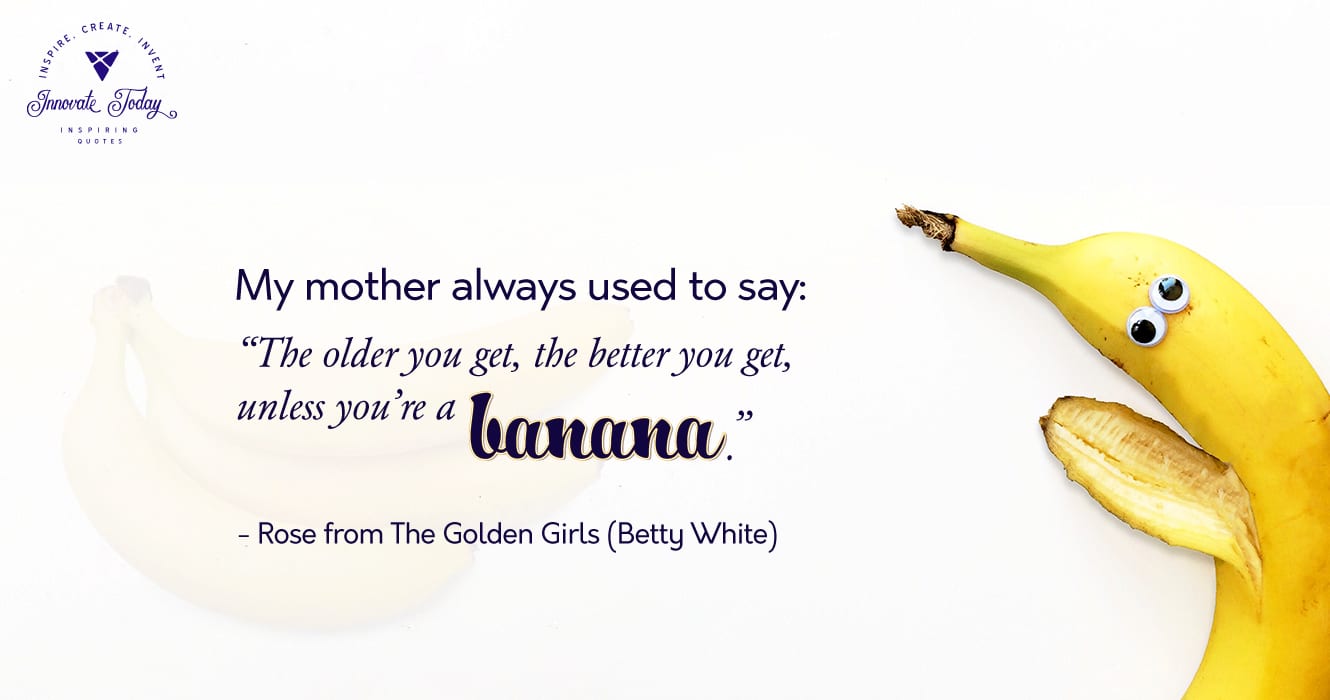 As is our custom, we would like to end today's post with a funny quote. Our funny quote today is by Rose (Betty White), from the Golden Girls. She said:
My mother always used to say: The older you get, the better you get, unless you're a banana.
What do you think? Do we naturally get better with age? Let us know what you think by leaving a comment in the comments section at the end of this post.
Did you know that Innovate Today is a part of Innovate Design Studios Ltd? We are a web design company that provide premium web design, website maintenance and graphics services. If you'd like to know more about the service we provide, feel free to check out our Services page. On the other hand, if you'd like to get a free, no obligation quote for your web design project, contact us to submit a quote request.
If you found this post inspiring, kindly remember to share it on social media. Also remember to follow us on Facebook, Twitter, Instagram and LinkedIn. Our social media handle is @idscreate.
Have a great week ahead, continue to stay safe and we'll see you later this week with more inspiring posts.

Innovate Design Studios creates innovative web design solutions that provide you with a secure, custom designed web presence that promotes your business and generates revenue and exposure.