W

e've put together these really funny work quotes for anyone out there having an especially tough time at work. As we all know, it's not always easy to wake up daily, head to work and put in your best. As a matter of fact, for some, that daily grind can be brutal; especially if you work multiple jobs. One highly recommended way to deal with work related stress and decompress is through levity. We believe these funny workplace quotes will help ease tensions and get you up and going in no time.  

Work can be tedious, difficult, and sometimes repetitive and boring. Nevertheless, for most of us, it is a significant part of life; especially if you want to make money. But what if work could be more enjoyable and rewarding? We believe this is possible if you work in something you are passionate about. That passion will naturally fuel your enthusiasm, interest, and focus, which in turn will make you more successful.

Here are some related posts we believe you might find equally helpful:
As we also like to remind, do consider subscribing to our electronic mailing list today. Your free subscription allows us to send you great posts like this directly via email. To subscribe, simply enter your name and email below and hit the submit button:
Please enter your name and email address to subscribe.
Our mailing list is spam-free, and you can unsubscribe at any time.
With that said, lets jump right into it and share these fifteen really funny work quotes. We hope they help you get through your long and busy days at work.
Fifteen really Funny Work Quotes to get You through your Day
So, we scoured the internet to select fifteen of the funniest quotes about work we could find. We hope you enjoy them as much as we did putting them together:
As I have gotten older and wiser, I discovered that there are six things that I really loved about my job. Pay day, lunch time, quitting time, vacation time, holidays, and of course retirement. – Tom Goins
If you think your boss is stupid, remember: you wouldn't have a job if he was any smarter. – John Gotti
The brain is a wonderful organ; it starts working the moment you get up in the morning and does not stop until you get into the office. – Robert Frost
If A equals success, then the formula is A = X + Y + Z. Where X is working. Y is playing. Z is keeping your mouth shut. – Albert Einstein
Nobody ever wrote down a plan to be broke, fat, lazy, or stupid. Those things are what happen when you do not have a plan. – Larry Winget
I always arrive late at the office, but I make up for it by leaving early. – Charles Lamb
If hard work is the key to success, most people would rather pick the lock. – Claude McDonald
If you had to identify in one word the reason why the human race has not achieved and never will achieve its full potential, that word would be meetings. – Dave Barry
I always wanted to be somebody, but now I realize I should have been more specific. – Lily Tomlin
Opportunity does not knock; it presents itself when you beat down the door. – Kyle Chandler
One of the symptoms of an approaching nervous breakdown is the belief that one's work is terribly important. – Bertrand Russell
Give a man a fish, and you'll feed him for a day. Teach a man to fish, and he'll buy a funny hat. Talk to a hungry man about fish, and you're a consultant. – Scott Adams
Why do people say they wish every day was Friday? If it was always Friday, we'd be here every freakin' day. – Ed Bernard
By working faithfully eight hours a day you may eventually get to be boss and work twelve hours a day. – Robert Frost
It's a funny feeling to work with people who you consider your colleagues and to realize that they actually are young enough to be your children. – Alan Alda
Which of these funny work quotes did you like best? We loved the first quote about six things to love about your job, and the third quote by Albert Einstein. By the way, can you identify what six things you love most about your job? Also, do you agree with Einstein that one of the elements in the formula for success is "keeping your mouth shut"? Do consider leaving us a comment at the end of this post or on social media. You could also just leave a note to say hi. As always, we would love to hear from you.
Today's Funny Quote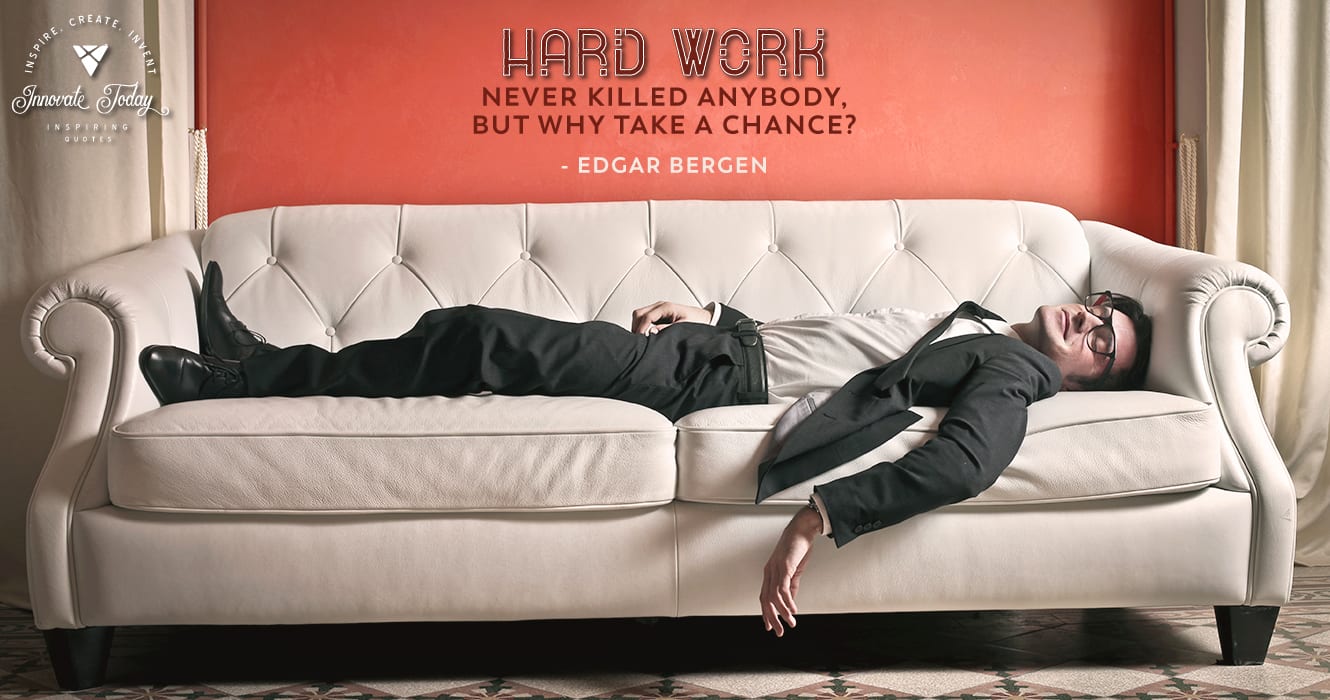 Our funny quote for today is by Edgar Bergen, the American Actor and Comedian. He said:
Hard work never killed anybody, but why take a chance?
As we conclude, remember that having passion for what you do can help one overcome many work related hurdles.
Did you know that Innovate Today is a part of Innovate Design Studios Ltd? We are a web design company that provide premium web design, website maintenance and graphics services. If you'd like to know more about the service we provide, feel free to check out our Services page. On the other hand, if you'd like to get a free, no obligation quote for your web design project, contact us to submit a quote request.
If you found this post inspiring, kindly remember to share it on social media. Also remember to follow us on Facebook, Twitter, Instagram and LinkedIn. Our social media handle is @idscreate.
Have a wonderful weekend, stay safe and we will see you next week with more inspiring posts.

Innovate Design Studios creates innovative web design solutions that provide you with a secure, custom designed web presence that promotes your business and generates revenue and exposure.