I

n our post today, we will share seven tips on how to achieve career success this year. As the year commences, you may be wondering what steps you should take to achieve professional success and distinguish yourself. We believe there are practical steps that can be taken to distinguish oneself and achieve success. So, today, we will attempt to define career success and identify practical steps one can take to achieve it.

As we already know, the business world is extremely competitive. This competition is further driven by modern technologies that make doing business across geographical boundaries less expensive and complex. Sadly, this is the business world in which we must not only compete today but also strive to succeed. In addition, it gets further complicated because we all need the same things to succeed. In turn, this means one must do much more to prove that one is exceptional, get distinguished and become successful.

If you're like most people, due to these and many other reasons, you may feel that such success is daunting. But like we said earlier, it is possible by maintaining a consistent commitment to these practical tips.

Before we go on to discuss them, here are some related posts you might find equally inspiring:
As we also like to remind, do consider subscribing to our electronic mailing list today. Your free subscription allows us to send you inspiring posts like this directly via email. To subscribe, simply enter your name and email in the subscribe section below:
Please enter your name and email address to subscribe.
Its free and you can unsubscribe at any time.
In the next sections we will define what career success is, why it is important and how to achieve it.
What is Career Success?
Besides its traditional meaning, success, or the way people define success can vary significantly. For example, for some, success could mean greater influence, as opposed to other traditional definitions like more money.
Traditionally, career success can be defined simply as being exceptional at what one does professionally and receiving recognition for it. Generally, this means enjoying what one does, receiving recognition and financial stability from it and being happy with one's life.
While these definitions may seem simple, they are amazingly accurate. So many exceptional career professionals are unhappy about what they do or feel they deserve more financial compensation. In other cases, some love what they do, are paid well but barely have time for anything else, including family.
So, we can safely conclude that career success can be defined, in broad strokes, by the following:
Being exceptional at what one does as a professional career
Receiving financial and other forms of recognition for what one does
Having a sense of pride and happiness in what one does
Being able to have time for family and other aspects of life while maintaining one's career success.
How do you define career success? What would you like to achieve as a successful professional? Let us know by leaving a comment or some feedback at the end of this post or on social media.
Why is Career Success important?
As we saw in the last section, the way we each define career success is founded on several factors. Primary among them are our personal goals as individuals. Career success means achieving the goals we've set for ourselves. Most times, this includes financial, professional, and personal goals.
This is why career success is important, because it gives us a sense of fulfillment and accomplishment. 
In the next section, we will share seven practical tips on how to achieve career success this year.
Seven Tips on How to achieve Career Success
Like we said at the beginning of this post, we believe professional success can be achieved by consistent commitment to career success tips. Here are seven of them:
Define Career Success for Yourself: As we saw earlier, different people define success differently. In that regard, its necessary to define what career success means for yourself. That way, you know how to strive towards it and just how close you are to achieving it. The alternative would be to work for years without a clear direction or target.
Set Goals to Achieve: As we also noted earlier, career success is founded on achieved goals, whatever they are. For example, they could be targeted at increasing one's proficiency and professional skills or increasing one's financial stability. Once decided, channeling one's efforts towards achieving the goal becomes easy. Our recommendation is that these goals should be time bound so its easy to keep track of.
Be ready to Learn: Achieving career success also requires that we remain open to learning new things. Think about it for a moment. Over the course of a 35-year career many things one started out knowing as cutting edge will eventually become obsolete. This is why being open to learn new things and making an effort to consistently upgrade one's skills is important.
Take Initiative: Another tip on how to achieve career success is to take initiative. Most especially in today's diversified work environment, management's ability to identify potential issues on time is becoming difficult. As an employee, identifying a problem, or a potential one, and taking initiative to fix it could distinguish one. Among other things, it shows that one has the potential capacity to manage people and situations. This could lead to bigger responsibilities and ultimately, promotions.
Keep a Positive Attitude: Another useful skill to master to become successful as a professional is interpersonal relationships. This includes understanding people and making an effort to be pleasant to work with. It goes without saying but bosses and colleagues tend to favor those they like. By keeping a positive attitude, you open the door for interpersonal work relationships that may be key to future promotions.
Own your Mistakes: There will be times when one will make professional mistakes. The truth is that these things could happen to anyone. However, the way we handle such mistakes could determine how far we go professionally. Owning up to one's mistakes and being willing to make them right and shows character and integrity. Such mistakes could reveal the strength of one's character and open the door to future opportunities.
Don't be Afraid to ask for Help: Finally, as you make your way through your career, don't be afraid to ask for help. It's important to build a network of senior colleagues from whom knowledge and sound advice can be gleamed. Such guidance could be the difference between a mediocre and exceptional career.
What other tips do you think one should engage to achieve career success? Feel free to leave us your thoughts and comments either on social media or in our comments section. As always, we would love to hear from you.
Today's Funny Quote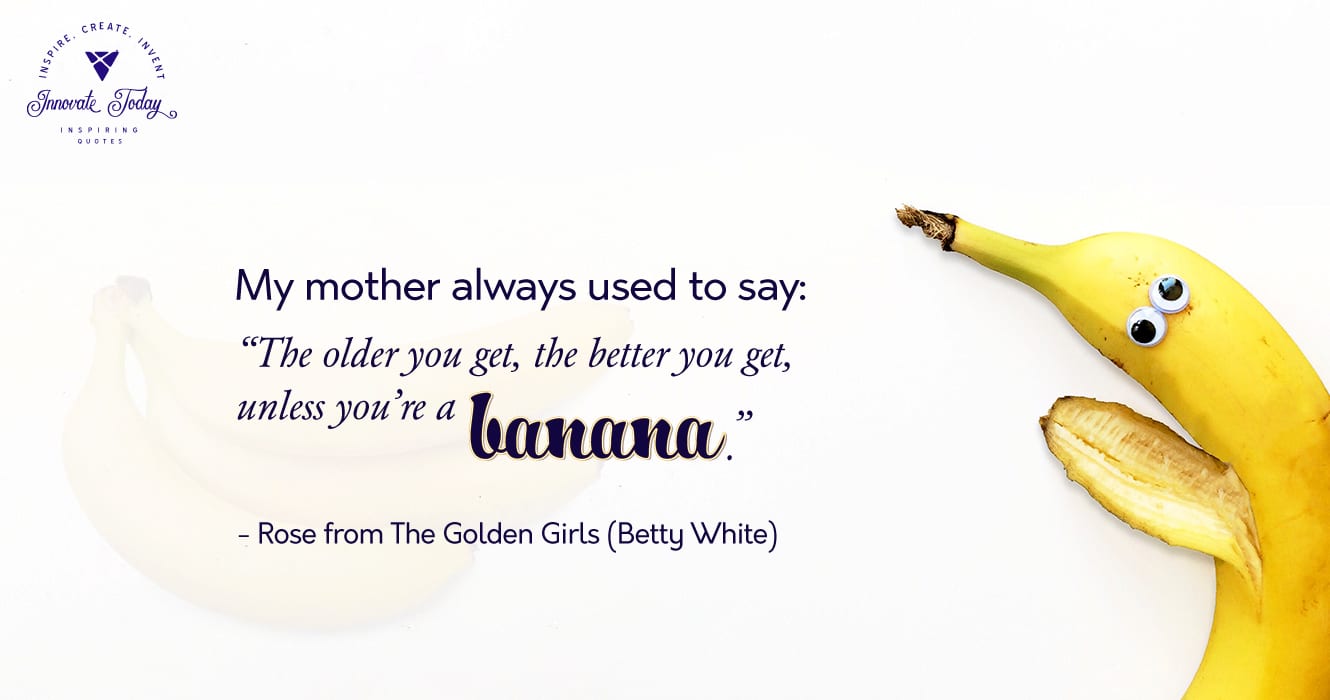 As is our custom, we would like to end today's post with a funny quote. Our funny quote today is by Rose (Betty White), from the Golden Girls. She said:
My mother always used to say: The older you get, the better you get, unless you're a banana.
What do you think? Do we naturally get better with age? Let us know what you think by leaving a comment in the comments section at the end of this post.
Did you know that Innovate Today is a part of Innovate Design Studios Ltd? We are a web design company that provide premium web design, website maintenance and graphics services. If you'd like to know more about the service we provide, feel free to check out our Services page. On the other hand, if you'd like to get a free, no obligation quote for your web design project, contact us to submit a quote request.
If you found this post inspiring, kindly remember to share it on social media. Also remember to follow us on Facebook, Twitter, Instagram and LinkedIn. Our social media handle is @idscreate.
Have a great week ahead, continue to stay safe and we will see you soon with more inspiring posts.

Innovate Design Studios creates innovative web design solutions that provide you with a secure, custom designed web presence that promotes your business and generates revenue and exposure.