T

oday, we would like to share fourteen Martin Luther King Jr. quotes on leadership in honor of his life's work. As you already know, Dr. Martin Luther King Jr. was a Minister and Civil Rights Activist before his tragic assassination. So, in remembrance of his life's work on civil rights, poverty, and education, we celebrate his legacy every year. And since today is Martin Luther King Jr. Day 2022, we've decided to share some MLK quotes on leadership. We hope they inspire you to lead selflessly and make a positive difference in your world as well.

Like Mahatma Gandhi, Dr. King was unique in the fact that he used non-violence to advance the civil rights movement. Instead, he encouraged the use of civil disobedience to fight racial injustice.

Before moving on, here are some related posts we've written that you might equally enjoy:
Also, we encourage you to consider subscribing to our electronic mailing list today if you've not done so yet. Your free subscription allows us to send inspiring posts like this directly into your email inbox. To subscribe, simply enter your name and email below and hit the submit button. Its free and you can unsubscribe at any time.
Please enter your name and email address to subscribe.
In the next section, we will highlight five interesting facts about Dr. King before moving on to share some Martin Luther King Jr. quotes on leadership.
Five Interesting Facts about Dr. Martin Luther King Jr.
Here are five interesting facts about Dr. Martin Luther King Jr. that you probably didn't know:
As a child, Martin was so gifted academically that he skipped Grades 9-12 and entered College at age 15.
The day before he was assassinated, he gave a speech that foreshadowed his death.
He was deeply inspired by the life and activism of Mahatma Gandhi, the Indian anti-colonial Nationalist. This led him to believe that the African American fight for civil rights could also be won through non-violent movements.
During his lifetime, Dr. Martin Luther King Jr. was arrested over 30 times under counterfeit charges.
King was awarded more than 50 honorary degrees from colleges and universities. Among other awards, Dr. King was also awarded the 1964 Nobel Peace Prize.
In the next section, we will share our specially curated fourteen MLK quotes on Leadership.
Fourteen Martin Luther King Quotes on Leadership
Dr. King said a lot about leadership. We believe his insights into the subject are just as relevant today as they were when he was alive. Here are fourteen of his quotes on leadership:
The ultimate measure of a man is not where he stands in moments of comfort and convenience, but where he stands at times of challenge and controversy.
All labor that uplifts humanity has dignity and importance and should be undertaken with painstaking excellence.
The beauty of genuine brotherhood and peace is more precious than diamonds or silver or gold.
Ultimately a genuine leader is not a searcher for consensus but a molder of consensus.
There comes a time when one must take a position that is neither safe, nor politic, nor popular, but he must take it because conscience tells him it is right.
Change does not roll in on the wheels of inevitability, but comes through continuous struggle.
Never, never be afraid to do what's right especially if the wellbeing of a person or animal is at stake. Society's punishments are small compared to the wounds we inflict on our soul when we look the other way.
Life's most persistent and urgent question is, "What are you doing for others?"
An individual has not started living until he can rise above the narrow confines of his individualistic concerns to the broader concerns of all humanity.
Whatever your life's work is, do it well. A man should do his job so well that the living, the dead, and the unborn could do it no better.
Whatever affects one directly, affects all indirectly. I can never be what I ought to be until you are what you ought to be. This is the interrelated structure of reality.
Leadership never ascends from the pew to the pulpit but invariably descends from the pulpit to the pew.
There are some things so dear, some things so precious, some things so eternally true that they are worth dying for and I submit to you that if a man has not discovered something that he will die for, he isn't fit to live.
The ultimate tragedy is not the oppression and cruelty by the bad people but the silence over that by the good people.
Which of these MLK quotes on leadership did you like best? We especially loved the eight quote on our list about life's most urgent question most inspiring. So, we would like to throw that question out to our readers on the Martin Luther King Jr. Day. What are you doing for others? Feel free to let us know your favorite quotes by leaving a comment below or on social media. As always, we would love to hear from you.
Today's Funny Quote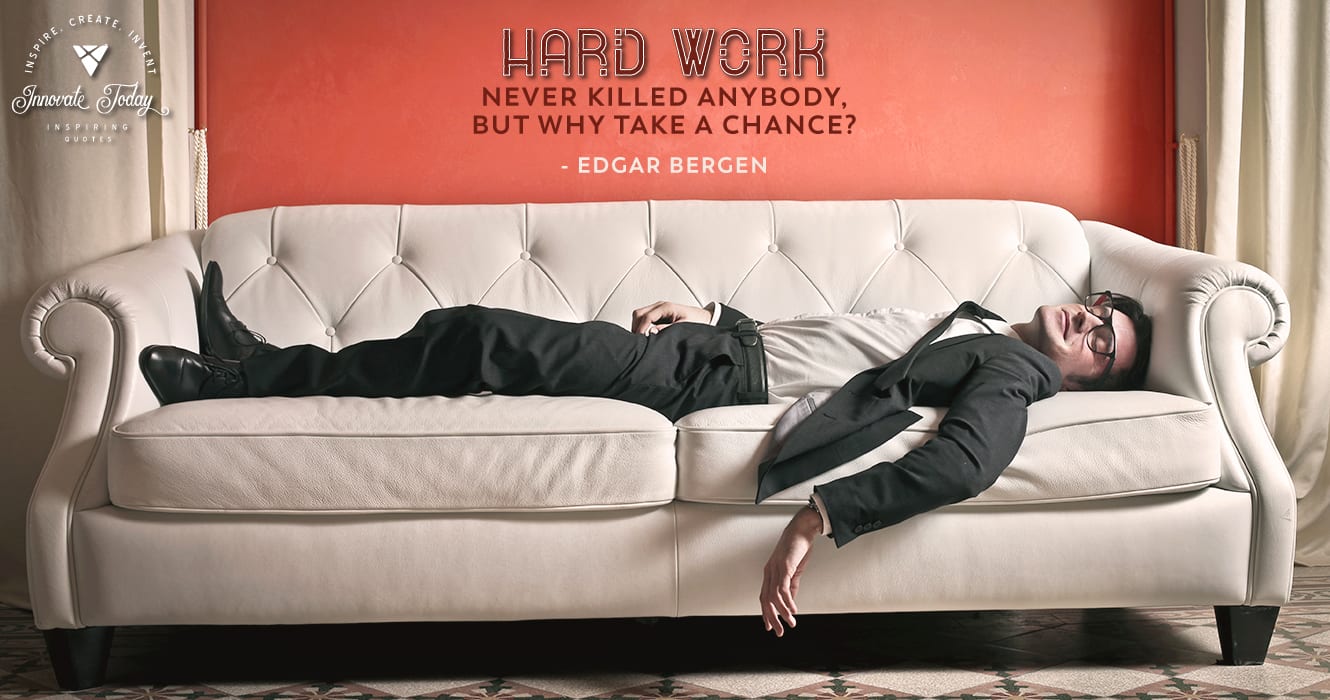 Our funny quote for today is by Edgar Bergen, the American Actor and Comedian. He said:
Hard work never killed anybody, but why take a chance?
Did you know that Innovate Today is a part of Innovate Design Studios Ltd? We are a web design company that provide premium web design, website maintenance and graphics services. If you'd like to know more about the service we provide, feel free to check out our Services page. On the other hand, if you'd like to get a free, no obligation quote for your web design project, contact us to submit a quote request.
If you found this post inspiring, kindly remember to share it on social media. Also remember to follow us on Facebook, Twitter, Instagram and LinkedIn. Our social media handle is @idscreate.
We hope these inspiring MLK quotes on leadership inspire you to do something for someone else this week. Have a wonderful week ahead, stay safe and we will see you later in the week with more inspiring posts.

Innovate Design Studios creates innovative web design solutions that provide you with a secure, custom designed web presence that promotes your business and generates revenue and exposure.