I

n our post today, we would like to discuss how to set achievable goals this year. At the beginning of the year, it is common to set targets and objectives for the year. But what if one set such goals year after year and yet, rarely achieves them? In such a case, something may be wrong with how these goals are being set or pursued. Instead, this year, we encourage you to set your annual goals in a more strategic manner as we will explain. So, in this post, we will share six reasons why setting goals is important and how to set achievable goals.

Goal setting should always be a purposeful, decisive, and strategic step on the path to moving forward. However, most people tend to set goals without careful thought and planning. This is perhaps the main reason why many fail to achieve their goals; they are unrealistic. For example, as a business owner with one store location, you could set a goal to expand this year. Nevertheless, setting a goal to expand into ten different locations by year's end may be impractical. This is because business expansion, especially by location, requires a lot of logistics and capital. On the other hand, setting the same goal to expand but limiting it to two or three locations may be more feasible.

Before we proceed, here are some related posts on the subject that you might enjoy:
As we like to remind, you can subscribe to our electronic mailing list for free today. Your subscription will allow you to receive posts like this via email every time a new post is published. To subscribe, simply enter your name and email below:
Please enter your name and email address to subscribe.
In the next section, we will share six reasons why goal setting is important.
Six Reasons Why Goal Setting is Important
Like we said earlier, one reason many people never achieve their goals is because they are unrealistic. However, another reason why some others never achieve anything is simply because they don't set goals to begin with. Simple and fundamental as it may seem, it is the truth.
So, in this section, we will share six reasons why setting achievable goals is important. Here they are:
Setting goals helps one proactively take charge and think about what they want for themselves.
It helps organize one's thoughts and dreams and motivates them towards their achievement.
Goal setting helps one make incremental improvements that eventually translate into success.
It gives one a purpose and a clear focus on what to invest time and energy into.
It helps us live our best life and achieve our highest potentials.
Setting achievable goals helps us accomplish seemingly impossible goals by completing smaller, more attainable goals.
What do you think are the other benefits of establishing your ambitions for the year? Leave us a comment below or on social media with your thoughts.
How to Set achievable Goals this Year
Like we said earlier, if you set goals regularly but rarely achieve them, you may be setting unrealistic goals. So, how do you set achievable goals? Here are six simple steps you can follow:
Set Goals that Reflect your Values: Before you set goals, it is important to carefully examine your values and desires. For example, what would you like to do with your life? Or what would you like to be doing five years from now? Questions like these could help identify what your values are and what you are passionate about. The bottom line here is that if your heart is not in it, you won't pursue that goal with enthusiasm.
Set SMART Goals: Research has shown that setting SMART goals can also help increase one's likelihood of achieving them. SMART is an acronym that stands for Specific, Measurable, Attainable, Realistic and Time-bound. Such goals help track your progress towards achieving them within a specific time frame.
Develop a Plan: Once you are clear about your goals, you'll also need to establish a clear path to achieving them. Developing a clear plan makes the process of achieving your goals that much simpler. In other words, the more detailed your plan, the better.
Take Steps: Another way to set achievable goals this year is to take steps towards the goals you have planned. No matter how brilliant your plans are, if you don't act towards achieving them, they will never be achieved. Interestingly, every step you take towards a goal will usually lead to more steps that eventually lead to success.
Be Accountable: Another way to ensure that the goals you set this year are achievable is to be accountable. In simple terms, this means telling someone what your goals for the year are and updating them on your progress. Knowing you're accountable to someone for the goals you've set can be a strong motivational tool.
Re-Evaluate and Assess your Progress: Lastly, it's important to take stock of progress made towards major goals every so often. In fact, research has shown that the more often you monitor your progress, the greater your likelihood to succeed. This is probably because knowing how much you've progressed can also help motivate one towards the finish line.
Have you set goals and targets for this year yet? How did you set them? Have you ever set unrealistic goals? Feel free to give us examples of funny and unrealistic goals you've set for yourself in the past. You can leave a comment below or on social media. As always, we would love to hear from you.
Today's Funny Quote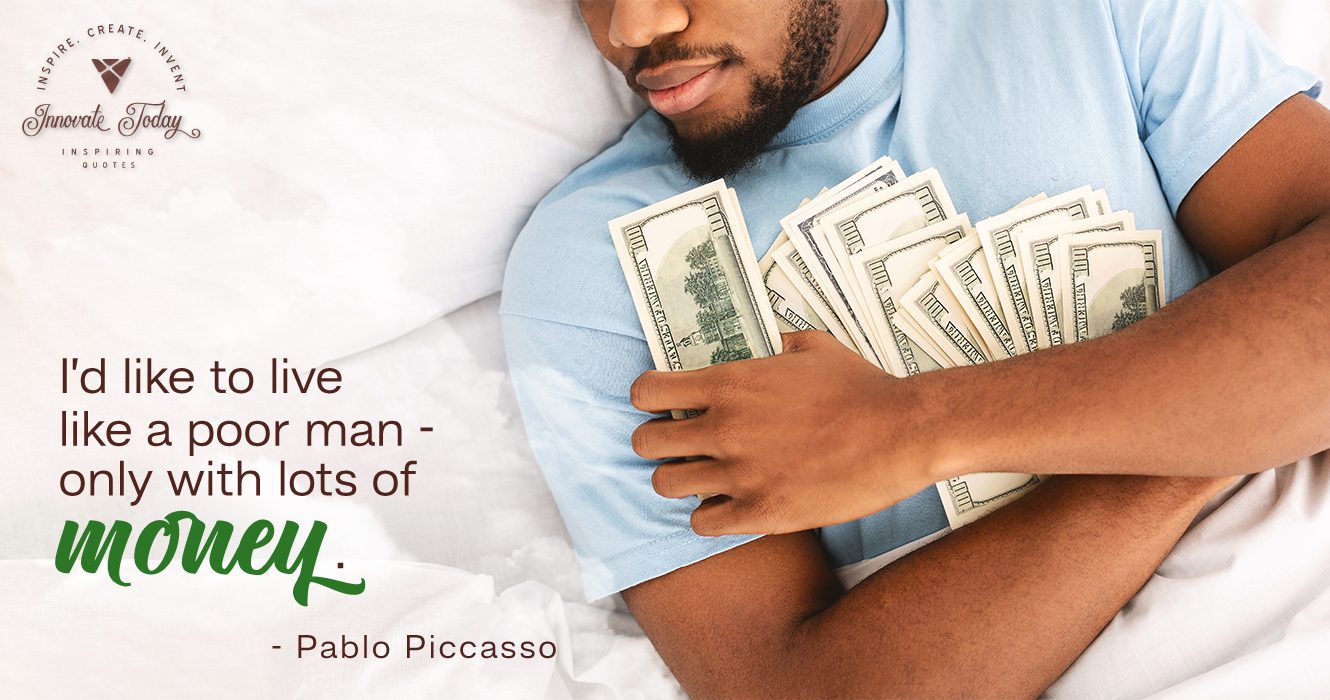 As we conclude, we would like to leave you with a funny quote by Pablo Piccasso, the Spanish Painter. He said:
I'd like to live like a poor man – only with lots of money.
How would you like to live your life this year? Let us know what you think in the comments section at the end of this post.
Did you know that Innovate Today is a part of Innovate Design Studios Ltd? We are a web design company that provide premium web design, website maintenance and graphics services. If you'd like to know more about the service we provide, feel free to check out our Services page. On the other hand, if you'd like to get a free, no obligation quote for your web design project, contact us to submit a quote request.
If you found this post inspiring, kindly remember to share it on social media. Also remember to follow us on Facebook, Twitter, Instagram and LinkedIn. Our social media handle is @idscreate.

Innovate Design Studios creates innovative web design solutions that provide you with a secure, custom designed web presence that promotes your business and generates revenue and exposure.