T

ime, as they say, is money. And yet, for most of us, it is not unusual to spend hours doing practically nothing. Or at least, nothing of value. And while we all need time to relax after a long day, we also need time to produce quality results. Finding that balance between time to relax and time to focus on work and produce results is crucial. So, in this post, we will ponder the question of how to manage time efficiently. In addition, we will discuss common ways poor time management affects one's business and how it can be fixed. Via this post, we hope to spur you on towards greater accomplishments through better time management.

Like we hinted earlier, time management is an essential skill everyone should have. Regardless of one's age, occupation, or social status, it is an essential skill. To begin, ask yourself the following questions:
Do you rarely meet work deadlines and schedules?
Have you find yourself going through periods with little work followed by periods of excessive work?
Do you sometimes wonder how time has flown by without being able to account for how it was used?
If you answered yes to these questions, you may not be using your time as affectively as possible. Among other things, poor time management is responsible for missed opportunities, and mediocre results. Nevertheless, its interesting to note that such results can be changed easily through refocusing of priorities.
Before we proceed to discuss how poor time management can affect your business, here are related posts you might enjoy:
Also, if you've not done so yet, do subscribe to our electronic mailing list today. Your free subscription allows us to send inspiring posts like this directly to you via email. Simply enter your name and email below to subscribe:
Please enter your name and email address to subscribe.
In the next section, we will list five common ways poor time management can affect your business.
How Poor Time Management can affect your Business
It's interesting to note that poor time management is most often the result of poor planning or failing to plan. Regardless, it can have monumental effects on one's career, business, and personal life. Here are five such effects:
An inability to achieve ones Goals for the company
Financial Losses
Strained or damaged Customer Relationships
A bad Reputation
Missed Opportunities
On the other hand, it is interesting to note that effective time management is the difference between mediocrity and excellence.
Seven Signs of Poor Time Management
How can one determine if they manage time poorly? Here are seven signs that indicate poor time management:
Procrastination
Missed Deadlines
Constant Lateness
Lack of Energy
Poor Performance
Disorganization
Not saying No
Now that we've seen practical signs of poor time management and how it can affect your business, lets discuss how to manage time effectively.
How to manage Time Effectively
Without a doubt, people who know how to manage time effectively are more productive, less stressed, and more generally successful. It also stands to reason that the more effective you are at managing time, the more successful you will become.
On that note, here are seven ways to manage time effectively:
Set your Priorities: Effective time management is all about priorities. This means determining which tasks are most urgent and setting an order in which to address them.
Schedule and Plan ahead: Like setting priorities, scheduling and planning help prepare one to accomplish goals. In addition, planning helps give one control over the day and increases overall productivity.
Cut off Distractions: Besides procrastination, another major cause of poor time management is distractions. Sometimes, these distractions could even be in the form of other less important work such as phone calls or emails. Either way, it's necessary to avoid these distractions and stick to your schedule for the day.
Don't Multitask: That's right. Do not Researchers have found that people who multitask end up doing less work than those who focus on individual tasks. Their explanation for this is that multitasking dilutes one's focus and ultimately reduces efficiency.
Find your most Productive Hours: Your most productive hours are periods of time when your productivity is at its highest. Understanding when you are at your best can help with scheduling, placing important work at peak periods.
Take regular Breaks between Tasks: Another way to manage time effectively is to take regular breaks between tasks. Doing so can help increase creativity and one's ability to focus for longer periods of time.
Get enough Sleep: Last on our list of how to manage time effectively is to get adequate sleep. Extended periods without sleep can be detrimental to one's health and mental capacity. With adequate sleep, one becomes better equipped to make sound decisions and perform tasks efficiently.
Which of these steps do you use to manage your time effectively? Are there other ways not listed here that you use to manage your time? Leave us a comment at the end of this post with your thoughts on time management. As always, we would love to hear from you.
Today's Funny Quote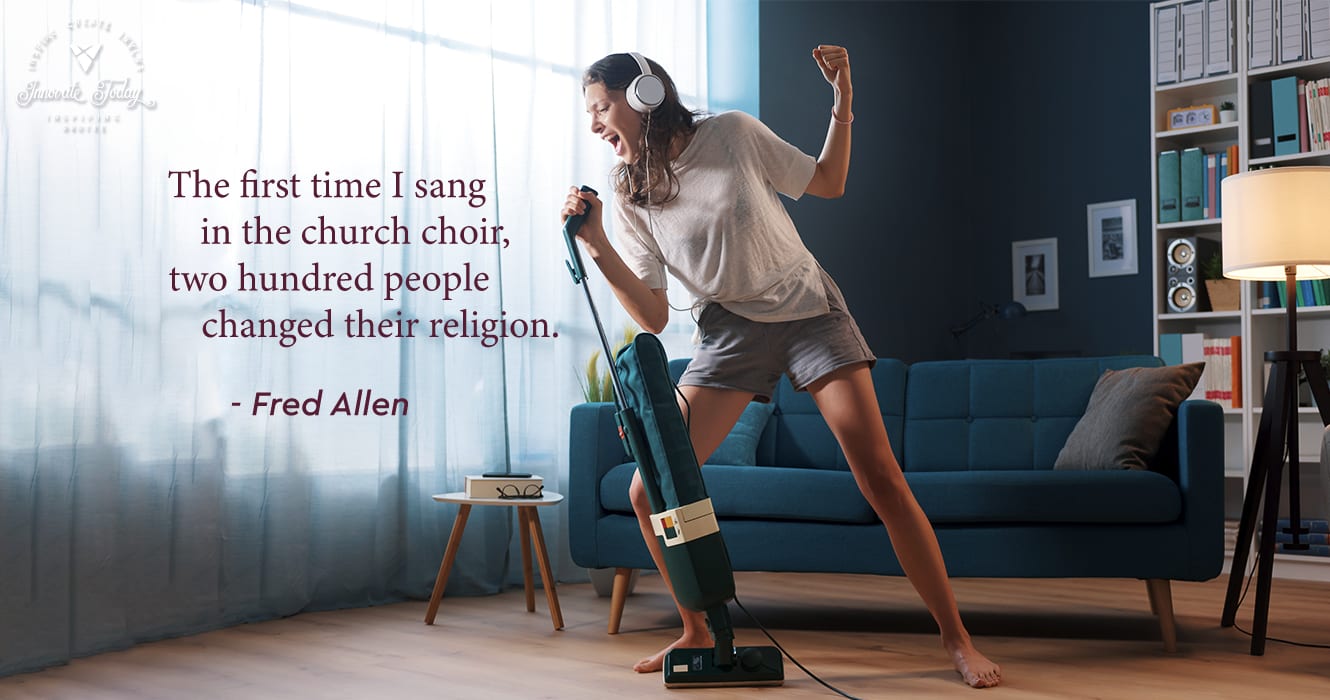 Our funny quote for today is by Fred Allen, the American Comedian. He said:
The first time I sang in the church choir; two hundred people changed their religion,
How do you sound when you sing? Does it make people fall in love with your song or make them run for cover? Let us know by leaving a comment at the end of this post.
Did you know that Innovate Today is a part of Innovate Design Studios Ltd? We are a web design company that provide premium web design, website maintenance and graphics services. If you'd like to know more about the service we provide, feel free to check out our Services page. On the other hand, if you'd like to get a free, no obligation quote for your web design project, contact us to submit a quote request.
If you found this post inspiring, kindly remember to share it on social media. Also remember to follow us on Facebook, Twitter, Instagram and LinkedIn. Our social media handle is @idscreate.
Remember that as long as you live and work around people, you will always need to negotiate. So, take time to learn how to negotiate better.
Have a great week ahead, stay safe and we will see you later in the week with more inspiring posts.

Innovate Design Studios creates innovative web design solutions that provide you with a secure, custom designed web presence that promotes your business and generates revenue and exposure.