D

o you own a website for your company or small business? If so, what tools do you use to check your website traffic? While its sad to say, the simple truth is that for many, website traffic and its analytics are a mystery. In other cases, the only access some have to this data is what they are given by their website administrators. In this post, however, we will try to demystify the subject by giving you three easy tools to use. Additionally, we will share some practical reasons why you should measure your website traffic on a regular basis. When you're done with this post, you will have the tools you need to see how much traffic your gets.

There are several reasons why people and businesses create websites. Sometimes, they want to sell products or services, showcase their work, or just share helpful information. Regardless of the why, one thing is clear; it will require getting substantial traffic to your website. To put this differently, it is not enough to have a website; you must have a website that is getting web traffic. Such traffic will come from people interested in your products or services and who could potentially become customers. So, we need website traffic to sell our products, services, showcase our work or share information with others.

Before we proceed, here are some related posts on the subject that you might fine helpful:
In addition, as we like to remind, do consider subscribing to our electronic mailing list today. Your free subscription allows us to send you inspiring posts like this via email. Simply enter your name and email below to subscribe:
Please enter your name and email address to subscribe.
Its free and you can unsubscribe at any time.
In the next section, we will list a few practical reasons why you should check your website traffic regularly.
Why you should Check your Website Traffic Regularly
Like we said earlier, the entire essence of owning a website is to get website traffic. Ideally, that traffic should then translate to product sales, service requests, company contact information, etc.
However, the only way to know how well your website is doing is to check your website statistics. This is also helpful because it shows you what keywords you rank for and how people find your business online.
Here are some practical reasons why you should check your website traffic regularly:
It will help you understand how visitors find your website, and what they were looking for online.
To know how well your website currently ranks and what you need to do to improve.
Checking website traffic can also show how well your website does in comparison to your competition.
Three simple Ways to Check your Website Traffic
Did you know that over 40% of all websites online are powered by the WordPress Content Management System? That says a lot about the quality and versatility of WordPress as a platform. So, for this post, we will focus on highlighting ways to check your website traffic primarily on a WordPress website.
Method 1: Use Neil Patel's free Website Traffic Checker
This method will work, regardless of what platform your website is built on. As a business owner, you can also use it to check the website stats of your competitors. You can also use it to check what keywords they rank for, so you can also rank for them. While this tool is free, detailed traffic data is available only in the paid version.
Method 2: Use the WordPress Jetpack Plugin
This security and performance plugin, brought to you by the creators of WordPress itself. While it has a wide range of features, including social shares, backups, and anti-spam, it also monitors your website traffic. You can visit the link above to get day to day stats for your website, including monthly and yearly results.
Method 3: Setup Google Analytics for your Website
Google Analytics is perhaps the best analytics solution on the market today. Google analytics integrates with Google's search engine to give live tracking of website traffic, by location, demographics, etc. It can also show you your most viewed pages, where your traffic comes from, etc. It is an extremely robust and flexible analytics solution.
How have you measured website traffic on your website? How do you know how well you're doing and what to improve to increase traffic and sales? Leave us a comment at the end of this post or on social media. We would love to hear from you.
Today's Funny Quote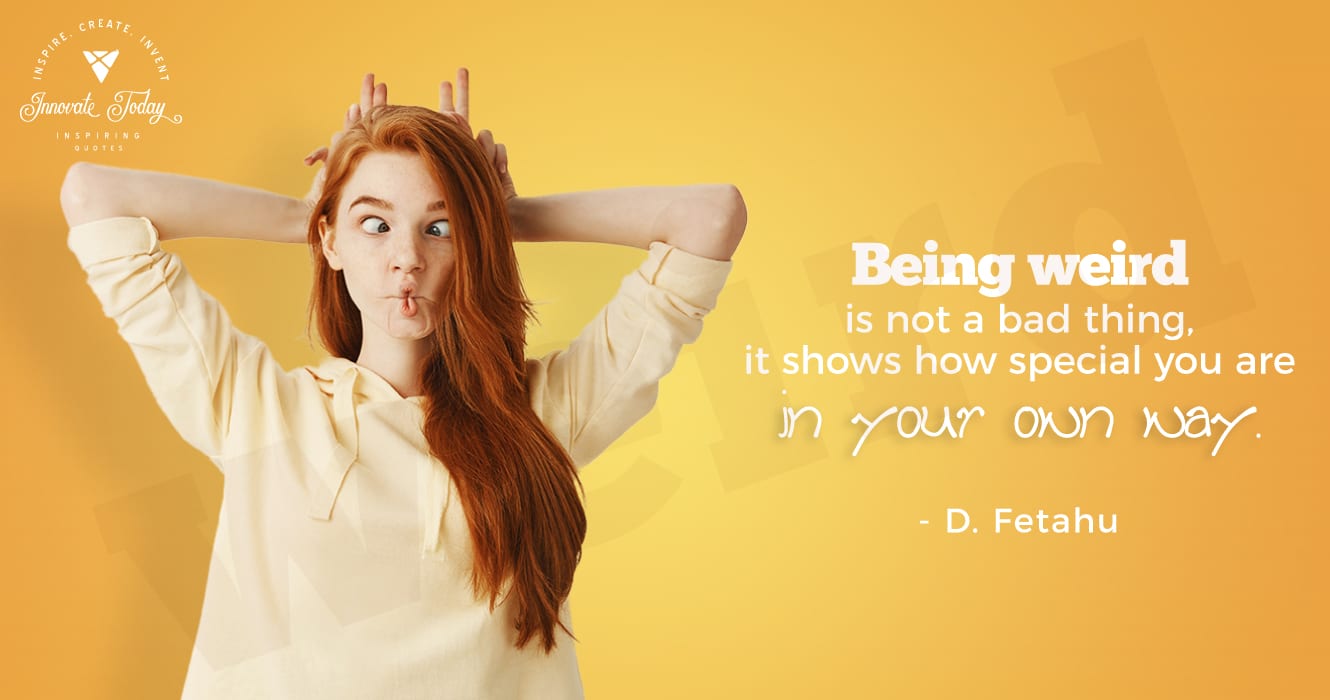 Our funny quote today is by is by D. Fetahu. He said:
Being weird is not a bad thing, it shows how special you are in your own way.
Do you agree? Let us know what you think. Leave a comment below or on social media to let us know what you think.
Did you know that Innovate Today is a part of Innovate Design Studios Ltd? We are a web design company that provide premium web design, website maintenance and graphics services. If you'd like to know more about the service we provide, feel free to check out our Services page. On the other hand, if you'd like to get a free, no obligation quote for your web design project, contact us to submit a quote request.
If you found this post inspiring, kindly remember to share it on social media. Also remember to follow us on Facebook, Twitter, Instagram and LinkedIn. Our social media handle is @idscreate.
Are you having trouble with your website or with figuring out how to measure your website traffic? Send us a contact message and we will give you a hand.
Have a great weekend, stay safe and we will see you again next week with more inspiring posts.

Innovate Design Studios creates innovative web design solutions that provide you with a secure, custom designed web presence that promotes your business and generates revenue and exposure.