A

chieving success in business is a tremendous task that is rarely achieved by mistake. Rather, it is an intentional process that involves careful planning, hard work, and strategy among other things. However, a good number of entrepreneurs just don't know how to achieve such success. Statistics indicate that 65% of new businesses will not survive their fifth year and less than 25% to year fifteenth. That says a lot. Nevertheless, we believe that there is hope for new and upcoming businesses. We believe that understanding and implementing the keys to success in business can help one achieve success. So, in this post, we will share five keys to business success with the hope that they help you achieve success in your own business.

While the specific keys to business success vary for every business, there are in fact general practices that ensure success. Strategies such as building a strong team or finding ways to stand out from one's competitors are always helpful. Ultimately though, it is the combination consistent and tireless use of these success keys that guarantee one's success.

Before we go on to share five such keys to success, here are some related posts you might enjoy:
Also, if you're yet to do so, please consider subscribing to our electronic mailing list today. Your free subscription allows us to send you inspiring posts, just like this, via email. To subscribe, simply enter your name and email below:
Please enter your name and email address to subscribe.
With that said, lets get right to it and discuss some helpful keys to achieving business success.
Five Keys to Success in Business
Like we said earlier, there is no one-size fits-all recipe for success. Instead, we are the ultimate creators of our own success, and we achieve it by trying different strategies. As an upcoming business, it is essential to try different strategies and keep what works.
On that note, here are five general keys to success that can help you achieve success in your business:
Know your Competition: One of the keys to success in business is to know your competitors; especially those that are doing well. This means studying their strategies and figuring out what they do and employing similar strategies. Besides helping you identify your business weaknesses so you can improve, it can help identify their shortcomings as well. You can then use this knowledge to create marketing strategies that take advantage of their weaknesses, to gain more market share.
Lay emphasis on Customer Care: Customer Care is a vital aspect of business operations that can impact business growth and public opinion about your products. In today's world, customer care is also a proactive way to provide support for prospective and existing customers. Therefore, making it a cornerstone of your business can help give you an edge your competitors don't have.
Continuous Improvement: Another useful key to achieve success in business, is to commit to continuous improvement. This means rejecting complacency and never reveling in one's success but moving on to greater goals. It also means investing in business and human resources, research and development and finding ways to improve customer experience.
Team Development: The Importance of teamwork to achieving success cannot be overemphasized. This is because each teammates unique skills and experiences factor into a company's overall success. Team development therefore involves bringing people together and harnessing their individual skills to achieve common goals.
Maximize Marketing: Another key to success in business is maximizing one's marketing efforts. Without question, effective marketing efforts are at the heart of every business success. Therefore, maximizing those efforts can help a business reach and acquire new customers.
Final Thoughts
Besides the five keys to success in business listed above, there are other business strategies that can produce success. Practices such as reducing overhead cost, staying focused and persistent, offering quality products, and being creative are also important.
What keys or practices do you use in your business to achieve success? How well have they worked for you? Let us know by leaving a comment below.
Today's Funny Quote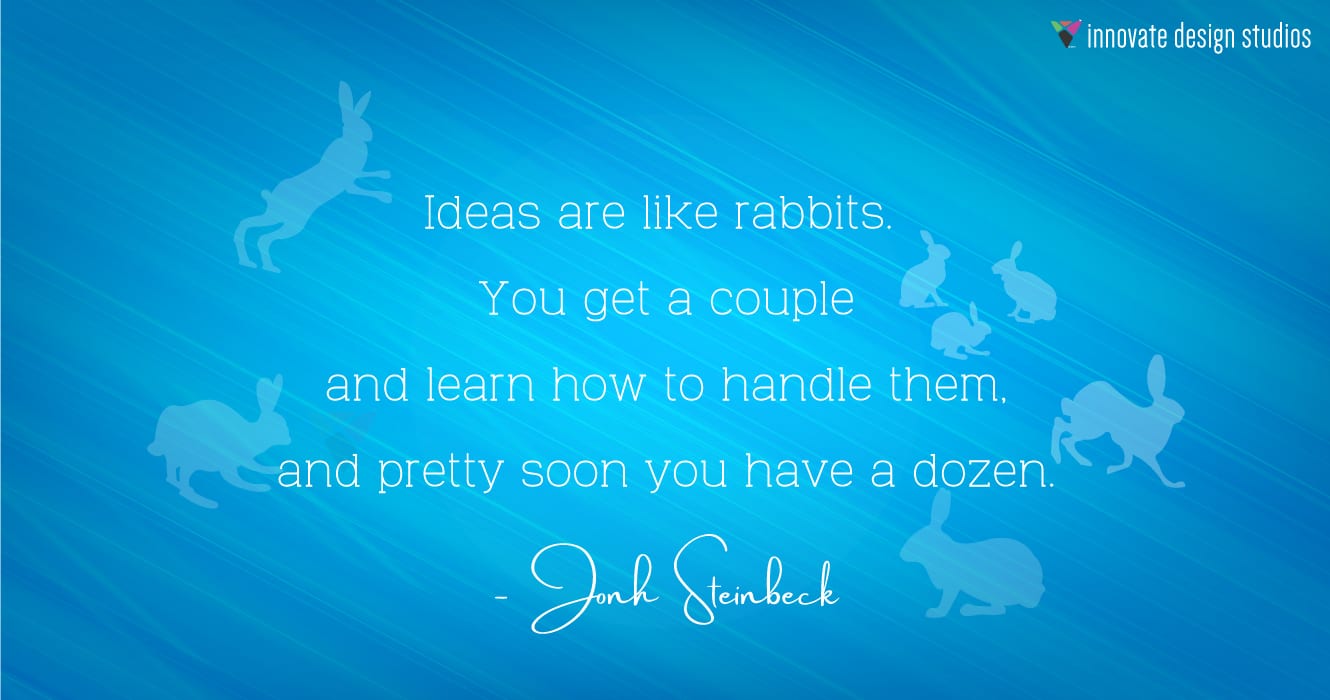 Our funny quote for today is by Jonh Steinbeck, the American Author and Nobel Laureate. He said:
Ideas are like rabbits. You get a couple and learn how to handle them, and pretty soon you have a dozen.
Leave us a comment or message if you agree that ideas are like rabbits. As always, we would love to hear from you.
Did you know that Innovate Today is a part of Innovate Design Studios Ltd? We are a web design company that provide premium web design, website maintenance and graphics services. If you'd like to know more about the service we provide, feel free to check out our Services page. On the other hand, if you'd like to get a free, no obligation quote for your web design project, contact us to submit a quote request.
If you found this post inspiring, kindly remember to share it on social media. Also remember to follow us on Facebook, Twitter, Instagram and LinkedIn. Our social media handle is @idscreate.
Have a great week ahead and we will see you later this week with more inspiring posts.

Innovate Design Studios creates innovative web design solutions that provide you with a secure, custom designed web presence that promotes your business and generates revenue and exposure.