P

erhaps one of the best things about life is the fact that anyone can achieve success, if they know how. And while luck, opportunity, and risk-taking do factor into its achievement, it is ultimately decided by specific rules of success. To put it differently, success is never a mistake but is rather the result of following certain principles of life. Furthermore, we could say that one's measure of success depends on how well those rules are followed. However, how can one ever achieve success if those success rules are not known to begin with? For example, how can one ever achieve success if one is not tenacious, or a hard worker? The truth is that most people fail, not because they are failures, but because they don't know how to succeed. So, in this post, we will share seven rules of success anyone can apply to everyday life. We believe that because these rules apply to everyone equally, if they are applied, anyone can become successful in life.

If you did a study of successful people throughout history, you'd find out that they had several things in common. Even though they lived in different generations and cultures, with different problems and opportunities, they all lived life similarly. This is what we mean by rules of success; unique, yet common patterns among all successful people.

Before we proceed to discuss them, here are some related posts you might equally enjoy:
Also, if you are yet to subscribe to our mailing list, do consider doing so today. Your free subscription allows us to send you inspiring posts like this directly via email. Simply enter your name and email below to subscribe:
Please enter your name and email address to subscribe.
Next, we will get right to it and discuss seven rules of success for everyday life.
Seven Rules of Success for everyday Life
It is perhaps impossible to quantify just how many success rules for living life exist. While there may be hundreds or even thousands of them, in this post, we will share seven of them. Our hope is that they help you achieve greater success in life.
Be Optimistic: Throughout history, this has been a defining characteristic of those who succeed. Optimism is founded on hope and the notion that seemingly impossible things can be achieved. This is because those who have succeeded have had to face uniquely difficult challenges that have stopped others. It is this optimism that fuels their creativity and innovation, solves impossible problems, and ultimately leads to success.
Manage Time: Successful people understand that time is a resource that must be managed like all other resources. They understand that time is the universal resource that must be given to gain everything else. The secret is in understanding that the better we manage time, the more we can do with it.
Never stop Learning: Another important rule of success is to never stop learning. Regardless of how we choose to learn, our willingness to do so continuously is what sets us apart from others. It gives us an edge and the tools we need to solve impossible problems.
Accept Responsibility: Accepting responsibility for what we become in life is another rule of success. Interestingly, even today, there are people who will blame everybody but themselves for their failures in life. However, truly successful people own the results they get from life. As a result, they tend to give more towards their goals because they know their efforts will determine their success. As the famous quote by Paul Utho goes, "whether you fail or succeed, it is your fault".
Never afraid to Fail: Not being afraid to fail does not mean living life recklessly. Rather, it means one is patient enough and persistent enough to keep trying till success is achieved. In our world today, there is a rather huge stigma on failing. However, failure can sometimes provide avenues to learn and ultimately succeed. Almost every great success in history failed multiple times at their task. Their distinguishing trait however was that they did not give up.
Embrace Change: Another excellent rule of success is the ability to embrace change and adapt when it comes. Every successful person understands that change is an important aspect of growth. Rather than allow change or the simple passage of time to defeat them, they embrace it and adapt. Embracing change keeps us nimble, and open to new possibilities which can lead to greater success in life.
Focus on Progress not Results: If there is anything successful people know, it is that process is what gives birth to results. They understand that paying close attention to their progress is critically important towards achieving positive results. So, to become successful, pay attention to your journey towards achieving good results. What you learn along the way will be helpful towards achieving success in future endeavors.
What other rules of success do you employ in your own life? Let us know in our comments section at the end of this post.
Today's Funny Quote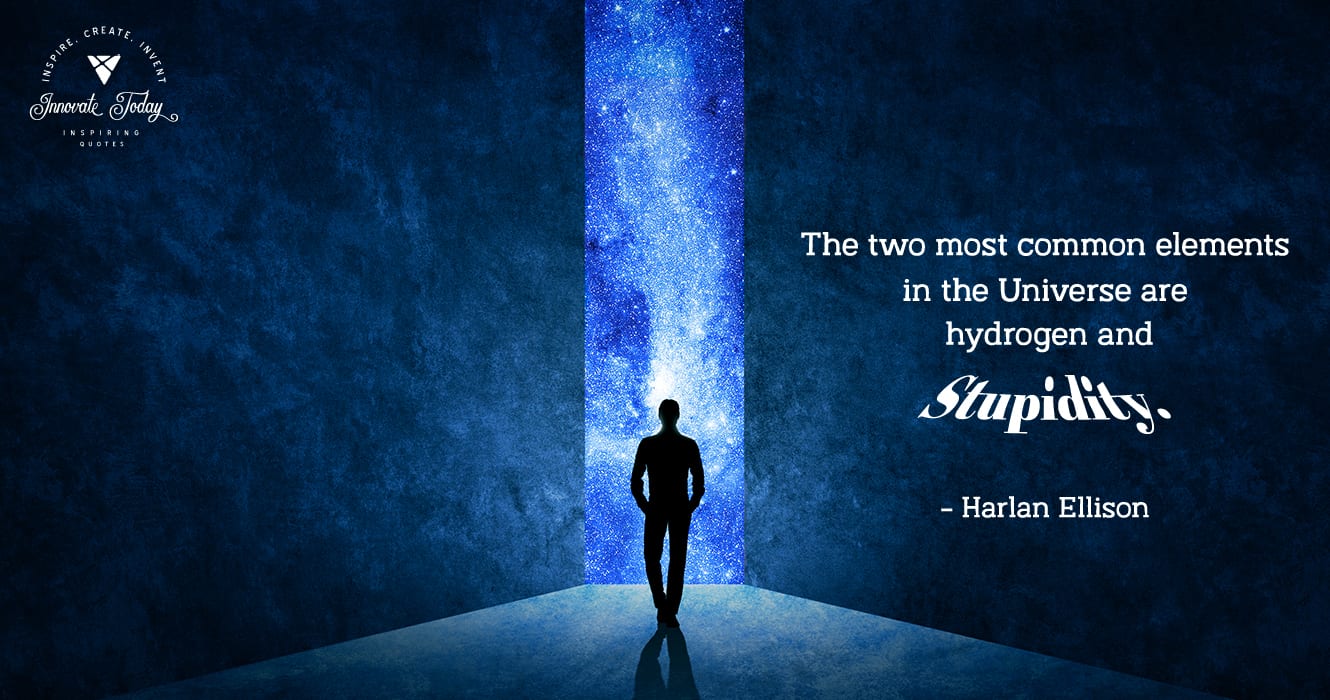 Our funny quote for today is by Harlan Ellison, the American Writer. He said:
The two most common elements in the universe are hydrogen and stupidity.
Do you agree? Leave us a comment or message with your thoughts below. As always, we would love to hear from you.
Did you know that Innovate Today is a part of Innovate Design Studios Ltd? We are a web design company that provide premium web design, website maintenance and graphics services. If you'd like to know more about the service we provide, feel free to check out our Services page. On the other hand, if you'd like to get a free, no obligation quote for your web design project, contact us to submit a quote request.
If you found this post inspiring, kindly remember to share it on social media. Also remember to follow us on Facebook, Twitter, Instagram and LinkedIn. Our social media handle is @idscreate.
Have a great week ahead and we will see you again later this week with more inspiring posts.

Innovate Design Studios creates innovative web design solutions that provide you with a secure, custom designed web presence that promotes your business and generates revenue and exposure.