T

his is 2021 and today, the world and the way we get things done have evolved tremendously. For example, marketing and advertisement techniques are no longer what they used to be. In fact, whether for good or bad, one thing is certain; digital marketing is here to stay. However, what are the advantages and disadvantages of digital marketing? Is it possible that traditional marketing methods were better than methods we use today? In this post, we will compare of those differences with the aim of showing the benefits of digital marketing. We hope you will be encouraged to take advantage of its unique features to grow your businesses.

When you think of traditional marketing platforms, what comes to mind? For most people, images of mass media platforms such as TV, Radio, Newspapers, Roadside billboards, etc. come to mind. In their day, these platforms presented never-before-seen opportunities to reach millions of people with one's message. Sadly though, the catch was that it was extremely expensive. For example, the cost to record an ad for TV and then run it for a few weeks, meant only very few could afford it.

With the advent of the internet, digital media, search engines and social media platforms though, everything has changed.

Before we move on, here are some related topics you might find helpful:
Also, as we like to remind, do consider subscribing to our electronic mailing list today. Your free subscription allows us to send you excellent posts like this by email. Simply enter your name and email below to subscribe:
Please enter your name and email address to subscribe.
In the next section, we will discuss what digital marketing is before going on to discuss its pros and cons.
What is Digital Marketing?
Like we said earlier, while traditional marketing did have its advantages, it needed to be improved. Besides being so expensive, it was difficult to track how well an ad was doing without a sales report. In addition, it gave no option for feedback on things like demographics, race, gender, preferred locations, etc. It was at the height of its heyday, with millions of businesses looking for alternatives that digital marketing showed up.
Simply put, digital marketing means using the internet to promote, sell and distribute a product or service. It includes the use of online advertising, ecommerce, and shipping services to deliver purchased items.
Unlike traditional marketing methods that are rigid and localized, digital marketing is dynamic and globalized. One unique advantage of digital marketing is that it comes with analytics tools to help track customer interaction. Interestingly, this tool can be used for several purposes including targeted ads, gender specific campaigns and best of all, feedback. In addition, it is relatively cheap in comparison to traditional marketing cost.
In the following sections, we will discuss the pros and cons of digital marketing. We will begin by listing five specific advantages of digital marketing in the next section.
Five Advantages of Digital Marketing
Here are five advantages digital marketing can give your business:
Brand Awareness: As with traditional marketing, digital marketing techniques can create tremendous brand awareness for your company. Unlike traditional marketing though, it allows you to target potential customers who show an interest in your area of business. This ultimately leads to increased sales and increased Returns on your investment (ROI).
Cost Effective: Like we said earlier, digital marketing is much cheaper to use and consequently, more cost effective for businesses. Since it does not require huge financial investments, it means ads can run longer to reach more customers. Additionally, more businesses can make use of digital marketing to compete and gain more customers.
24/7 Availability: Unlike traditional ads that were only available on certain days or time slots, digital marketing provides 24/7 availability. This means one can, theoretically, reach the largest possible number of potential customers with a marketing campaign.
Improved Conversion Rates: Another advantage of digital marketing are its increased conversion rates. Unlike traditional marketing where conversion rates and measures of effectiveness were speculative at best, digital marketing ads can be measured. This can help create improved and targeted ads.
Wider Reach: Lastly, unlike traditional ads that have a localized limit, digital marketing allows such reaches to be determined by a budget. For example, a business in London can target customers in New York, Nairobi, or Lagos.
In the next section, we will list some disadvantages of digital marketing that businesses should be aware of.
Five Disadvantages of Digital Marketing
While digital marketing is a dream come true for most businesses, it does have its cons. On that note, here are five disadvantages of digital marketing you should be aware of.
Global Competition: While digital marketing does help businesses reach a global audience, it also means increased competition on a global scale.
Time Consuming: Another disadvantage of digital marketing is that it can be time consuming. This is because additional effort is needed to analyze data and customer interactions to produce better ads.
Reliance on Technology: As you can imagine, digital marketing, as the name implies relies heavily on technology. This means one must invest in digital assets and staff that can produce and analyze them.
It may not be appropriate for some People: Sadly, some brands and services with unique audiences may be difficult to reach with online adverts. For example, products and services for the elderly, disabled or those without internet access may require more traditional marketing methods.
Complaints and Feedbacks: This is another case of an advantage that could backfire. For example, because of a wider reach, negative customer complaints could affect product sales significantly or destroy one's online reputation.
In your experience, what are the other pros and cons of digital marketing not listed here? Do you think they outweigh the disadvantages of traditional marketing? Leave us a comment with your thoughts and ideas on the matter. We would love to hear from you.
Final Thoughts
As we've seen, there are many advantages and disadvantages of digital marketing. However, it can be concluded safely that overall, digital marketing is more effective than traditional marketing.
With the invention of modern technologies for traditional marketing, its rates, though higher may be cheaper than it was. Consequently, our recommendation is to use digital marketing more often, while also employing traditional marketing techniques occasionally.
How do you market your products and services to customers today? Let us know what options work best in your own experience.
Today's Funny Quote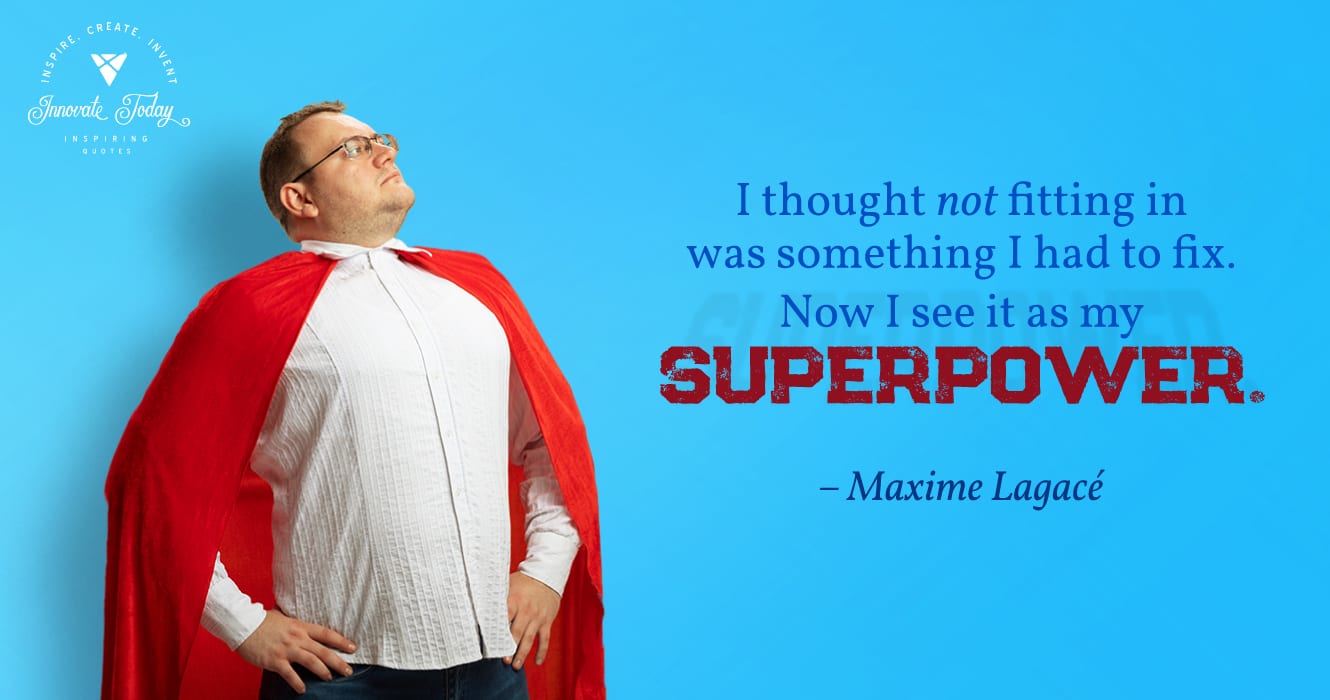 As is our custom, we will end this post with a funny quote. Today, our funny quote is by Maxime Lagacé, the Canadian Professional Ice Hockey Goalkeeper. He said:
I thought not fitting in was something I had to fix. Now I see it as my superpower.
How do you see your unique traits? Do you see them as a disability or a superpower? Leave us a comment with your thoughts on the matter. As always, we would love to hear from you.
Did you know that Innovate Today is a part of Innovate Design Studios Ltd? We are a web design company that provide premium web design, website maintenance and graphics services. If you'd like to know more about the service we provide, feel free to check out our Services page. On the other hand, if you'd like to get a free, no obligation quote for your web design project, contact us to submit a quote request.
If you found this post inspiring, kindly remember to share it on social media. Also remember to follow us on Facebook, Twitter, Instagram and LinkedIn. Our social media handle is @idscreate.
Have a great week ahead and we will see you later this week with more inspiring posts.

Innovate Design Studios creates innovative web design solutions that provide you with a secure, custom designed web presence that promotes your business and generates revenue and exposure.