H

ave you ever started your day with high expectations, only to end it accomplishing very little? Or have you ever wondered how the day went by so fast with barely anything done? If so, you have probably also wondered what you could have done differently to be more productive. The truth is we all want to be productive and efficient. Even exceptionally high achievers keep seeking ways to do things more efficiently. We want to set goals and accomplish them or receive tasks and get them done ahead of schedule. However, that is rarely always the case. The reality is that some days we accomplish most of our goals and on others, very little. So, is this how we ought to live or is there a way to increase our efficiency? Well, in this post, we will share seven helpful tips on how to be more productive. We believe applying these simple techniques can help anyone become more productive in life.

Did you know that Benjamin Franklin, the scientist, inventor, philosopher, and statesman is also famous for inventing To-Do lists? It is said that he once came up with a thirteen-week plan to practice virtues like cleanliness, frugality, etc. He was so committed to this plan that he even tracked his progress over the period with a chart.

Have you ever wondered whether the results you achieve are the best you can achieve? In other words, are you doing your best or just doing better than people's meager expectations of you? It is an interesting notion that requires some deep thought. Regardless of how you answer this question, the truth is we all have the potential to keep improving. Whether it is because of increased motivation or enhanced skill, everyone can theoretically do better. Hence, it stands to reason that the quest to be more productive should also be a constant goal.

Before we proceed, do check out these related posts we've written on the subject. We believe you will find them equally beneficial:
Also, as we like to remind, do consider subscribing to our electronic mailing list today. Your free subscription allows us to send inspiring posts like this directly to your email. Simply enter your name and email below to subscribe:
Please enter your name and email address to subscribe.
In the next section, we will jump right into it and share seven tips on how to be more productive.
Seven Tips on How to be more Productive
Like we said earlier, the search for ways to be more productive is one man has done for centuries. Here are some proven and practical ways to increase one's productivity:
Have a To Do List: Like we said earlier, To-Do lists are so helpful that even Benjamin Franklin used them. This is because they provide an easy way to keep track of goals. They also help with focus and prioritizing of daily tasks. The best way to use them is to ensure they are realistic, concise, and flexible.
Figure out your Peak Hours: Peak hours are times during the day when our concentration and energy are at their best. Ideally, such times should be used to perform the most crucial or challenging tasks of the day. For most people, this is between 9:00am and 1:00pm.
Focus on one thing at a Time: While it is a popular belief that multitasking can help one become more productive, statistics indicate it is untrue. Rather, it's been discovered that complete focus on individual tasks increases productivity. By making use of the Pomodoro technique, we can achieve more through focus on individual tasks.
Exercise and Healthy Living: Another way to be more productive is through exercise and healthy living. Giving priority to exercise and a good diet ensures that our physical and mental faculties operate optimally. This in turn helps one achieve better results in daily tasks and endeavors.
Learn to Say No: Sometimes, understanding your daily duties and knowing if additional tasks can be added on is important. Such knowledge can help one determine when to agree to additional tasks or say no to them. And while it may seem unhelpful or rude, the truth is that impromptu tasks drastically diminish our productivity. Saying no to unscheduled tasks can help one become more productive.
Take short Breaks: Research has shown that taking frequent, short breaks can help the brain understand and retain information. We encourage you to take short breaks when performing complex tasks to allow time to assimilate and process information. Such time could be used to take a quick walk, listen to music, or just clear your mind.
Continuously Improve: The last time we have for you today on how to be more productive is to commit to continuous improvement. This means making a conscious effort to learn new things, self-improve and enhance one's skills. Self-improvement is a vital part of life and essential to increased productivity.
What strategies have you used in your own life and career to increase productivity? Do you make use of to-do lists or commit to self-improvement? Let us know your thoughts by leaving a comment at the end of this post. As always, we would love to hear from you.
Today's Funny Quote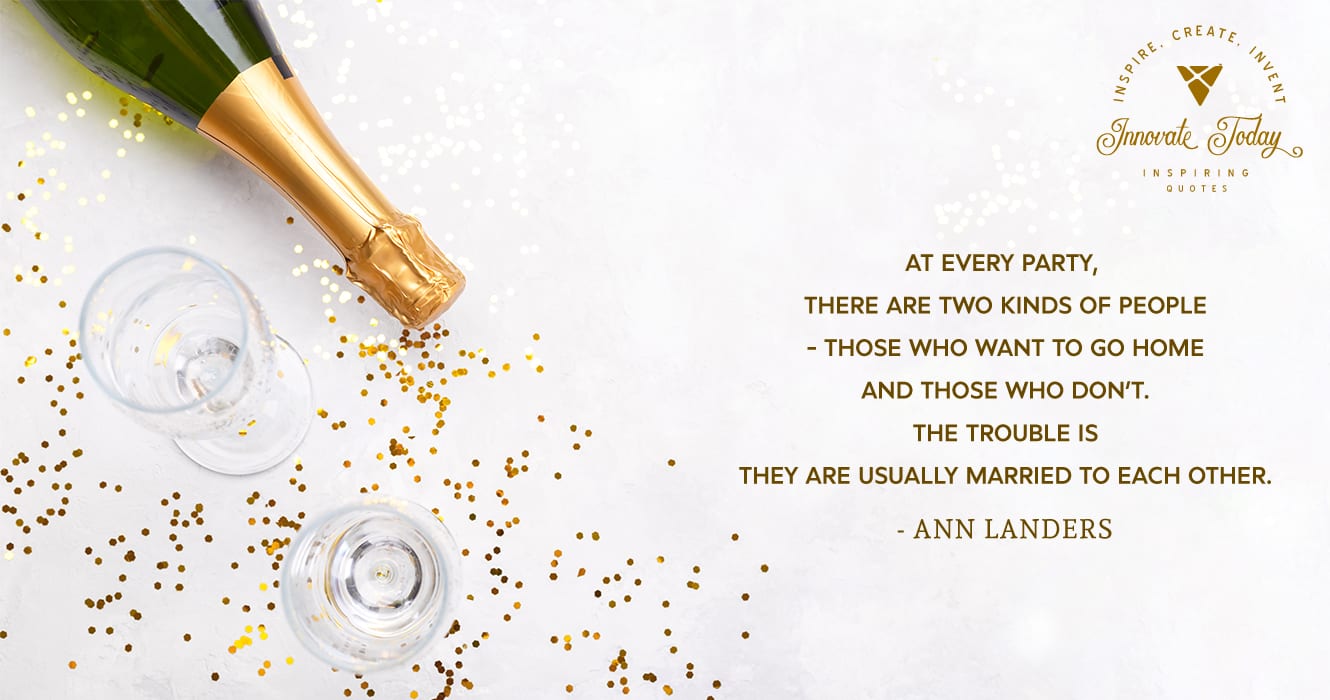 Our funny quote today is by Ann Landers (Esther P. Lederer), the American Advice Columnist. She said:
At every party there are two kinds of people – those who want to go home and those who don't. The trouble is, they are usually married to each other.
Do you agree? What are your thoughts on parties and how long one should stay for them? Let us know by leaving a comment at the end of this post.
Did you know that Innovate Today is a part of Innovate Design Studios Ltd? We are a web design company that provide premium web design, website maintenance and graphics services. If you'd like to know more about the service we provide, feel free to check out our Services page. On the other hand, if you'd like to get a free, no obligation quote for your web design project, contact us to submit a quote request.
If you found this post inspiring, kindly remember to share it on social media. Also remember to follow us on Facebook, Twitter, Instagram and LinkedIn. Our social media handle is @idscreate.
Have a great weekend and we will see you again next week with more inspiring posts.

Innovate Design Studios creates innovative web design solutions that provide you with a secure, custom designed web presence that promotes your business and generates revenue and exposure.