W

hat does it mean to be a hard worker? Are there characteristics and attributes that hard workers have in common? If so, is it logical to assume that those characteristics will produce success for anyone who has them? In this post, we will delve into the subject of hard work, what it means and characteristics of hard workers. Our hope is at the end of this post, you, our beloved reader will be able to identify such qualities. And of course, we also hope you will cultivate them so they become dominant forces in your life.

For starters, it important to clarify that hard work does not necessarily mean difficult or arduous work. As a matter of fact, most hard workers are quite often also smart workers. Rather, another excellent synonym for hard work is diligence. The Oxford dictionary defines diligence as "careful and persistent work or effort". In other words, hard workers are meticulous and constant in the effort they put into their work. They understand that their diligence and excellence are not wasted and will ultimately result in the success they desire. So, hard work is really a combination of several attributes. As we've already seen, some of these include persistence, excellence and effort, to name a few.

Before we move on to take a closer look at this subject, here are some related posts you might enjoy:
Also, if you are yet to subscribe to our electronic mailing list, we encourage you to do so today. If you sign up to our free electronic mailing list, you will receive more inspiring posts like this via email. Simply enter your name and email below to get started:
Please enter your name and email address to subscribe.
In the next section, we will take a brief look at what it means to be a hard worker. We will then go on to discuss the value of hard work and conclude with some of their characteristics.
What it means to be a Hard Worker
Like we explained earlier, it is erroneous to think that being a hard worker means doing difficult or stressful work. Instead, the term is made up of several traits. These include:
Persistence,
Determination,
Consistent effort towards a goal, and
Excellence
The Value of Hard Work
As the name implies, hard work can sometimes be hard to do. This is because it requires the consistent, meticulous use of effort towards a specific goal. And the truth is sometimes, its not the easiest thing to do.
However, this is also where the value of hard work is shown; in the success it produces. Think about it for a minute. Hidden in the stories of every successful person is the secret of hard work, persistence, and excellence. If one will be successful in life, hard work must be embraced.
Seven Characteristics of Hard Workers
Diligence: The term due diligence means putting in time and effort to certify something. That is what diligence means; putting time and effort into something to make it better than simply good. This is interesting because in life, there is almost nothing that isn't made better with time. For example, the more time and effort you put into a project or assignment, the better it will be.
Detail Oriented: Another characteristic of hard workers is that they are meticulous. They understand that when they pay close attention to details, good things become exceptional. It is interesting to note because being meticulous is a process that also requires time.
Self-Motivation: Also, diligent people do not require external support to keep themselves motivated. Rather, they are motivated by the success they will achieve when their goals are reached.
Perseverance: Hard workers also have the inner fortitude to persist in the face of difficulties and struggles. When they face problems and roadblocks, they find creative solutions to them.
Excellence: A simple definition for excellence is delivering beyond what is expected of one. Diligent workers are excellent because they are diligent and detail oriented. This combination ensures that the work they do exceed always exceeds expectations.
Dependability: To put it simply, you can depend on a hard worker to perform their assignments efficiently, with little supervision.
Takes Initiative: Lastly, hard workers are creative and disciplined enough to know when to take initiative. Rather than wait to be told what to do, they understand what is required to succeed and do it.
Do you consider yourself a hard worker? Which other traits have you noted in hard workers that is not included in our list? Also, what are your thoughts on the connection between hard work and success? We would love to hear from you on these issues. Feel free to drop us a message with your thoughts and opinions. As always, we would love to hear from you.
Today's Funny Quote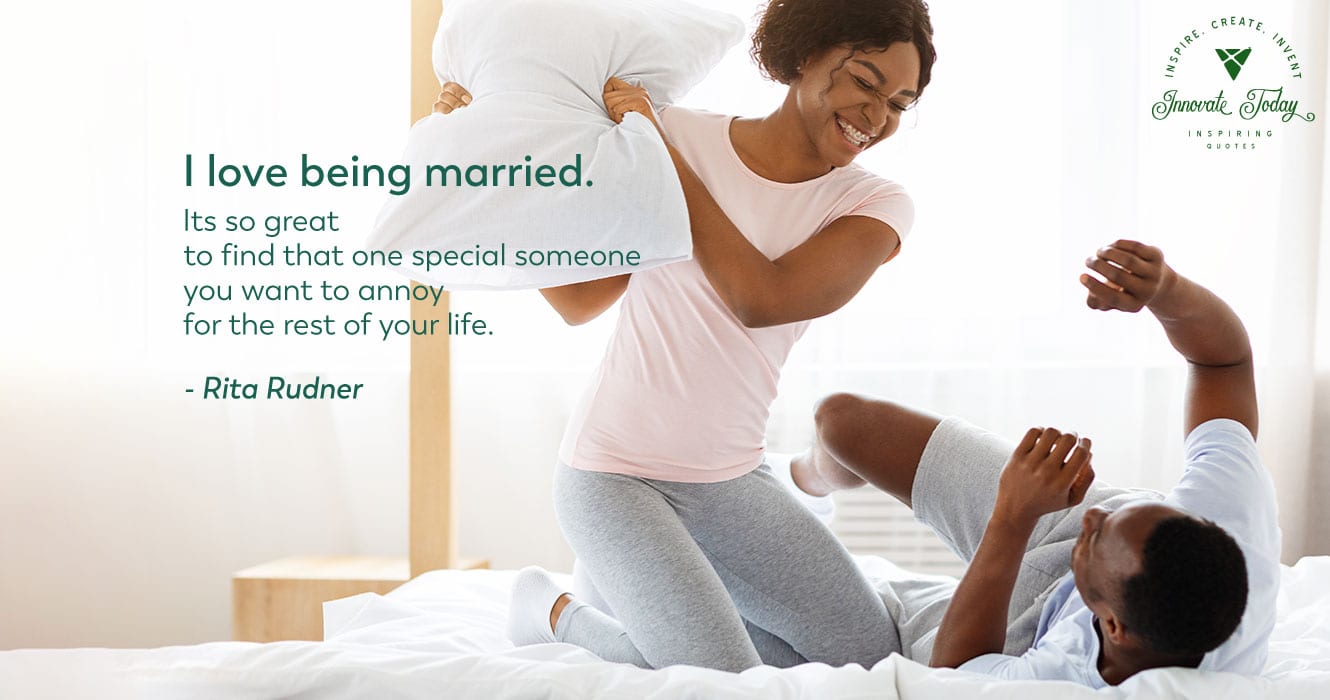 As is our custom, we will end today's post with a funny quote. Our funny quote for today is by Rita Rudner, the American Comedian. She says:
I love being married. It's so great to find that one special person you want to annoy for the rest of your life.
Do you agree with Rita on marriage? Leave us a comment below with your thoughts.
Did you know that Innovate Today is a part of Innovate Design Studios Ltd? We are a web design company that provide premium web design, website maintenance and graphics services. If you'd like to know more about the service we provide, feel free to check out our Services page. On the other hand, if you'd like to get a free, no obligation quote for your web design project, contact us to submit a quote request.
If you found this post inspiring, kindly remember to share it on social media. Also remember to follow us on Facebook, Twitter, Instagram and LinkedIn. Our social media handle is @idscreate.
Have a great weekend, stay safe and we will see you next week with more inspiring posts.

Innovate Design Studios creates innovative web design solutions that provide you with a secure, custom designed web presence that promotes your business and generates revenue and exposure.