D

id you know that statistics show that 70% of new small businesses fail in their first ten years of business? That is a staggering number! It means that of every ten businesses launched this year, at least seven will be out business in ten years. That's rather shocking. If you are a business owner, or thinking of starting a business, it should give you cause for concern. However, today, most young entrepreneurs start their businesses with huge ambitions and little focus on how their predecessors failed. We believe that to be imprudent and a surefire way to end up with a failed business. So, in this Innovate Today post, we will discuss the top five reasons why small businesses fail. In addition, we will also discuss useful tips on how to avoid such ghastly mistakes. We believe and in-depth review of why other businesses fail could help save your business.

Starting a business always involves a certain amount of risk. Good businesspeople try to reduce that risk through detailed market research, adequate finances, and other best practices. Yet, once a business is launched, its potential for failure only increases because of hidden pitfalls all around. For example, who knew that running a successful business requires an active online presence? Its sad to say, but most businesses without an online presence before the COVID-19 pandemic are now closed. As a new business owner, the best you can do is prepare, learn from other's mistakes, and trust your instincts.

While there are several reasons why small businesses fail, in this post, we will discuss the top five. Before we proceed though, we encourage you to check out these related posts on the subject:
You can also subscribe to our electronic mailing list to receive more inspiring posts like this via email. Simply enter your name and email below to subscribe:
Please enter your name and email address to subscribe.
With that said, let's get right to it. In the next section, we will share our list of the top five reasons why small businesses fail.
The top Five Reasons why Small Businesses fail
Here are the top five reasons why small businesses fail and useful tips on how to avoid them:
Failure to deliver Real Value: One of the primary reasons why businesses fail is because they add no value to their customers or clients. To succeed as a business owner, one must place added value above profit in order of importance. This is because added value brings repeat customers and helps promote your business like nothing else can. So how do you deliver real value to your customers? First define your purpose for business. This should be a reason other than to make profits. Next, put business systems in place to ensure that every customer has the ideal experience. Lastly, have quality control processes in place to get feedback from customers and ensure your business value is being delivered.
Lack of Strategic Leadership: Next on our list is a lack of strategic leadership. As the saying goes, everything rises and falls on leadership. Businesses often fail because leaders are not strategic and do not have a plan for growth. For example, a strategic leader will have an annual list of goals and a plan to achieve them. In addition, she will have a plan for marketing, financial management and business expansion. Without these, the business could stall, and no one would be the wiser. The issue of strategic leadership does not need to be complicated. As a businessperson, start with a five-year plan for your business. Then break it up into yearly plans, with associated goals for each year. You can then make business decisions based on your already specified goals and targets.
Failure to adapt to Change: Another reason many businesses fail is because they refuse to adapt. As a business, your products and services may change over the years without necessarily affecting your business values. Back in the '80s and '90s with the advent of computers and the internet, companies had to adapt. For example, Pharmaceutical companies had to adopt the use of the internet to deliver value to their customers. Several change cycles have come since the '90s such as social media, ecommerce, etc. The key word here is to adapt to emerging change while preserving your company core values.
Failure to create Business Systems: No matter how good you are as a businessman, you can only do so much at a time by yourself. This is why good businesses have business systems in place that ensure the business runs the right way. Business systems provide a uniform business experience for all customers in an almost automated manner. For example, what is your process for delivering your business service to a client during a project? How much can you automate the process to ensure that each customer gets the same quality experience? The problem with a lack of business systems is what happens to your business quality if you leave the business. Or worse, if an employee leaves the business. With the right business processes, anyone can be hired to follow them and deliver the same quality to your customers.
Not having a Profitable Business Model: One of the biggest reasons why many businesses fail is because they do not have a profitable business model. In essence, this means they do not meet the right needs of their potential customers. For a business to be successful, it must meet the specific needs of its customers while making enough money. For example, when Google first started, it met the needs of the world by providing search engine results. It had the web traffic was able to deliver search results internet users needed. However, it made its profit through online ads. It is not enough to have a great product or service. To be profitable, you must find reliable and expandable ways to monetize it.
Final Thoughts
Before concluding this post, we thought it necessary to reiterate some concepts discussed earlier on. First, added value always brings in business. It may cost more initially but it will ultimately pay off, especially if its not expensive to the customer. Second, more businesses fail because of customer relations issues. So, make your customers your priority. Ensure that they are happy and treated fairly. Lastly, build business systems that allow your business to be self-reliant. The rule-of-thumb here is that your business should not be dependent on you or any one employee to survive.
Are there any other reasons why you think businesses fail? Feel free to share your thoughts and comments with us at the end of this post.
Today's Funny Quote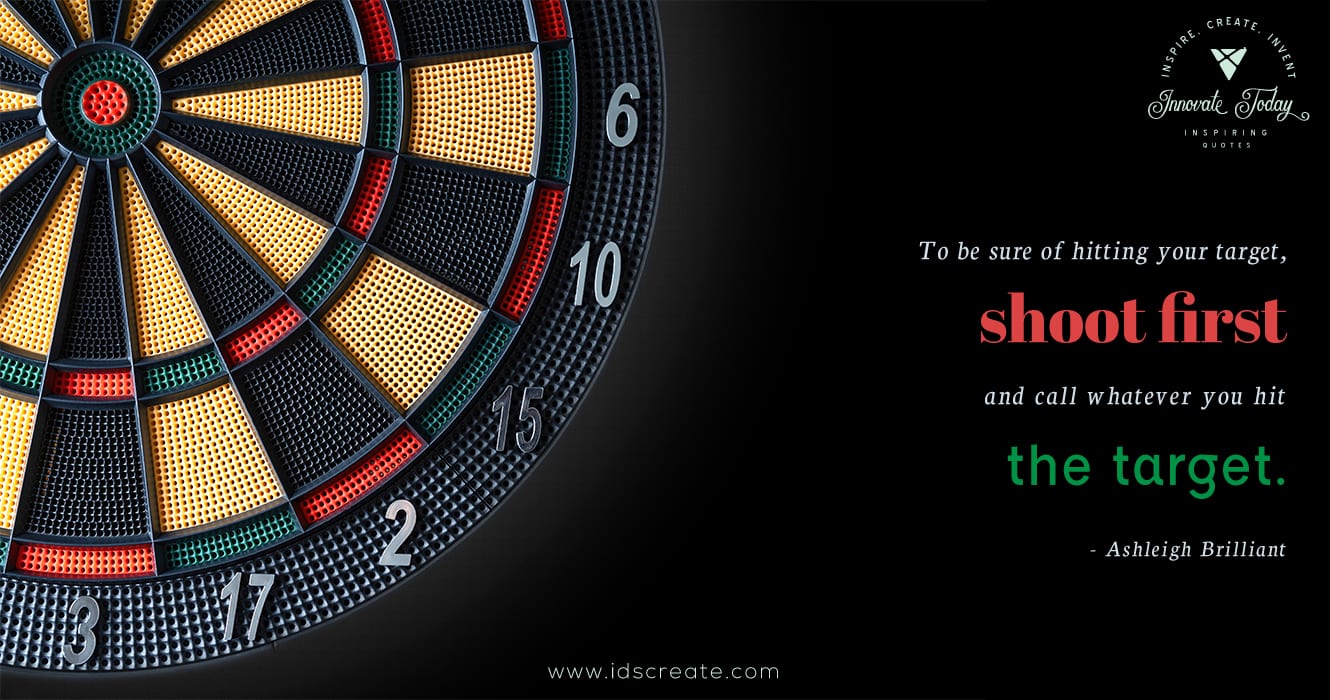 Our funny quote for today is by Ashleigh Brilliant, the Author and Cartoonist. He said:
To be sure of hitting the target, shoot first and call whatever you hit the target.
Do you agree? Let us know in the comments section at the end of this post. As always, we would love to hear from you.
Did you know that Innovate Today is a part of Innovate Design Studios Ltd? We are a web design company that provide premium web design, website maintenance and graphics services. If you'd like to know more about the service we provide, feel free to check out our Services page. On the other hand, if you'd like to get a free, no obligation quote for your web design project, contact us to submit a quote request.
If you found this post inspiring, kindly remember to share it on social media. Also remember to follow us on Facebook, Twitter, Instagram and LinkedIn. Our social media handle is @idscreate.
Have a great week ahead and we will see you again later in the week with more inspiring posts.

Innovate Design Studios creates innovative web design solutions that provide you with a secure, custom designed web presence that promotes your business and generates revenue and exposure.