O

ne of the most inspiring quotes about time we came across while preparing this post was said by Benjamin Franklin. He put it quite plain and simply when he said time is money. This makes so much more meaning when you consider that he was a scientist, politician, inventor, philosopher, and US Statesman. We believe that time is much more than money. As a matter of fact, we believe it can be exchanged for anything you wish to gain or accomplish. For example, if you want to develop your skills, the way to do it is to invest time into it. Or if you want to make money, the way you do that is to invest your time at your place of work. While these are rather simple examples, one thing we can conclude is that time is a universal currency. In other words, like we said earlier, you invest time to get what you want. In our post today, we will take a look at the subject of time and consider twenty inspiring quotes about time. We believe these quotes will give you a fresh outlook at the value of time and how to use it.

Time waits for no man is another interesting quote. Think about it for a minute. You can invest time, waste time, lose time and even get robbed of time. However, the one thing no one can do is stop the flow of time. In essence, this means that whether we want to or not, we are always spending our time on something.

Before we proceed, here are some related posts we've written that you might equally enjoy:
Also, if you are yet to subscribe to our electronic mailing list, please do so below:
Please enter your name and email address to subscribe.
Your free subscription allows us to send inspiring posts like this to you via email.
In the next section, we will briefly discuss why time management is important.
Reasons why Time Management is Important
Time management is the activity of controlling the way one spends time in order to work as effectively as possible. This is how the Longman Business Dictionary defines time management. In general, the purpose of time management is to enhance efficiency. It helps one work smarter without necessarily working harder. Here are five reasons why time management is so important:
It helps one achieve more in less time.
Management of time helps reduce stress.
Time management enhances focus and reduces procrastination.
It helps one establish a better work-life balance.
It makes more time available to do the things one loves.
In the following sections, we will share some inspiring quotes about time. We will approach them in two sections: Quotes on Wasting Time and Quotes on Investing Time.
Ten Quotes about Time on Wasting Time
Time = life; therefore, waste your time and waste of your life, or master your time and master your life. – Alan Lakei
A man who dares to waste one hour of life has not discovered the value of life. – Charles Darwin
Regret for wasted time is more wasted time. – Mason Cooley
Those who make the worst use of their time are the first to complain of its brevity. – Jean De La Bruyere
It's not that we have little time, but that we waste a good deal of it. – Seneca
You can't make up for lost time. You can only do better in the future. – Ashley Ormon
Determine never to be idle. No person will have occasion to complain of the want of time who never loses any. It is wonderful how much can be done if we are always doing. –  Thomas Jefferson
Your time is limited, so don't waste it living someone else's life. – Steve Jobs
Lost, yesterday, somewhere between sunrise and sunset, two golden hours, each set with sixty diamond minutes. No reward is offered, for they are gone forever. – Horace Mann
Lost wealth may be replaced by industry, lost knowledge by study, lost health by temperance or medicine, but lost time is gone forever. – Samuel Smiles
Ten Quotes about Time on Investing Time
Time is the most valuable thing a man can spend. – Theophrastus
Know the true value of time; snatch, seize, and enjoy every moment of it. No idleness, no laziness, no procrastination: never put off till tomorrow what you can do today. – Philip Stanhope
The key is in not spending time, but in investing it. – Stephen R. Covey
It is the time you have wasted for your rose that makes your rose so important. – Antoine de Saint-Exupéry
Time is free, but it's priceless. You can't own it, but you can use it. You can't keep it, but you can spend it. Once you've lost it you can never get it back. – Harvey Mackay
We must use time wisely and forever realize that the time is always ripe to do right. – Nelson Mandela
Time slips through our hands like grains of sand, never to return again. Those who use time wisely are rewarded with rich, productive, and satisfying lives. – Robin Sharma
Time is really the only capital that any human being has, and the only thing he can't afford to lose. – Thomas A. Edison
All we have to decide is what to do with the time that is given us. – J. R. R. Tolkien
We must use time as a tool, not as a crutch. – John F. Kennedy
Which of these inspiring quotes about time did you like best? We particularly loved the third quote in the section on Quotes about Wasting Time. It says that regret for wasted time is just more wasted time. So, we encourage you to find useful ways to use and invest your time. Down the road, you'll be glad you did.
Feel free to leave us your comments on which quotes you liked best. As always, we would love to hear from you.
Today's Funny Quote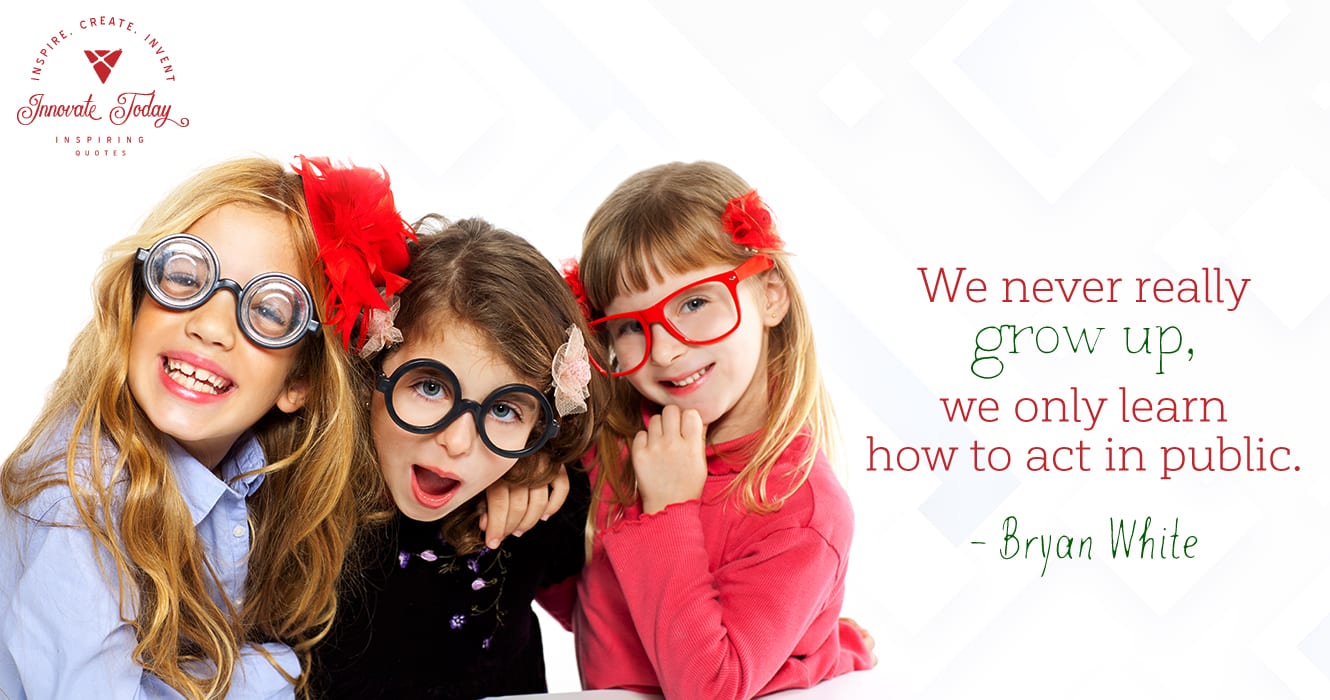 Our funny quote for today is by Bryan White, the Grammy award-winning Singer. He said:
We never really grow up, we only learn how to act in public.
Do you agree? Let us know in the comments section at the end of this post.
Did you know that Innovate Today is a part of Innovate Design Studios Ltd? We are a web design company that provide premium web design, website maintenance and graphics services. If you'd like to know more about the service we provide, feel free to check out our Services page. On the other hand, if you'd like to get a free, no obligation quote for your web design project, contact us to submit a quote request.
If you found this post inspiring, kindly remember to share it on social media. Also remember to follow us on Facebook, Twitter, Instagram and LinkedIn. Our social media handle is @idscreate.
Have a great weekend and we will see you again next week with more inspiring posts.

Innovate Design Studios creates innovative web design solutions that provide you with a secure, custom designed web presence that promotes your business and generates revenue and exposure.