I

f you're a savvy businessperson, you've most likely figured out that ecommerce is here to stay. If anything, the COVID-19 pandemic has shown that online business can be both resilient and dependable. As a matter of fact, an online ecommerce store is a reliable backup for any storefront business. But as an entrepreneur or small business owner, how do you start an ecommerce business? What specific digital items do you need to start selling your products online? How much is it likely to cost and what are its recurring expenses, if any? These are pertinent questions anyone interested in starting an ecommerce business should ask. In this post, we will attempt to answer some of these questions in simple non-technical terms. By the end of this post, you should be reasonably conversant with what is needed to start your ecommerce business.

If you're like most businesses today, your intention may be to expand your existing business online. If so, like we said, several questions need to be answered to efficiently carry out this expansion. In addition, website traffic, marketing, online ads, Search Engine Optimization (SEO) and social media pages, need to be considered.

Before we go on to take an in-depth look at these issues, here are related posts you might find relevant:
Also, as we like to remind, if you have not subscribed to our electronic mailing list, please do so today. Your free subscription allows us to send you inspiring posts like this by email. To subscribe, simply enter your name and email in the subscribe section below:
Please enter your name and email address to subscribe.
In the next section, we will take a brief look at five reasons why starting an ecommerce business is a good idea.
Five Reasons why Starting an Ecommerce Business is a good Idea
Like we mentioned earlier, the world of ecommerce business is robust and resilient. With the right setup and foundation, you can literally sell products and make money while you sleep. In addition, you can expand your market base into locations that would be difficult otherwise.
While there are several more reasons why expanding into, or starting an ecommerce business is a good idea, here are five more to consider:
Starting an ecommerce business helps generate income in addition to what your standard business makes.
Once setup, you can make sales and earn money all day, every day, regardless of a customer's location.
In addition to making sales, it can create awareness about your business, products, and services you offer. It can also be used a platform to provide good customer service.
Another reason why starting an ecommerce business is a good idea is because of the enormous market potential. For example, statistics show that more than eighty percent of internet users have made a purchase online. This means with the right marketing strategy, you can reach and sell to your ideal customers.
An ecommerce business also provides job security. With an ecommerce business, reduced in-person market traffic will not severely affect one's business, especially adequate with online sales.
Important Questions to ask before Launching an Ecommerce Business
In the last section, we discussed some of the benefits of starting an ecommerce business. In this section though, we would like to provide some questions you should ask before launching your ecommerce website. We hope they provide additional insight into needed requirements.
What is the name of your company and is it legally registered in your country?
What kind of products or services do you provide and where do you provide them?
Does your company or business have a Logo? Also, does your company have a motto or catchphrase?
What available domain name can you purchase for your company's use? Also, is the name available for your social media pages?
What type of products or services do you offer? Do you have pictures of your products, along with their descriptions and inventory information? Do you also have product dimensions and weight for shipping integration?
What payment gateways are available in your area and which of them will you use to receive payment from customers?
If you sell products, what shipping companies (e.g. UPS, FedEx, DHL) are available in your area. This is also necessary for shipping integration.
Who will design your website graphics, online and social media adverts? Also, how will you engage customers and website visitors, so they keep returning to your website?
Who will setup your social media pages and design your website? What features will be built into the website? Also, what reporting tools will be built into the website, including SEO and website analytics?
What return policies will you provide your customers? Also, what legal documents will be provided on the website to protect yourself and your customers?
What maintenance arrangements do you have for the website after it is designed? How will the website be updated and kept secure down the road?
What is your monthly marketing budget and what platforms will you engage to market your products and services?
While this list is not comprehensive, it gives a glimpse into some requirements needed to run an ecommerce business.
In the next section, we will share seven things everyone should know before launching an ecommerce business.
Seven Things to Know before Starting an Ecommerce Business
Here is a list of things to know before starting an ecommerce business that will get you prepared:
That competition Is high and tough: While it is a good idea to start an ecommerce business, note that you will have competitors. In some cases, you might have competitors who have had an online presence much longer than you. So how will you try to gain customers? What unique products or services could distinguish you from your competitors?
Effective Marketing is Vital: This is an issue that cannot be stressed enough. Effective marketing that is reviewed and adjusted periodically based on website analytics is crucial. There is nothing worse than launching an excellent website but having no traffic to it. While effort must be made to build a customer friendly website, effort must also be put into awareness campaigns.
Networking is Important: Even for online businesses, networking is essential. Connections should be made with similar businesses locally, especially with local Unions. In addition to business opportunities, such bodies could also help list and even promote your business for free.
Choose the ideal Ecommerce Platform: In most cases, unless you are technically proficient, the decision on which ecommerce platform you use will depend on your web designer. It is a good idea to do some research into available platforms, ease of use, scalability, and security early on.
Create Social Media Pages: As with creating a website, setting up social media pages for your business is necessary. Such pages could work together with your website to generate traffic and bring in customers.
Build Content: Besides building your ecommerce website, you will also need to provide your customers with relevant content. Such content could be in the form of a blog for posts or forum for public discussions. The idea is to provide a platform customer can use to engage with your company, products and services.
Make use of Search Engine Optimization (SEO): Optimizing your website for search is the primary way of ensuring that you get customers to your website. Understanding the importance of SEO before launching your website will ensure it's built into the system from the start. For example, products that are SEO optimized are more likely to be found by customers.
Are you thinking about starting an ecommerce business or expanding your business online? If you are, we would like to encourage you to do so, but carefully. Questions and issues raised in this post should be considered carefully and discussed with your web designer or Web Agency. On the other hand, if you've considered these issues and would like to kick things off, contact us. We will provide you with a free, no obligation proposal for your website design project, including a detailed cost analysis.
Have you started your own ecommerce business? How did you do it? What challenges did you face and how were they resolved? Feel free to share your thoughts and comments with us. We would love to hear from you.
Today's Funny Quote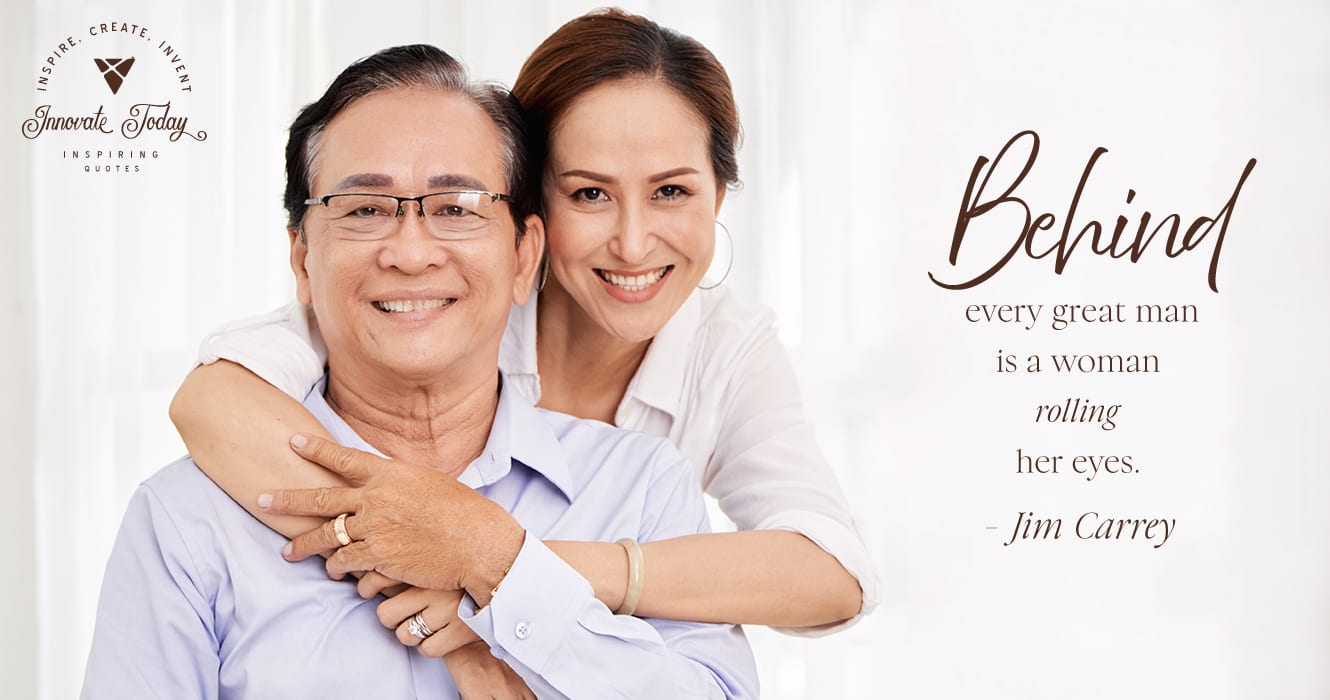 As is our custom, we end today's post with a funny quote. Today, our funny quote is by Jim Carrey, the Actor and Comedian. He said:
Behind every great man is a woman rolling her eyes.
Do you agree with him? Is it behind or beside? Let us know your thoughts in the comments below.
Did you know that Innovate Today is a part of Innovate Design Studios Ltd? We are a web design company that provide premium web design, website maintenance and graphics services. If you'd like to know more about the service we provide, feel free to check out our Services page. On the other hand, if you'd like to get a free, no obligation quote for your web design project, contact us to submit a quote request.
If you found this post inspiring, kindly remember to share it on social media. Also remember to follow us on Facebook, Twitter, Instagram and LinkedIn. Our social media handle is @idscreate.
Have a great weekend and we will see you again next week with more inspiring posts.

Innovate Design Studios creates innovative web design solutions that provide you with a secure, custom designed web presence that promotes your business and generates revenue and exposure.