T

oday, we would like to share with you, twenty inspirational quotes for work to get you through the week. If you're like most people, Monday's are not your favorite day of the week. First off, it's the end of the weekend and the start of a new work week. In addition, depending on what you do, it means more stress, hard work and deadlines to be met. So, in this post, we will be sharing inspiring quotes to keep you motivated all through the week. These inspirational quotes for work will center around hard work, handling Stress, the importance of Persistence and achieving your Goals. We hope they truly inspire you and help keep you going all through your week.

According to the Oxford dictionary, inspiration is "the process of being mentally stimulated to do or feel something, especially to do something creative". In this context, the quotes we will share in this post are meant to stimulate you mentally towards creativity. To put it in other words, with the right inspiration, you can have a creative week at work.

Before we go on to share these inspirational quotes for work, here are some related posts you might enjoy:
Also, we invite you to subscribe to our electronic mailing list today. Your free subscription allows us to send inspiring posts like this to you via email. To subscribe, simply enter your name and email below:
Please enter your name and email address to subscribe.
On that note, let's move on to share twenty inspirational quotes for work next. The first set of quotes will be on Hard Work.
Five Inspirational Quotes on Hard Work
The price of success is hard work, dedication to the job at hand, and the determination that whether we win or lose, we have applied the best of ourselves to the task at hand. – Vince Lombardi
Once you have commitment, you need the discipline and hard work to get you there. – Haile Gebrselassie
Your ability to discipline yourself to set clear goals, and then to work toward them every day, will do more to guarantee your success than any other single factor. – Brian Tracy
Whatever you do, do it with all your might. Work at it, early and late, in season and out of season, not leaving a stone unturned, and never deferring for a single hour that which can be done just as well now. – Margaret Fuller
I would visualize things coming to me. It would just make me feel better. Visualization works if you work hard. That's the thing. You can't just visualize and go eat a sandwich. – Jim Carrey
Five Encouraging Quotes for a Stressful Day
Here are five quotes to encourage you after a stressful day:
Much of the stress that people feel doesn't come from having too much to do. It comes from not finishing what they started. – David Allen
The truth is that our finest moments are most likely to occur when we are feeling deeply uncomfortable, unhappy, or unfulfilled. For it is only in such moments, propelled by our discomfort, that we are likely to step out of our ruts and start searching for different ways or truer answers. – Scott Peck
Strength does not come from winning. Your struggles develop your strengths. When you go through hardships and decide not to surrender, that is strength. – Arnold Schwarzenegger
I've learned that no matter what happens, or how bad it seems today, life does go on, and it will be better tomorrow. – Maya Angelou
The best way to not feel hopeless is to get up and do something. Don't wait for good things to happen to you. If you go out and make some good things happen, you will fill the world with hope, you will fill yourself with hope. – Barrack Obama
The next set of inspirational quotes will be on Persistence.
Five Inspiring Quotes about Persistence
Here are five inspiring quotes about persistence:
Success is no accident. It is hard work, perseverance, learning, studying, sacrifice and most of all, love of what you are doing or learning to do. – Edson Arantes do Nascimento (Pelé)
Just don't give up trying to do what you really want to do. Where there is love and inspiration, I don't think you can go wrong. – Ella Fitzgerald
If you are working on something exciting that you really care about, you don't have to be pushed. The vision pulls you. – Steve Jobs
My attitude is that if you push me towards something that you think is a weakness, then I will turn that perceived weakness into a strength. – Michael Jordan
Success is almost totally dependent upon drive and persistence. The extra energy required to make another effort or try another approach is the secret of winning. – Denis Waitley
The next set of inspirational work quotes will be about achieving goals.
Five Inspiring Quotes for Work about achieving Goals
Here are five inspiring quotes about achieving your Goals:
I don't focus on what I'm up against. I focus on my goals and I try to ignore the rest. – Venus Williams
One of the lessons that I grew up with was to always stay true to yourself and never let what somebody else says distract you from your goals. – Michelle Obama
You are never too old to set another goal or to dream a new dream. – C.S. Lewis
The quality of a person's life is in direct proportion to their commitment to excellence, regardless of their chosen field of endeavor. – Vince Lombardi
Opportunity is missed by most people because it is dressed in overalls and looks like work. – Thomas Edison
We do hope you've been inspired by our specially curated inspirational quotes for work. Feel free to share your thoughts and comments with us at the end of this post. Particularly on which quotes you liked best. As always, we would love to hear from you.
Today's Funny Quote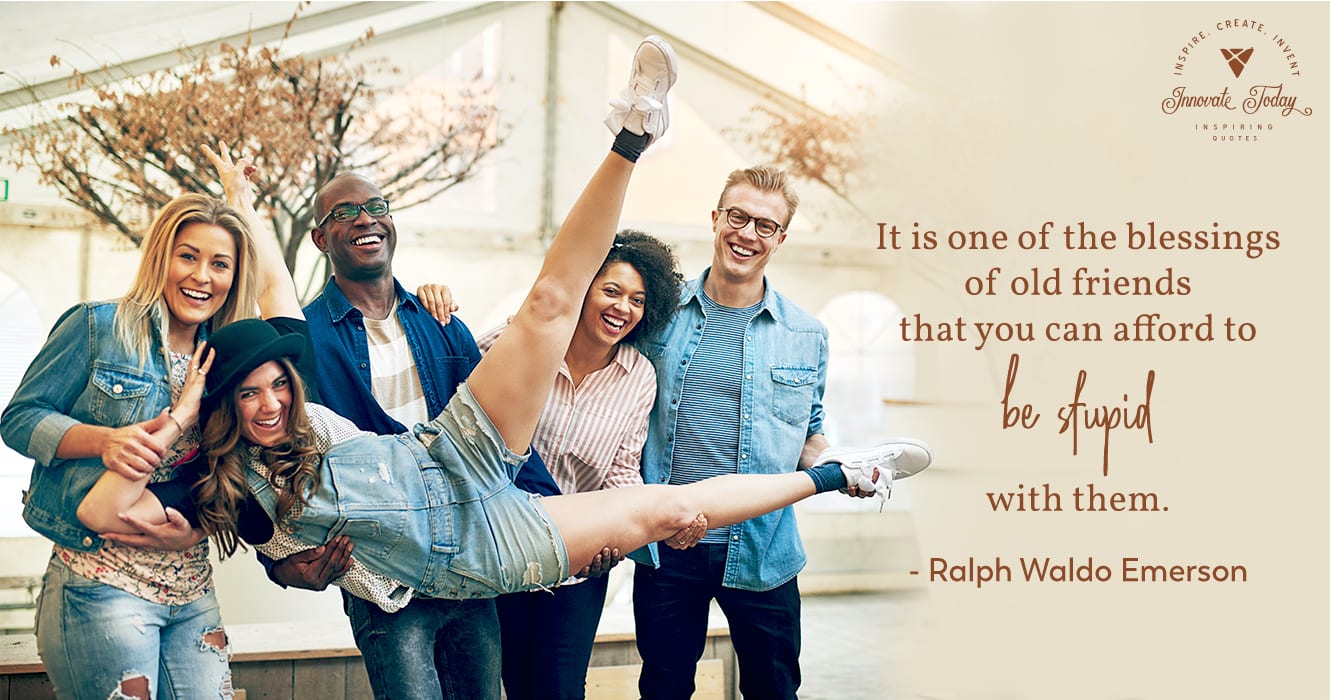 As is our custom, we end this post with a funny quote. Today's funny quote is by Ralph Waldo Emerson, the American Philosopher and Poet:
It is one of the blessings of old friends that you can afford to be stupid with them.
When was the last time you spoke with your dear old friends? Send one of them a text so they know you're thinking of them.
Did you know that Innovate Today is a part of Innovate Design Studios Ltd? We are a web design company that provide premium web design, website maintenance and graphics services. If you'd like to know more about the service we provide, feel free to check out our Services page. On the other hand, if you'd like to get a free, no obligation quote for your web design project, contact us to submit a quote request.
If you found this post inspiring, kindly remember to share it on social media. Also remember to follow us on Facebook, Twitter, Instagram and LinkedIn. Our social media handle is @idscreate.
Have a great week ahead and we will see you later in the week with more inspiring posts.

Innovate Design Studios creates innovative web design solutions that provide you with a secure, custom designed web presence that promotes your business and generates revenue and exposure.