I

n our post today, we discuss the subject of freelancing and side hustles, and why they are so important. We will also discuss, later in the post, how to turn your freelance side hustle into a business. As you already know, the world is only just starting to recover from the economic effects of the coronavirus. All around the world, millions of people are still experiencing financial difficulties directly resulting from the COVID-19 pandemic. Those who have not been so adversely affected are people who do not rely on a single source of income. As the over 400-year old adage says, do not put all your eggs in one basket. This is why side hustles are so important; they give one multiple streams of income besides a standard job. 

Have you ever wondered how millionaires are made? How about billionaires? Difficult as it may be to achieve, its interesting to note that such wealthy people exist in our world today. Additionally, it is intriguing to note that not all millionaires today were born into great wealth. Some, in fact, built their great wealth up from nothing. So, we wonder, how do you become a millionaire or even a billionaire? Is it a function of one's location, social network, work ethics or birth status? After some research, we believe we may have an answer to this age-old question. The primary way wealth is developed is by having multiple streams of income.

If you've found this post useful, we encourage you to also check out these related posts:
Also, we invite you to subscribe to our Innovate Today electronic mailing list, today. Your free subscription allows us to send you inspiring posts like this by email. Simply enter your name and email in the subscribe section below to get started:
Please enter your name and email address to subscribe.
In the next section, we will discuss six reasons why everyone needs a side hustle.
Six Reasons why Everyone needs a Side Hustle
A side hustle, side job or side gig is any job one does in addition to one's primary job. Like we mentioned earlier in this post, its primary purpose is to bring in supplementary income.
Running a side hustle successfully is hard work. As you can imagine, this is because of all the time and effort needed, in addition to one's full-time job. Nevertheless, a side hustle is an excellent way to try out business ideas without excessive risk. This is of course besides additional benefits such as additional income, financial stability and doing something you love.
Here are six additional benefits of starting a side hustle:
Having multiple sources of income through different side jobs can be empowering.
The workforce is getting more competitive. A side job provides useful additional experience.
It protects one's financial well-being.
Your side hustle could eventually grow into a business.
A side hustle helps one develop useful skills and experience
It affords one with the opportunity to explore one's passions.
When to turn your Freelance Side Hustle into a Business
Deciding when to quit your full-time job and turn your freelance side hustle into a business could be a difficult decision. However, there are signs that could help one know when it's time to make such a decision. For example, you might want to ask yourself if you're ready to commit to your side hustle full time. Other serious questions to consider include how much money is coming in and if it could grow into something big.
Here are five additional ways to know when it's time to turn your side hustle into a business:
When you at least understand the basics of the Business.
When you are financially, mentally, and emotionally ready.
Your freelance side hustle business is gaining much needed attention.
When you have mastered the art of self-promotion.
When you have to turn down clients due to insufficient manpower.
How to turn your Freelance Side Hustle into a Business
If you're experiencing any of these issues, it may be time to consider turning your side hustle into a business. Here are five ways expand your freelance side hustle:
Develop a Business Plan: The safest way to transition from side hustle to business is to begin with a business plan. Such a plan would help bring possible business issues into perspective. This is also particularly important since factors such as employees, staff benefits, etc. are not issues with a side gig.
Wait until earnings are consistent: If you intend to quit your full-time job to run your side hustle, monthly earnings must be consistent and substantial. This is because you will need to pay your staff and cover recurring expenses before paying yourself. Without consistent and substantial earnings, the business could fail in its first few months. Ensuring that finances and clients are not an issue will give you the confidence you need to transition without fear.
Invest in Yourself: Understand that as a business owner, you will need a working knowledge of finance, marketing, and customer relations. This is of course besides the skills needed for the primary services you provide your customers. To begin preparing, invest in business tools and training materials that boost your skillset in these areas.
Establish an Online Presence: Digital marketplaces are becoming the norm for business transactions today. In order to get a seat at the proverbial table, one must at least establish an online presence. This should include a website, social media presence, e-commerce capabilities and SEO at the minimum.
Take the Leap: When transitioning, it is important to note that taking a risk is necessary. After carefully following the other steps outlined, take the leap. Besides the financial security of being a business owner, it will allow you to work on other side hustles.
Do you currently have a side hustle you do, alongside your full-time job? How do you manage to balance them both? Are you a business owner that transitioned from freelancing? How did you successfully make the transition? Feel free to share your thoughts and comments with us. As always, we would love to hear from you.
Today's Funny Quote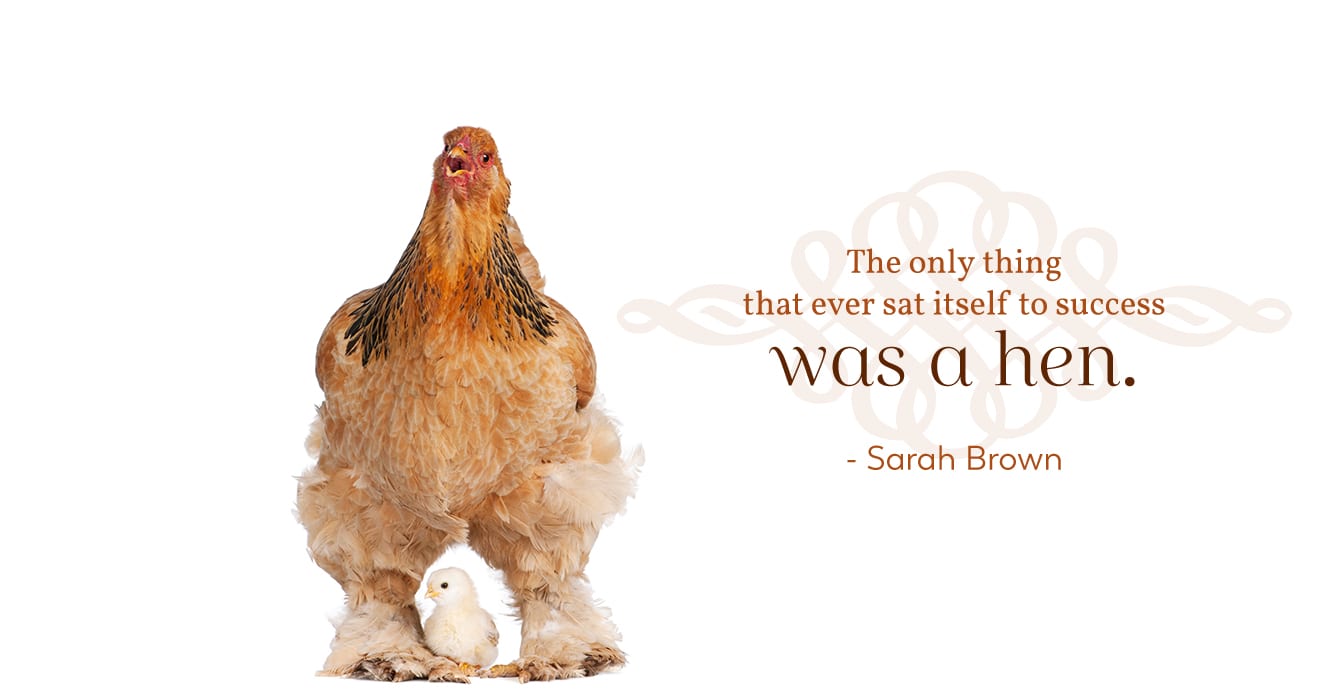 As is our custom, we end today's post with a funny quote. Our funny quote today is by Sarah Brown, the American Actress:
The only thing that ever sat its way to success was a hen.
What are your thoughts on sitting your way to success? Can it be done or is it a myth? Let us know your thoughts in the comments section below.
Did you know that Innovate Today is a part of Innovate Design Studios Ltd? We are a web design company that provide premium web design, website maintenance and graphics services. If you'd like to know more about the service we provide, feel free to check out our Services page. On the other hand, if you'd like to get a free, no obligation quote for your web design project, contact us to submit a quote request.
If you found this post inspiring, kindly remember to share it on social media. Also remember to follow us on Facebook, Twitter, Instagram and LinkedIn. Our social media handle is @idscreate.
Have a great week ahead and we will see you later this week with more inspiring posts.

Innovate Design Studios creates innovative web design solutions that provide you with a secure, custom designed web presence that promotes your business and generates revenue and exposure.