W

ithout a doubt, so many unexpected things have happened in 2020. So much in fact that for many, it's been almost impossible to stay positive and optimistic about anything anymore. Interestingly, this is a challenge people all over the world face every day. For example, everyone has to deal with financial, relationship and work-related challenges, to mention just a few. Yet, there are some who despite these problems, always have an optimistic outlook on life. So, the question is how do you stay positive and optimistic about life? Also, how do you think like an optimist? In this post, we will discuss the all-important subject of staying positive regardless of what happens around you. In addition, we will discuss reasons why its important to think like an optimist and practical ways to stay positive. The primary message to take from this post is that staying positive is a deliberate decision we all can make. We hope that when you're done with this post, you will consider making a decision to always stay positive.

What does it mean to be optimistic? According to Oxford dictionary, it means being hopeful and confident about the future. This is why optimism is so important; without it, there is no hope or confidence about the future. In our context, thinking like an optimist helps one realize that despite current circumstances, things will get better. Earlier in this post, we posed the question of how to stay positive and optimistic about life. The simple answer to that question is hope. This is simply because if there is hope that things will change or get better, anyone can stay positive.

In the next section, we will discuss six reasons why one should think like an optimist. However, before we do that, here are some related posts that you might enjoy reading:
Also, if you are yet to subscribe to our electronic mailing list, please do so using our subscribe section below:
Please enter your name and email address to subscribe.
Your free subscription allows us to send you inspiring posts like this by email. To subscribe, simply enter your name and email in the subscribe section below:
Six Reasons to think like an Optimist
Staying positive can be hard, especially if one does not understand what benefits it provides. Here are six benefits of staying positive:
It opens one up to new possibilities.
Being optimistic helps one overcome setback easily.
It lifts life's many burdens from off one's shoulders.
Optimism keeps one motivated to act.
Optimistic people are more committed to their goals.
Being optimistic keeps one in better mental and physical health.
Like we said earlier, being optimistic is all about hope and the benefits it can bring into one's life. So, if for example, you've experienced setbacks this year, thinking like an optimist, or staying hopeful could be immensely helpful. It will give you the fortitude to dust yourself up and get back up again.
How to Stay Positive and Think like an Optimist
Here are some practical ways to keep yourself positive and thinking like an optimist:
Identify and Replace the Negativity around You: First, make a conscious effort to identify the sources of negativity in your life and replace them. Such negativity could be in the form of habits, thinking patterns or even negative friends. Once identified, come up with practical steps to stop such negativity and replace it with positivity.
Surround Yourself with Positive People: Positivity, like negativity is contagious. Another practical way to stay positive is to surround yourself with positive people. When you do, their lifestyle and aura will naturally begin to influence your thinking, gradually changing it. In addition, such people could give you helpful support at times when it's hard not to be negative.
Cultivate an Attitude of Gratitude: A big part of being optimistic involves being appreciative for what you have. Another way to cultivate optimistic thinking is to regularly identify and appreciate the good in your life. Gratitude helps you see what good you have in your life and gives you hope for what you're expecting.
Meditate: Meditation can serve as a useful tool for bringing clarity and focus in times of difficulty. Besides giving you the time to identify the good in your life, it also helps you think things through.
Accept Change and be Quick to find Solutions: As they say, change is the only constant thing in life. However, most people are not receptive to change because of the discomfort it sometimes brings. Thinking like an optimist involves seeing change as an opportunity, not challenge and making the most of it.
How have you managed to stay optimistic this year? Are there any specific ways you keep yourself optimistic and hopeful? Feel free to leave us your thoughts and comments at the end of this post. As always, we would love to hear from you.
Today's Funny Quote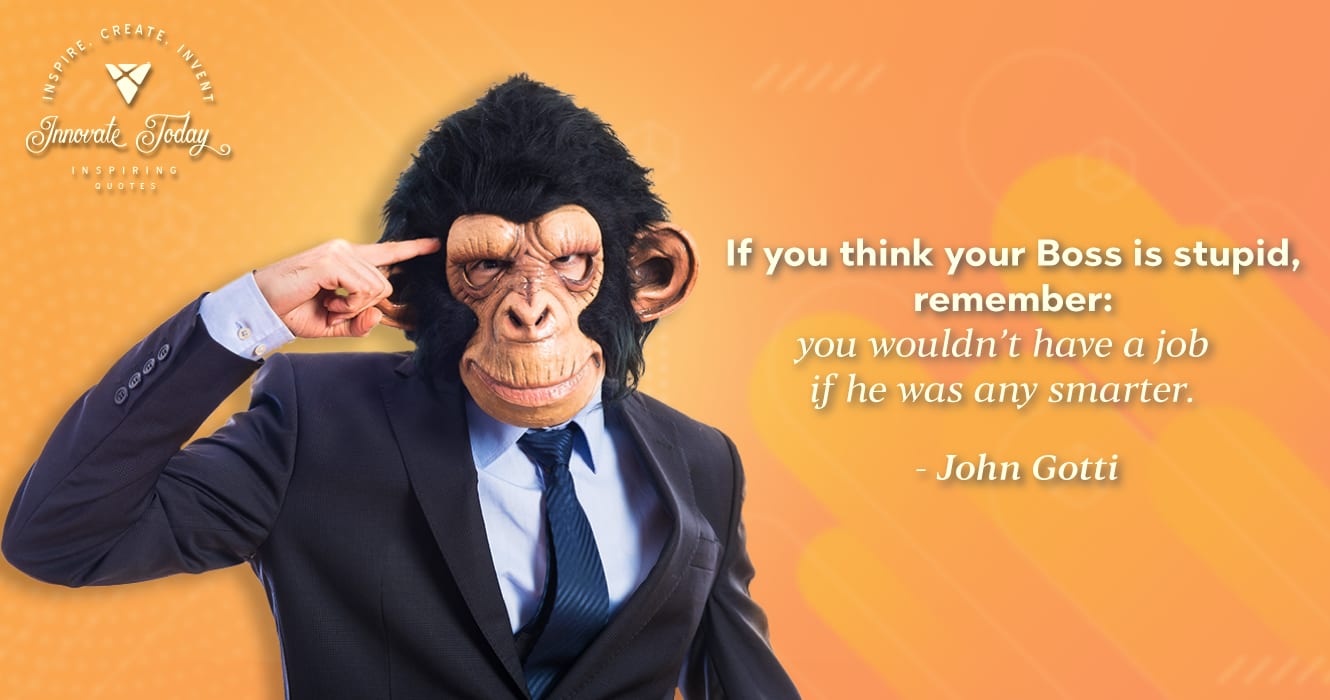 Our funny quote for today is by John Gotti, the American Gangster
If you think your boss is stupid, remember: you wouldn't have a job if he was any smarter.
Do you agree? Let us know your thoughts and comments at the end of this post.
Did you know that Innovate Today is a part of Innovate Design Studios Ltd? We are a web design company that provide premium web design, website maintenance and graphics services. If you'd like to know more about the service we provide, feel free to check out our Services page. On the other hand, if you'd like to get a free, no obligation quote for your web design project, contact us to submit a quote request.
If you found this post inspiring, kindly remember to share it on social media. Also remember to follow us on Facebook, Twitter, Instagram and LinkedIn. Our social media handle is @idscreate.
Have a great weekend and we will see you again next week with more inspiring posts.

Innovate Design Studios creates innovative web design solutions that provide you with a secure, custom designed web presence that promotes your business and generates revenue and exposure.