H

ow do you start your day every morning? For example, how did you start your day today? Do you have a special routine you use to start your day off right? Or do you just wing it and start depending on how you feel each day? While this may seem like a simple, unimportant topic, we encourage you to consider it seriously for a moment. Most people agree that a personalized morning routine is necessary if you hope to have a good day, every day. In this Innovate Today post, we will discuss seven positive ways to start your day right. We hope these tips will serve as guidelines as you put together a morning routine for yourself.

Starting your day right is important for several reasons. For instance, the frame of mind in which you start your day could affect your outlook all day long. If you start off happy, peaceful note, you are likely to keep that with you all day. On the other hand, if you start off angry or upset, you might carry that attitude all day as well. This is why having a reliable morning routine can help provide the structure needed to succeed daily.

Before we proceed, here are some related posts we've written that you might equally enjoy:
Also, as we like to remind, if you have not subscribed to our electronic mailing list, please do so today. Your free subscription allows us to send you inspiring posts like this by email. To subscribe, simply enter your name and email in the subscribe section below:
Please enter your name and email address to subscribe.
Before we discuss positive ways to start your day right, let's briefly discuss how not to start your day.
How not to Start your Day
Positive habits are formed, and negative habits are stopped when an intentional effort is made. In order to start the day right, certain wrong steps need to be stopped. So, here are some ways to not start your day that are quite common today:
Starting your day without a plan or To-Do list.
Getting on your phone and on social media, first thing in the morning.
Not prioritizing your tasks and assignments for the day.
Being pessimistic about the day.
Not getting up early enough.
In the next section, we will discuss seven positive ways to start your day off right.
Seven Positive Ways to Start Your Day Right
Here are seven suggestions on how you could start your day right. As discussed earlier in this post, we recommend that they form a daily routine to help you start the day right, every day:
Write a Short To-Do List before Bed: To set the right tone for your day, try putting together a to-do list the night before. This way, you can identify your most important tasks for the day ahead. In addition, writing this list before bed ensures you do it in a relaxed mood.
Get enough restful Sleep: Truthfully, a good day starts off with good sleep the night before. While it is necessary to work hard, adequate sleep is also necessary to ensure you are physically and mentally fit. Working hard all day and not getting adequate sleep could ultimately lead to health issues.
Wake up at a Time that Works for You: Not everyone is an early bird. As a matter of fact, depending on your schedule, you may not be able to wake up early. Nevertheless, if you have a regular daily schedule, it is always a good idea to wake up early. Doing so will give you enough time prepare for your daily activities.
Meditate: Starting your day off with meditation can help improve your focus, reduce stress, improve emotional stability, and prevent health problems. Meditating, or focused thinking also helps clear your mind so you can make correct and meaningful decisions.
Exercise: In addition to meditating, starting the day off with short exercises helps invigorate your body for the day ahead. A simple 15-minute workout after waking up is usually enough to get your heart pumping. Exercises you could do include jumping jacks, push-ups, belly crunches, or jogging.
Eat a good Breakfast: As the saying goes, breakfast is the most important meal of the day. A great breakfast gives you the energy needed to start the day. In addition, it helps improve focus and concentration during the day. Some studies have also shown that eating breakfast prevents overeating during lunch, which could help with weight management.
Check your Phone after you start your day: With the availability of smartphones and internet access, its easy to start the day off by grabbing your phone. However, we recommend that you delay internet access till you have completed your morning routine. This is because starting your day off right requires intentional focus on what is important to you. On the other hand, when you start the day off on your phone, you can't determine what you come across. You may come across good news or bad news that affects the rest of your day.
What other positive ways have you employed to start your day right? Leave us a comment at the end of this post with those other tips. It may be helpful to our other readers. As always, we would love to hear from you.
Today's Funny Quote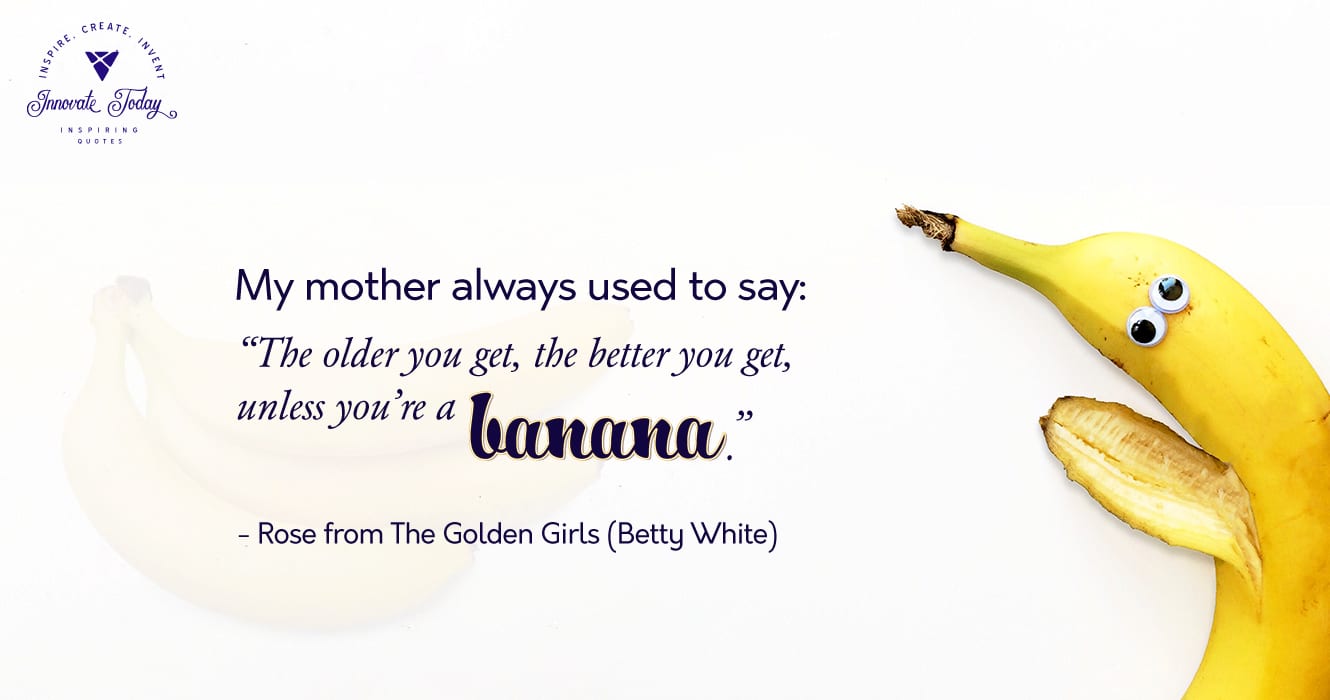 Our funny quote today is by Rose, the character in the star show, The Golden Girls
My mother always used to say: The older you get, the better you get, unless you're a banana.
Do you agree? What is your take on growing old? Let us know what you think in the comments section at the end of this post.
Did you know that Innovate Today is a part of Innovate Design Studios Ltd? We are a web design company that provide premium web design, website maintenance and graphics services. If you'd like to know more about the service we provide, feel free to check out our Services page. On the other hand, if you'd like to get a free, no obligation quote for your web design project, contact us to submit a quote request.
If you found this post inspiring, kindly remember to share it on social media. Also remember to follow us on Facebook, Twitter, Instagram and LinkedIn. Our social media handle is @idscreate.
Have a great weekend and we will see you again next week with more inspiring posts.

Innovate Design Studios creates innovative web design solutions that provide you with a secure, custom designed web presence that promotes your business and generates revenue and exposure.