A

s an outstanding leader in US Politics today, Nancy Pelosi is an inspiration to women everywhere. In 2007, she made history when she became the first woman to become Speaker of the US House of Representatives. She has now served in that capacity three times; from 2007-2009, 2009-2011 and 2019-Present. In that capacity, she is the highest-ranking elected female government official in the United States of America. Having served in the US Congress since 1987, she is currently serving her 17th term in Congress. We believe her to be a pioneer and, in this post, share ten inspiring quotes by Nancy Pelosi. It is our hope that her story and quotes will inspire you to stand for what you believe in.

Like we said earlier, Nancy Pelosi has led a very interesting life. She was born Nancy Patricia D'Alesandro on 26th March 1940 in Baltimore, Maryland to Italian American parents. From an early age, she was exposed to politics. For instance, her father, Thomas D'Alesandro Jr. served as a US Representative and Mayor of Baltimore. During his years in political office, she was actively involved in his campaigns, even interning for Senator Daniel Brewster.

Before we proceed, here are some additional posts from Innovate Today that you might find equally inspiring:
Also, if you've enjoyed this post so far, we encourage you to subscribe to our electronic mailing list today. Your free subscription allows us to send posts like this to you through email. To subscribe, simply enter your name and email in the subscribe section below:
Please enter your name and email address to subscribe.
In the next section, we will list some particularly interesting facts about Nancy Pelosi.
Some Interesting Facts about Nancy Pelosi
Her parents and brother were actively involved in politics. Both her father and brother served as Mayor of Baltimore, Maryland.
Her mother was also involved in organizing women for politics and taught her the value of social networking.
Nancy Pelosi is the only woman in United States history to serve as Speaker of the House of Representatives. She is also the first person to regain the position again after serving as Speaker in over 60 years.
As Speaker of the House of Representatives, she is the highest-ranking elected female official in the United States.
Nancy is married to Paul Pelosi and they have five children and nine grandchildren. Its also interesting to note that she didn't start her political career till all her children were grown.
Nancy Pelosi is an inspiration today because she has helped push important legislation in her 31 years of Public Service. Some such legislation includes the Affordable Care Act and the Don't Ask Don't Tell Repeal Act. Due to her tenacity in challenging the status quo, Nancy has been able to speak on sensitive matters without fear.
In the next section, we share ten inspiring Nancy Pelosi quotes.
Ten Inspiring Quotes by Nancy Pelosi
Here are ten quotes by Nancy Pelosi that we hope will inspire you:
We have so much room for improvement. Every aspect of our lives must be subjected to an inventory of how we are taking responsibility.
There's plenty of opportunity for everyone, so there's no reason to worry about somebody else's success, either saying you couldn't do this so she's better than you, or she's doing it so you can't. No, she's doing it, so you can.
You have to believe in who you are and what difference you can make. You believe, you care, you have confidence in the difference that you can make. And that's not to be egotistical, it's just to be confident.
Don't underestimate your opponent, but don't overestimate them, either.
I really want women to know their power, to value their experience. To understand that nothing has been more wholesome in the political process than the increased involvement of women.
If people don't have a job, they're not too interested in how you intend for them to have a job. They want to see results.
A successful marriage is a decision. You decide it's going to work. You can't always be there, but you have to be there enough. And you have to make sure you are where you're needed most.
Think of an economy where people could be an artist or a photographer or a writer without worrying about keeping their day job in order to have health insurance.
Bipartisanship is nice, but it cannot be a substitute for action, not having it cannot prevent us from going forward.
My vision for the future always centers around our children – it always centers around our children. So anytime anybody asks me what are the three most important issues facing the Congress, I always say the same thing: "Our children, our children, our children".
Which of these quotes by Nancy Pelosi did you like best? We particularly loved the fourth quote about not underestimating or overestimating your opponent. Feel free to leave us your comments on which quotes you liked best. We would love to get some feedback from you.
Today's Funny Quote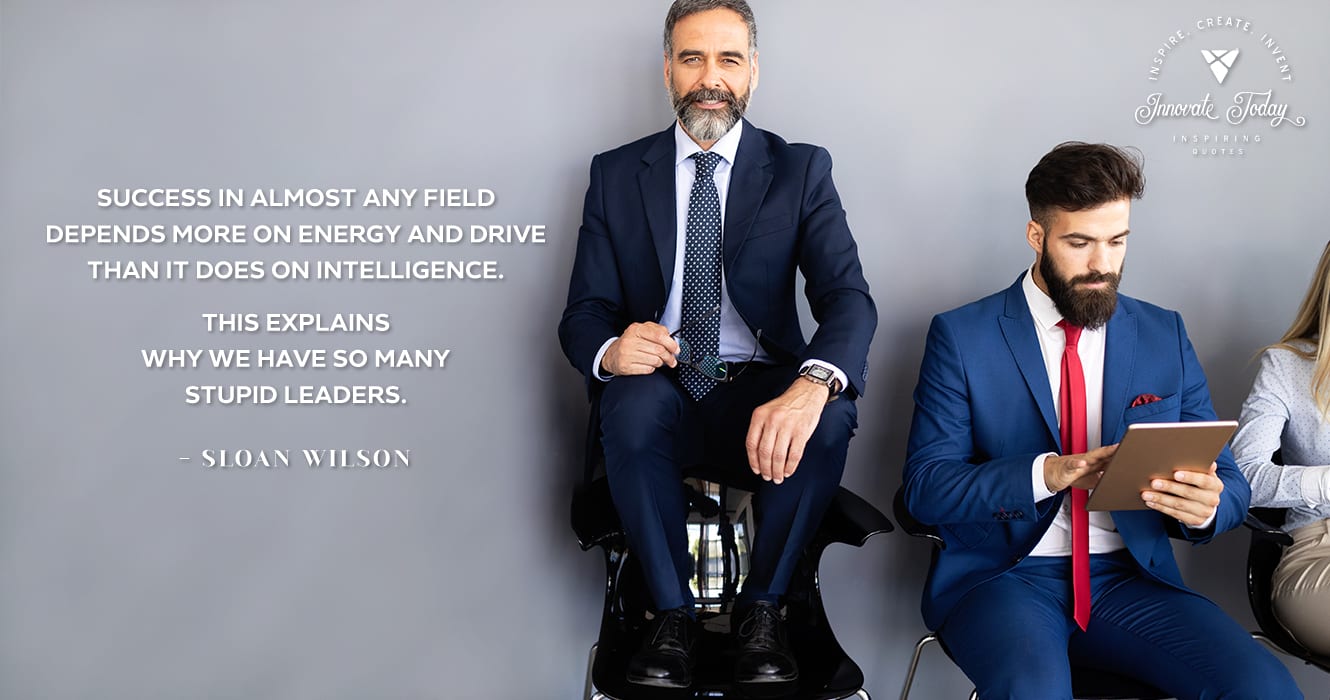 As is our custom, we end this post with a funny quote. Today, our funny quote is by Sloan Wilson, the American Writer:
Success in almost any field depends more on energy and drive than it does on intelligence. This explains why we have so many stupid leaders.
Do you agree with Sloan Wilson? Feel free to leave us a comment at the end of this post.
Did you know that this post on our Innovate Today blog is brought to you by Innovate Design Studios Ltd, a web design and graphics company? We provide graphics, branding, web design and website maintenance services. If you're interested in these services, contact us today to get a free quote and 10% off your next project.
Also, if you found this post useful, remember to share it on social media. Also remember to follow us on Facebook, Twitter, Instagram and LinkedIn. Our social media handle is @idscreate.
Have a great weekend, stay safe and we will see you next week with more inspiring posts.

Innovate Design Studios creates innovative web design solutions that provide you with a secure, custom designed web presence that promotes your business and generates revenue and exposure.