B

eing a good Father is a tasking but rewarding job. Interestingly though, it seems that with each generation, the duties, and definition of Fatherhood change. For example, what was considered good parenting in the '60s is not acceptable today. As men, we want to be good Fathers' to our children. In fact, we want to teach and support them, help them grow and in general be a good role model. However, what does it mean to be a good Father? Since it is an ever-changing job, what are its core requirements? It seems that the answer to this question is tied to understanding how to be a good Father. So, in this post, we will share ten tips on how to be a good Dad.

On one special day every year, we set aside time to show our love and appreciation for Father's. As you probably know, that day is called Father's Day. In Europe and most countries, that day is celebrated on March 19 as Saint Joseph's Day. In the United States however, it is celebrated on the third Sunday of June. Regardless of when you celebrate it, its important to set time out to honor your Father and Father figures. Without them, we literally would not be here.

In the next section, we will go on to discuss tips on how to be a good dad. However, before we do that, feel free to check out these related links. We believe you will find them equally helpful:
Also, as we like to remind, if you are yet to subscribe to our mailing list, please do so today. Your subscription allows us to send you funny and inspiring posts like this directly via email. To subscribe, simply enter your name and email in the subscribe section below:
Please enter your name and email address to subscribe.
With that said, let's review some tips on how to be a good Father.
Ten Tips on How to be a Good Father
Fatherhood is a marathon journey and not a sprint. As a result, being a good Dad involves a wide range of duties. As you might imagine, these include love, sacrifice, discipline, and financial capacity to mention just a few. It is interesting to note that each individual item by itself is not enough to make any one a good Father. For example, discipline by itself or sacrifice is not enough to make one a good Dad. Rather, it is the consistent combination of these different traits, over a long time that make one a good Father.
So, here are ten great tips on how to be a good Father:
Get Involved Early: The best time to figure out how to be a good Dad is while your wife is still pregnant. Before your baby comes, you can get involved by helping her out around the house. This will help make your joint journey to parenthood easy and stress free.
Spend time with your Children: Time is probably one of the most important things a Father can give to a child. By simply being "there", you show how important your child and family are to you. As an interesting side note, allow your children to spend their time with you on their interests. This way, you get to know them as individuals and understand their personalities from a tender age. There is nothing sadder than a Father who does not know his child. By allowing them the freedom to discuss openly with you, you create a foundation of trust and confidence.
Teach them to be Independent: While children need to be guided, it is never a good idea to control them excessively. Besides the adverse effects this could have on them as adults, it could create a rebellious attitude in them. Instead, from an early age, allow them to make certain decisions within a larger framework decided by you. For example, instead of forcing them to learn a specific musical instrument, let them choose what they like to learn. Chances are that a child will show interest in something they chose than in one they've been forced to learn. In our context, the larger framework would be your desire for them to learn a musical instrument. On the other hand, teaching them independence would be allowing them to choose what musical instrument to learn.
Be their Role Model: To be a good Father, do as I say and not as I do should not be your motto. For example, if you want your child to be truthful, you must not lie. Regardless of what we may think, our children look up to us and will copy what we do. So, as a good Father, you must lead by example and be a true role model to them.
Discipline with Love and Respect: Children need the steady hand of guidance and discipline from their Fathers'. However, as a good Father, you must also draw the line between indifferent discipline and loving discipline. Interestingly, the difference is love and consideration. As parents of growing children, we must pay attention to their emotional needs. Certain disciplinary actions should never be done in public to protect their confidence and self-respect. Children that are not respected at home may never realize they should be respected by others outside. By respecting your children, you help build their self-worth, so they know they deserve the respect of others.
Be Patient: As the saying goes, Patience is a virtue. As a good father you must be patient with your children. It is important to be tender and understanding of their needs, concerns and worries. By being a patient Father, you will help them overcome their fears and develop a healthy relationship with you.
Set Boundaries and be Firm: Let your no mean no and your yes mean yes. Children need structure and boundaries in their lives. Without such structures, they may grow up to be undisciplined, inconsiderate adults. These boundaries will also help give them balance and prevent them from excursiveness in all areas of life.
Put their Interest First: Good Fathers live a life of sacrifice; always putting the needs of their children and family before their own. Sometimes, putting the interest of your family first means letting go of some luxuries you love. Good Fathers' always put their family first.
Be their biggest Cheerleader: In raising children who will be responsible, contributing members to the society, you must be intentional. As Father's, we must speak positive things into the lives of our children. We must constantly let them know we believe in them and that they are capable of great feats. Rather than letting them shy away from bold steps, we should encourage them and help them when they fail. Good Father's understand that failure is a part of growing up. However, they also understand the importance of consistent support, in good and bad times and in success or failure.
Plan Special Events with The Family: Childhood memories are an important part of life. Even as an adult, you probably remember some special events you and your family had. It could be a birthday, a trip or even a simple picnic. As a good Dad, take time to plan such special events for your family and children. Those special trips could turn out to be the special childhood memories your children will cherish as adults.
As we celebrate Fathers' Day, what fond childhood memories do you have of your Dad? Take a moment to think about your childhood, siblings, and parents. What fond memories do you have of them? Feel free to share your thoughts and fond memories in the comments section at the end of this post. We would love to hear from you, as always.
Today's Funny Quote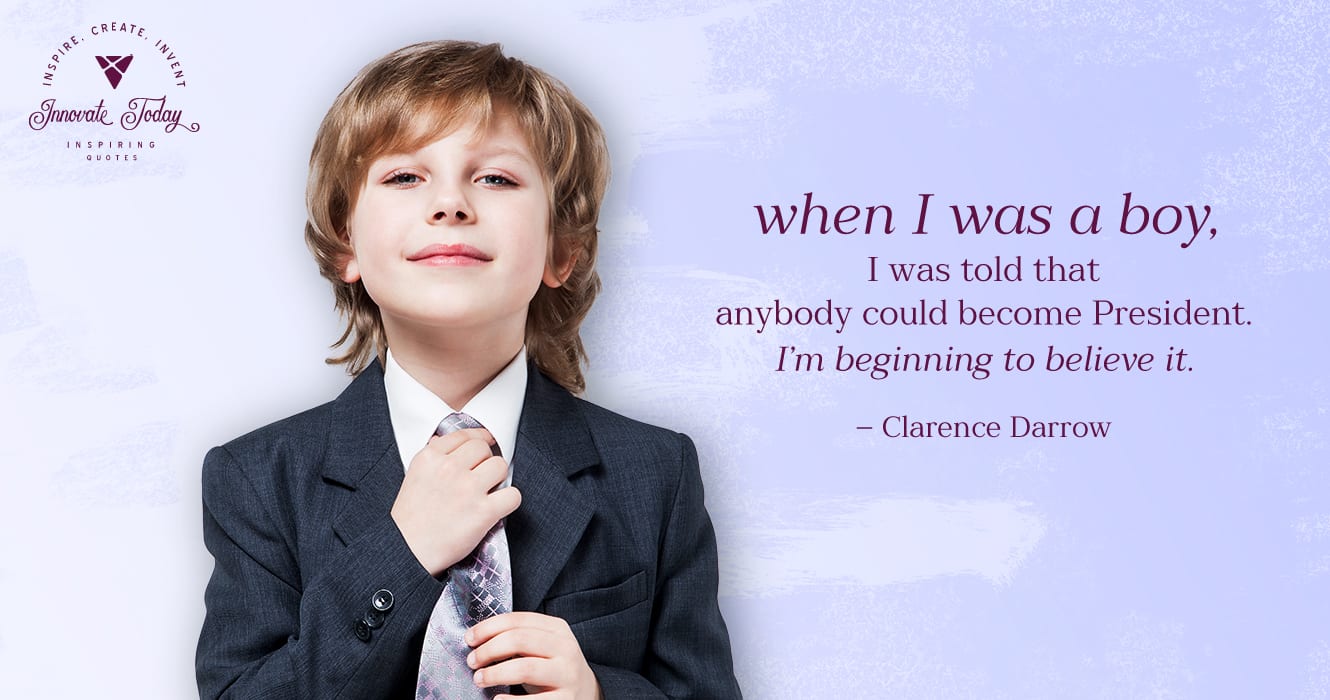 Our funny quote for today is by Clarence Darrow, the American Lawyer. He said;
When I was a boy I was told that anybody could become President. I'm beginning to believe it.
Did you know that our Innovate Today blog is brought to you by Innovate Design Studios Ltd, a web design and graphics company? We provide graphics, branding, web design and website maintenance services. If you're interested in these services, contact us today to get a free quote and 10% off your next project.
If you found this post useful, remember to share it on social media. Also remember to follow us on Facebook, Twitter, Instagram and LinkedIn. Our social media handle is @idscreate.
Have a wonderful Father's Day weekend and we will see you again next week with more inspiring and motivational posts.

Innovate Design Studios creates innovative web design solutions that provide you with a secure, custom designed web presence that promotes your business and generates revenue and exposure.