I

n this post, we share with you, several inspiring quotes about purpose. As you may already know, purpose is the reason for a thing or person's existence. So, without understanding purpose, we could end up wandering through life like a blind man groping around in the dark. This is why it is important for us to discover what our purpose is and pursue it. It is the surest way to live a satisfied life without regrets. So, our desire is that these specially curated quotes will inspire you to discover and pursue your purpose in life.

In our recent post on How to Discover your Purpose, we took an in-depth look at the subject of purpose. We also discussed subjects such as reasons why you should find your purpose and how to discover your purpose. We strongly encourage you to check that post out if you have a few minutes.

In this post however, we would like to share some inspiring quotes about purpose written by some prominent persons. We hope their thoughts on the subject of Purpose will give you fresh perspectives on its meaning and benefits.

Before we proceed, here are some related posts we believe you will find equally useful:
Also, as we like to remind, if you have not subscribed to our electronic mailing list, please do so today. Your subscription allows us to send you inspiring posts like this via email. To subscribe, simply enter your name and email in the subscribe section below:
Please enter your name and email address to subscribe.
In the next section, we will share inspiring quotes about purpose written by some prominent people.
Fifteen Inspiring Quotes about Purpose
Living a life of purpose means living a life driven by things you are passionate about. In doing so, you'll discover that life can be enjoyed. Here are some of the most inspiring quotes on purpose ever written. We hope you find them as inspiring as we did.
There is no greater gift you can give or receive than to honor your calling. It's why you were born. And how you become most truly alive. – Oprah Winfrey
Live the Life of Your Dreams: Be brave enough to live the life of your dreams according to your vision and purpose instead of the expectations and opinions of others. – Roy T. Bennett
Everyone has been made for some particular work and the desire for that work has been put in every heart. ―Jalaluddin Rumi
It does not matter how long you are spending on the earth, how much money you have gathered or how much attention you have received. It is the amount of positive vibration you have radiated in life that matters. – Amit Ray
Nothing is more creative, nor destructive than a brilliant mind with a purpose. – Dan Brown
Life is filled with unanswered questions, but it is the courage to seek those answers that continues to give meaning to life. You can spend your life wallowing in despair, wondering why you were the one who was led towards the road strewn with pain, or you can be grateful that you are strong enough to survive it. – D. Stroube
It's not enough to have lived. We should be determined to live for something. – Winston S. Churchill
The heart of human excellence often begins to beat when you discover a pursuit that absorbs you, frees you, challenges you, or gives you a sense of meaning, joy, or passion. – Terry Orlick
Definiteness of purpose is the starting point of all achievement. – Clement Stone
To begin to think with purpose, is to enter the ranks of those strong ones who only recognize failure as one of the pathways to attainment. – James Allen
The mystery of human existence lies not in just staying alive, but in finding something to live for. – Fyodor Dostoyevsky
The soul which has no fixed purpose in life is lost; to be everywhere, is to be nowhere. – Michel de Montaigne
If you can tune into your purpose and really align with it, setting goals so that your vision is an expression of that purpose, then life flows much more easily. – Jack Canfield
Efforts and courage are not enough without purpose and direction. – John F. Kennedy
True happiness is not attained through self-gratification, but through fidelity to a worthy purpose. – Helen Keller
Which of these quotes did you find most inspiring? We particularly loved Quote 9 on the list by W. Clement Stone, the Businessman and Philanthropist. Feel free to share you best quotes on our list in the comments section. We would love to hear from you.
Today's Funny Quote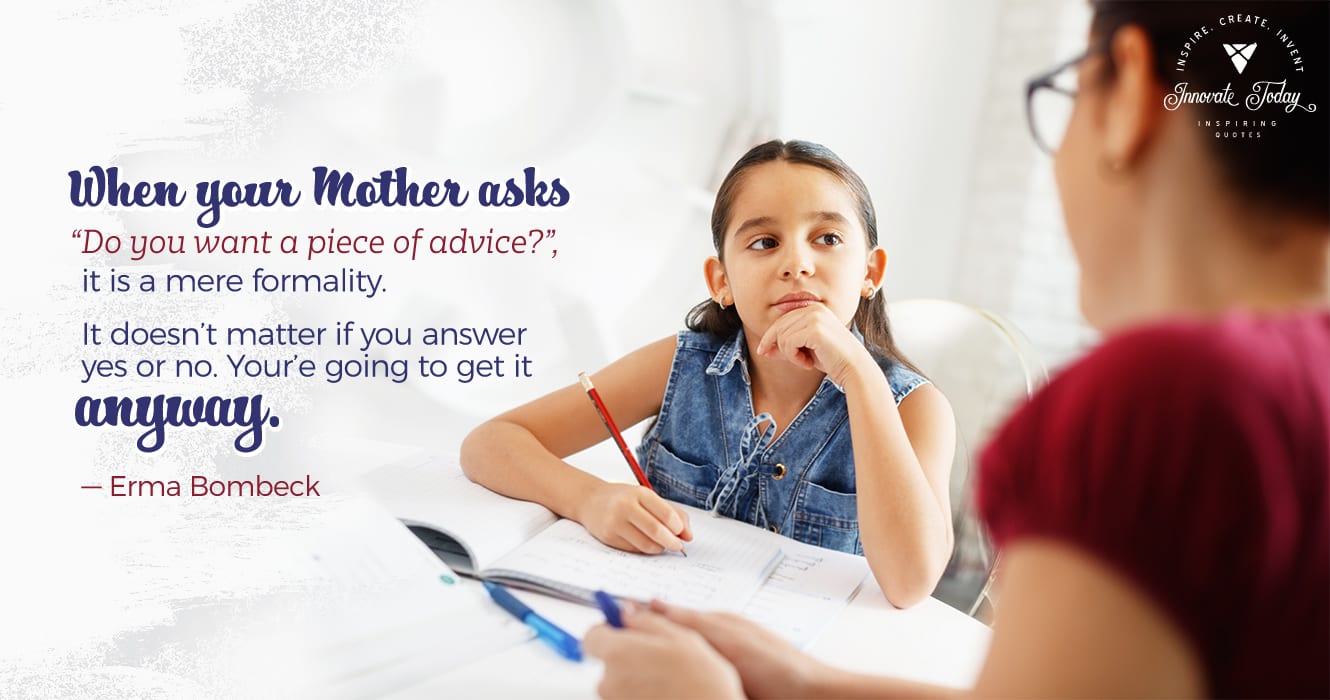 Our funny quote today is by Erma Bombeck, the American Humorist and Columnist.
When your mother asks, 'Do you want a piece of advice?' it is a mere formality. It doesn't matter if you answer yes or no. You're going to get it anyway.
Do you agree? Let us know your thoughts by sharing a comment with us. We would love to hear from you.
Did you know that our Innovate Today blog is brought to you by Innovate Design Studios Ltd, a web design and graphics company? We provide graphics, branding, web design and website maintenance services. If you're interested in these services, contact us today to get a free quote and 10% off your next project.
If you found this post useful, remember to share it on social media. Also remember to follow us on Facebook, Twitter, Instagram and LinkedIn. Our social media handle is @idscreate.
Have a great week ahead, stay safe and we'll see you again later this week with more inspiring posts.

Innovate Design Studios creates innovative web design solutions that provide you with a secure, custom designed web presence that promotes your business and generates revenue and exposure.