L

osing your job can be a sad and devastating experience. Besides its obvious financial effects, it could also affect one's self confidence, if handled wrongly. In the last few months, millions of people have lost their jobs due to company cutbacks and the COVID-19 lockdown. In these challenging times, we believe it is important to understand how to handle losing your job. Not because you should expect it but rather so you can bounce back from it successfully. Be reminded that losing your job is not the end of the world and you can recover successfully from it. So, in this post, we will discuss seven things you should do if you lose your job.

Before we go on to discuss things to do if you lose your job, here are some related posts we've written that you might find equally helpful:
Also, as we like to remind, feel free to subscribe to our Innovate Today electronic mailing list. Your subscription allows us to send you inspiring posts like this directly via email. To sign up, simply enter your name and email in the subscribe section below:
Please enter your name and email address to subscribe.
Now, let us look at seven things you can do if you lose your job.
Seven Things to Do if you Lose your Job
Here are seven excellent tips on what to do if you lose your job:
Acknowledge your Emotions: Most times when people lose their jobs, it's often unexpected. Being blindsided like this often leaves one disoriented, anxious, and angry. So, the first step in dealing with losing your job is to acknowledge your emotions. Realize that it is a hurtful experience and that it is okay to be angry and upset. Doing this helps you deal with your emotions and helps prepare you to move past it.
Rework your Budget and cut unnecessary Spending: One of the first effects of a job loss is lack of finances. To prevent it from severely affecting your standard of living, take time to review your budget and cut excessive spending. Doing this will help you come up with a plan to avoid debt while you search for another job.
Invest in your Personal Development: Depending on your specific circumstances, losing your job might be an excellent opportunity to invest in your personal development. For example, while you search for a new job, you could attend workshops and seminars or improve your technical skills. By learning new things, you could give yourself the edge needed to stand out at your next job interview.
Reach out to your Network: Being in the market for a new job is an excellent time to reach out to your professional network. Let them know you need of a job, your skillset, and what kind of job you are looking for. As a reminder, your network should include people you've worked with in the past and those who can connect you with the right opportunities.
Update your Resume: This is also an excellent time to update your resume. Be sure to update it with new skills you've acquired and specific projects you've managed. Doing so will help hiring managers understand your capabilities and experiences and determine if you're the best fit for them.
Be Strategic in your Job applications: While working on getting your dream job, be strategic with your job applications. Besides reaching out to your network, make use of professional platforms like LinkedIn and Monster.com. These platforms can help connect you with the right companies and even automate the submission of your job applications.
Don't Give Up: Depending on your specific field of endeavor, getting a new job may take some time. By setting your expectations early and cutting back financially, you can prepare yourself for the long haul. Regardless of the feedback you get from employers, do not give up your search for another job. And while you wait for the job you want, you can continue to gather new skills and update your resume.
How have you dealt with the lose of a job in your own life? What things did you do to prepare for your next job? Feel free to leave us your thoughts and comments at the end of this post.
Today's Funny Quote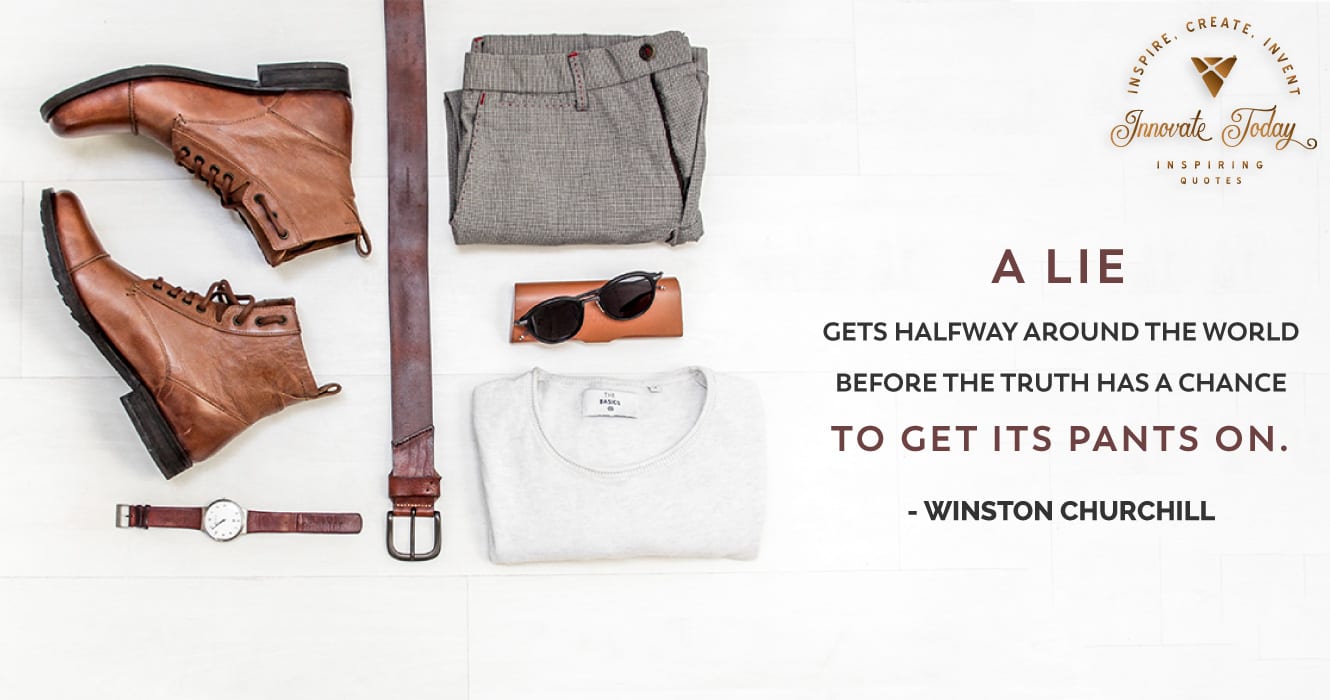 Our funny quote today is by Sir Winston Churchill, the Prime Minister of Great Britain during World War II.
A lie gets halfway around the world before the truth has a chance to get its pants on.
Do you agree? Leave us your thoughts and comments at the end of this post.
As we conclude, be reminded that Innovate Today is a part of Innovate Design Studios Ltd. We are a web design company that provides custom web design, maintenance and graphics services. If you'd like to know more about the service we provide, feel free to check out our Services page. On the other hand, if you'd like to get a free, no obligation quote for your web design project, contact us to submit a Quote request.
If you found this post useful, remember to share it on social media. Also remember to follow us on Facebook, Twitter, Instagram and LinkedIn. Our social media handle is @idscreate.
Have a great weekend, stay safe and we will see you again next week with another inspiring post.

Innovate Design Studios creates innovative web design solutions that provide you with a secure, custom designed web presence that promotes your business and generates revenue and exposure.