A

s a businessperson, going through tough times in business is not unusual. As a matter of fact, successful businesses are built on the resilience needed to weather such difficult times. In other words, one's capacity to weather tough times in business is an indicator of one's likelihood to succeed. Understanding the importance of such resilience raises the question of how to get through tough times in business. In this timely post, we explore this question and outline several ways to get through difficult times in business.

Henry W. Longfellow, the American Poet and Educator is credited for saying "Into each life some rain must fall". This is particularly true in business where its not uncommon to face challenges. Like we stated earlier, businesses need to build a resilience that helps them through such tough times. Before we proceed to look at how businesses can get through tough times, here are some related posts on the subject that we believe will be of additional benefit:
Regardless of the challenges you might be facing in your business, always remember that there is hope. One excellent way to get through tough times in business is by surrounding yourself with a strong support system. On this note, we would like to invite you to subscribe to our Innovate Today mailing list. Your subscription allows us to send you regular inspirational posts that keep you motivated.
Please enter your name and email address to subscribe.
To subscribe, simply enter your name and email address in the subscribe section above. In the next section, we will review reasons why you shouldn't give up, even if you're going through tough times.
Five Reasons why You should not give up
There are several reasons why a business might fail. However, despite the many possible reasons, one of the most common reasons for business failure is the loss of hope. In our post titled Ten Encouraging Quotes about Hope in Difficult Times, we discussed the subject of hope. We also discussed how hope gives a glimpse of the future and helps us hold on till it becomes real. If you are facing tough times in your business and thinking of shutting down, you may have lost hope. So, before you give up, here are five reasons why you shouldn't:
Things could be worse than they are right now, but they aren't.
Change is not always easy but is necessary for growth and success in business.
Failure is not final. Rather, it can be a stepping stone to achieving greater success.
Like many things in nature, pressure and tough times will help bring out the best in you, if you don't give up.
Hard as they are, tough times don't last long. On the other hand, tough and resilient people always outlast their tough times.
Before we move on to the next section, we would like to encourage you to try this exercise. If you are a business owner going through tough times in business, take a moment to think. What were your hopes and goals when you started your company? What problems did you set out to solve? Also, what areas did you see your business growing into? Take a moment to recall those hopes and lofty goals you had.
How to get through Tough Times in Business
If you tried our brief exercise, you would probably agree that taking time out to remember your dreams was helpful. More importantly, it probably renewed your hopes and reminded you why you started the business in the first place. We believe this is the primary way to get through tough times in business; by keeping focus on your dreams.
Besides keeping hope alive and focusing on your dreams, here are other ways to get through tough times in business:
Become Active: Taking active decisions when things are tough is one great way to deal with difficult situations. Through careful planning, we must review the circumstances we face and then take decisive actions. On the other hand, not making decisions will most likely only make things worse.
Surround yourself with a Strong Support System: The world of business is complex. In most cases, we will need the help of others to navigate this complex world and understand available options. A dependable support system is essential to successfully getting through tough times in business. As a matter of fact, you may have more options for your business than you realize. However, if you do not consult with knowledgeable professionals, you will probably never know your true options.
Review on your Marketing Plan: During difficult times in business, it's always a good idea to review your marketing strategies. At such times, you can identify strategies that work and try out new strategies.
Pay attention to your existing Customers: Most businesses tend to stop servicing their customers when they are faced with tough times. Sadly, this only leads to more dissatisfied customers who leave and cause business to fail even more. Instead, take time out during difficult times to solidify customer relationships. Understand that loyal customers are making an active choice to continue work with your company. Also, chances are that they have had offers from other companies, so find ways to reward their loyalty. It will go a long way in helping to solidify their loyalty.
Stick to your goals and commitments: Honoring your goals and commitments during difficult times is a sign of integrity. Regardless of how bad business may be, never allow the integrity of your business to be questioned. Even in times when its not financially possible to honor some commitments, find ways to compensate customers.
At one point or the other, everyone will face challenges in their business. Nevertheless, by keeping your hope alive and observing the steps above, chances are that you will outlast those tough times.
Are you going through challenges in your business, career, or personal life? We encourage you to hold on and never give up. Reflect on your dreams, goals, and passions to stir up hope once again. Also, consult with professional colleagues for relevant advice on how to get your business moving again. Feel free to share your thoughts and challenges with us in our comments section. We would love to hear from you and offer help and advice.
Today's Funny Quote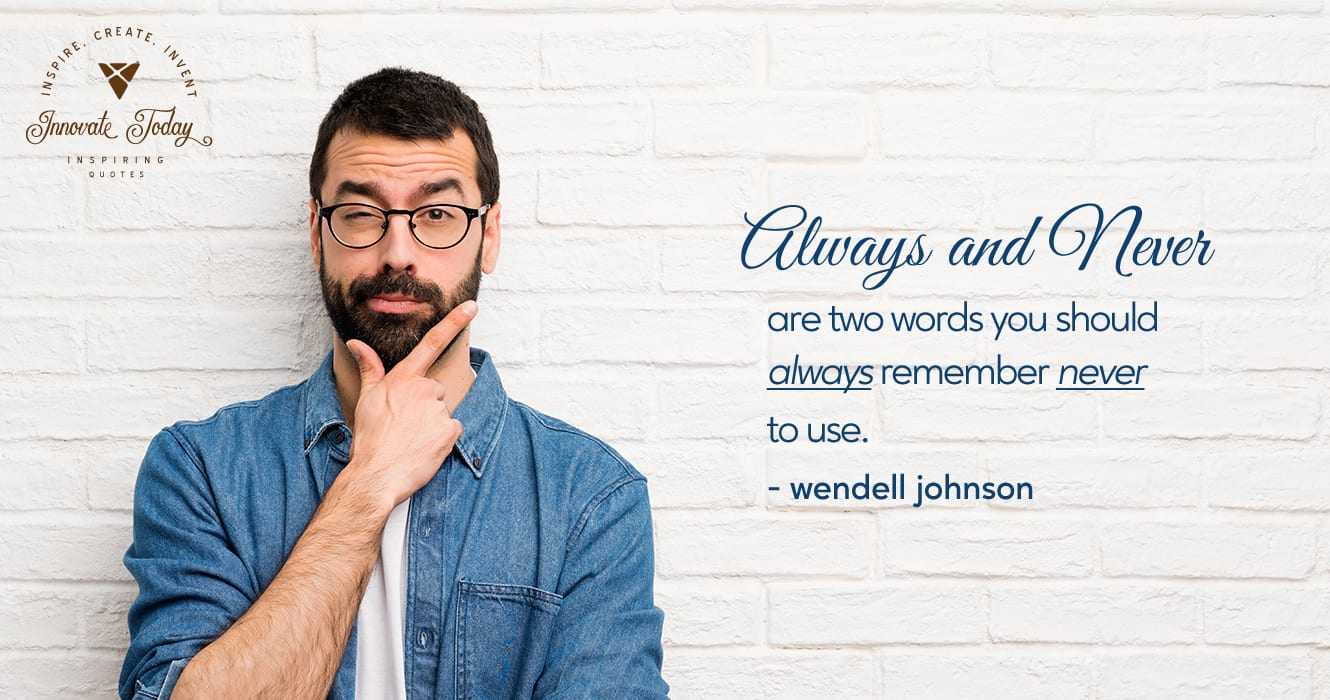 Our funny quote for today is by Wendell Johnson, the American Psychologist, Actor and Author:
Always and never are two words you should always remember never to use.
Did you get it? Its quite funny.
If you were inspired by this post, remember to share and repost it on social media. Also, remember to follow us on Facebook, Twitter, Instagram and LinkedIn. Our social media handle is @idscreate.
Lastly, did you know that Innovate Today is a part of Innovate Design Studios Ltd. We are a web design company that provide custom web design, maintenance and graphics services. If you'd like to know more about the service we provide, feel free to check out our Services page. On the other hand, if you'd like to get a free, no obligation quote for your next web design project, contact us to submit a Quote request.
Have a great week and we will see you again in a few days with more inspiring posts.

Innovate Design Studios creates innovative web design solutions that provide you with a secure, custom designed web presence that promotes your business and generates revenue and exposure.