M

ore than ever, today, we all need a message of hope for troubled times. Among other reasons, this is because the effects of the recent Corona-virus pandemic extend far beyond the actual infection. For example, even people who are not physically infected have been affected economically. All over the world, in almost every nation, companies and businesses have had to close temporarily to prevent further spread. This has caused loss of wages, unemployment, financial instability, crisis and a host of other issues. For the average family, this can be a daunting challenge and a huge source of worry. In this post, we share a message of hope and encouragement. We want you to know that despite these challenges, we will overcome and come out of this stronger.

As you might expect, there has been a lot of media coverage on the Coronavirus outbreak. While this has been helpful, it has also created fear and worry in people's hearts. As a result, lots of people are having a hard time staying hopeful in these times. We would like to encourage you however, that this is not the end and things will get better. Here at Innovate Design Studios Ltd, we are committed to inspiring you, through our blog, Innovate Today to live life to the fullest. Consequently, we would like to share these related posts we have written in the past on finding hope for troubled times:
In these times, we all need a steady source of hope, encouragement and motivation. We believe you can get that when you subscribe to our Innovate Today newsletter. Your subscription adds you to our mailing list, so you receive posts such as this directly in your email. To subscribe, simply enter you name and email in the subscribe section below:
Please enter your name and email address to subscribe.
With that said, we will consider the subject of how to find hope in troubled times in the next section.
How to Find Hope in Troubled Times
Hope, according to the English Dictionary is defined as "the feeling that what is wanted can be had or that events will turn out for the best". In other words, hope is believing that one's expectation concerning a certain thing or event will happen. We encourage you to take a minute right now and think about the troubles you have. What are your expectations about it? How do you hope it will turn out in the end? Thinking it and believing it will happen is hope.
So how do you find hope in troubled times? Here are four ways one can find and build hope:
Reach out to others for Counsel: One important lesson we can learn from troubled times is that we are not all-sufficient. Every so often, even the best of us need help from others. In difficult times, it is always a good idea to reach out to mentors, parents, friends, clerics or professionals for help. Through their experiences and wealth of wisdom, they can help us see things in a new light and fan the flames of hope in our hearts.
Pay attention to what you Watch and Listen to: Like we said earlier, the COVID-19 pandemic has received a lot of media coverage, and rightly so. However, if we expose ourselves to continuous bad news, it could create fear our hearts and quench our hopes. Instead, we must surround ourselves with positive information. For example, you can read inspiring and encouraging quotes or a motivational book. In our last post, we discussed great books you can read during the lockdown. We encourage you to check it out. In general, reading the right books can keep your mind focused and provide reassurance that things will turn out well.
Place your Trust in God: As much as we may try to avoid it, the truth is that there is a God. We were created by and will ultimately answer to a God that is greater than us. Understanding that we were created and are part of an ultimate plan is a source of hope. Furthermore, realizing that this God has our best interest at heart will lead us to the realization that we can trust him to make things work out for us.
Practice Gratitude: Being grateful naturally puts one in a happier mood. More importantly, it changes our perspectives and makes us hopeful for better things. By being grateful, especially in troubled times, we turn our focus to the good around us. This in turn creates hope in us that more good will happen.
How have you dealt with the economic effects of the Coronavirus? What encourages and gives you hope? How have you given your family a message of hope for these times? Feel free to share your thoughts and comments with us using the comments section at the end of this post. As always, we would love to hear from you.
Today's Funny Quote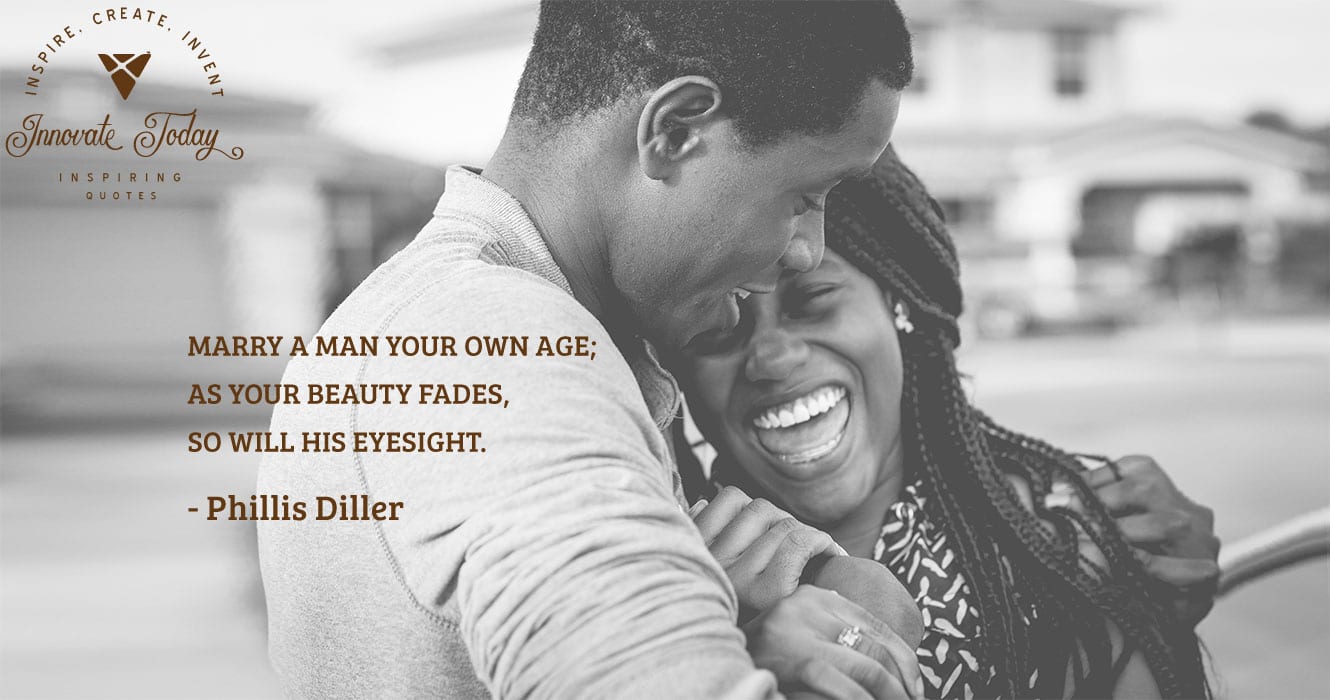 As always, we end today's post on finding a message of hope in troubled times with a funny quote. Our funny quote today is by Phyllis Diller, the Actress and Comedienne
Marry a man your own age; as your beauty fades, so will his eyesight.
How are you managing staying at home on lockdown? What fun things do you do with your spouse and children during this period? Leave us a comment with the brilliant ideas you've come up with.
If you found this post inspiring, kindly remember to share it on social media. Also remember to follow us on Facebook, Twitter and Instagram. Our social media handle is @idscreate.
Innovate Today is the inspirational blog of Innovate Design Studios Ltd. We are a web design company that provides custom web design, maintenance and graphics services. If you'd like to know more about the service we provide, feel free to check out our Services page. On the other hand, if you'd like to get a free, no obligation quote for your web design project, contact us to submit a Quote request.
Remember that there is hope and that both the Coronavirus lockdown and the effects of COVID-19 will soon come to an end. This is our message of hope to you today; do not lose your hope.
Have a great weekend and we will see you again next week with more inspiring posts.

Innovate Design Studios creates innovative web design solutions that provide you with a secure, custom designed web presence that promotes your business and generates revenue and exposure.