E

veryone faces tough times at some point in their life. However, only those that know how to encourage themselves at such times ever make it through successfully. While having a support system during such times is essential, knowing how to encourage yourself during tough times is always an added advantage. So much is happening in the world today; economies are in turmoil, people are losing their jobs and thousands of people are dying. These issues only point out the need for self encouragement. So, in this Innovate Today post, we will take a look at six ways to encourage yourself during difficult times.

Our message for you today is a message of hope; that there is light at the end of the tunnel. Regardless of what tough times you may be going through, do not give up. We encourage you not to lose hope but rather remain persistent. Whatever you're going through, have faith that it will not be your end but that you will see its end.

Here are some other posts on how to encourage yourself that we've written in the past. We believe they will give you that additional boost you need:
Like we said earlier, during tough times, having a support system is important. Such a support group could consist of your family, close friends and religious group. It could also include platforms that provide encouragement, inspiration and motivation, such as Innovate Today. This is why we would like to encourage you to subscribe to our electronic mailing list. By subscribing, you'll be adding yourself to a list of people who receive inspiring and motivational posts via email. If you subscribe, we promise that you will have a support system that's always there to help when you need it. To subscribe, simply enter your name and email below:
Please enter your name and email address to subscribe.
With that said, let's take a look at how to encourage yourself during difficult times.
How to Encourage Yourself during Tough Times
Only very few things have the power to change your perspective and provide motivation quite like encouragement. Interestingly, encouragement does not always have to come from situations and people around you. You also have the power to encourage yourself. So, here are six ways to encourage yourself during tough times:
Pray: While you may not necessarily be a religious person, prayer is one of the best things to do when things get difficult. Besides its spiritual benefits, prayer provides an outlet for expression and release of anxiety. When we pray, we acknowledge that there is a greater being who can help, guide and bring us through our difficult situation.
Read or Listen to Encouraging Quotes or Scriptures: Reading and listening to inspiring messages, quotes and scriptures that apply to your situation can also help one deal with tough times. In fact, the more you listen to such encouraging materials, the more settled you will become.
Speak Life, not death: No one has the power to change your circumstances the way you can. When you speak life and hope into those seemingly tough situations, you will see them start to turn around. Speaking what you want to see happen will also help change your perspective, fill you with hope and the possibility of better days ahead.
Be your own Best friend: While it helps to have friends, the truth is that you don't really need anyone to make you feel great. Instead, finding yourself and being happy with who you are, is a good way to encourage yourself. One great way to do this by speaking positive things to yourself, much like you would to someone else who needs encouragement.
Be Grateful: One of the hardest things to do in tough times is to be grateful. No matter what you're going through right now, be grateful for who and where you are and for what you have. This will help you pull through your difficult situation while keeping a positive attitude.
Choose the right Environment: When things are difficult, it's important to carefully choose the types of people you hang out with. The right people will help you through those difficult times. On the other hand, the wrong people will boost your negativity and make things more difficult for you.
How have you encouraged yourself in the past when things were difficult? Do you have a support system or group of people that help you when things are tough? As always, feel free to leave your thoughts, comments and opinions in our comments section at the end of this post. We would love to hear from you.
Today's Funny Quote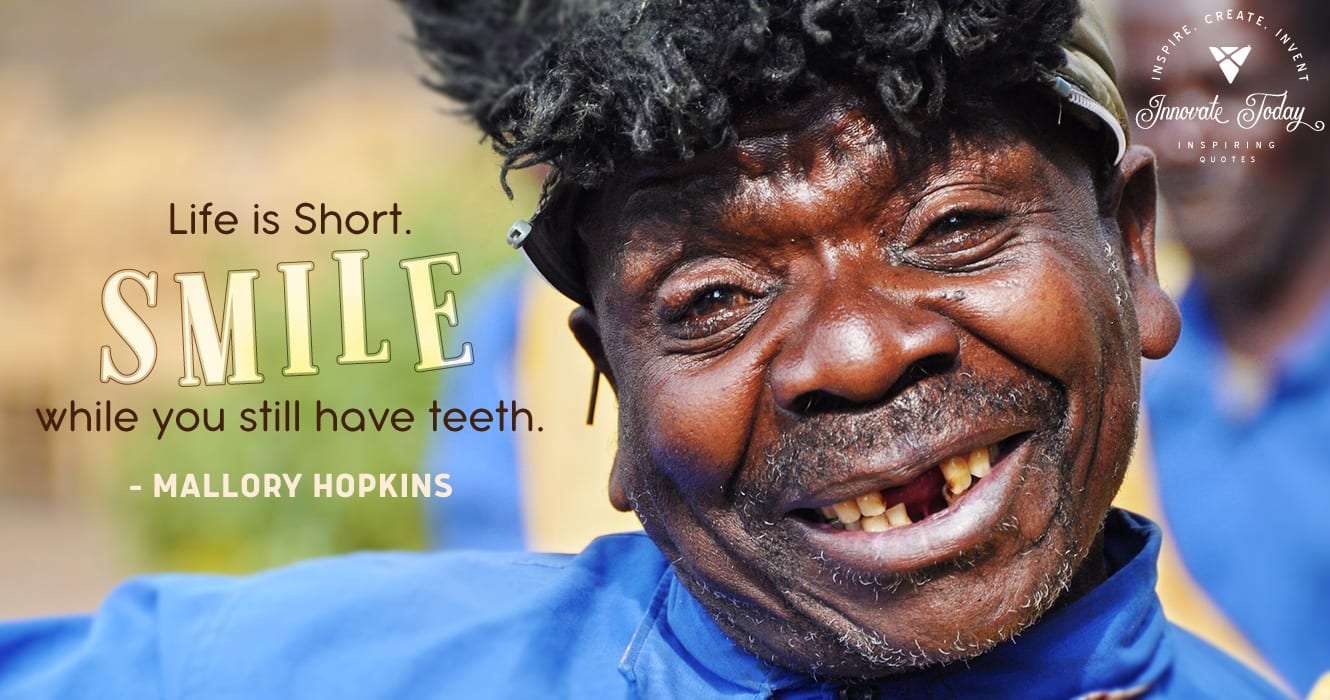 As is our custom, we end this post with a funny quote. Today, our funny quote is by Mallory Hopkins, the Journalist:
Life is short. Smile while you still have teeth.
If you enjoyed this post, remember to share and repost it on Facebook,  Twitter, and Instagram. Our social media handle is @idscreate.
Before you go, did you know that our Innovate Today blog is brought to you by Innovate Design Studios Ltd, a web design company? We provide graphics, branding, web design and website maintenance services. If you're interested in these services, contact us today to get a free quote and 10% off your next project.
Have a great week ahead and we will see you again on soon with another inspiring post.

Innovate Design Studios creates innovative web design solutions that provide you with a secure, custom designed web presence that promotes your business and generates revenue and exposure.