I

n today's competitive world, your greatest resource might just be your ability to keep yourself motivated. But what happens when you can't stay motivated long enough to finish a project or handle your daily tasks? Learning how to motivate yourself and stay motivated could be the definitive factor that separates you from others. So in our post today, we'll take a look at how to keep yourself motivated in life.

The term motivation has several meanings, depending on the context in which it is used. Generally, to motivate means to provide someone with a motive for doing something. It also means stimulating someone's interest in or enthusiasm for doing something. Motivation is particularly important because people only become successful in things they are enthusiastic about. So motivation creates passion that helps one succeed.

Here are a few additional reasons why motivation is so important:
Motivation helps you build confidence
It helps you fight your fears
Motivation helps you push through setbacks
It helps you set your priorities in life.
Motivation inspires others.
The rest of this post is dedicated to a discussion on how to stay motivated in different situations. However, before we proceed, we would like to remind you of one excellent way to keep yourself motivated. That is through motivational materials such as what we have here at Innovate Today. Our goal is to inspire you to be creative and inventive. Through our electronic mailing system, you can now receive these motivational materials by email. You can subscribe by entering your name and email in the section below:
Please enter your name and email address to subscribe.
Also, here are some related posts on staying motivated that we believe you'll find useful:
With that said, let's take a look at how to stay motivated in different situations.
How to Stay Motivated when you are Stressed
Stress is that heavy feeling you get when there are too many demands and too little time to get it done. Being stressed out is unpleasant and can lead to health issues such as high blood pressure, etc. Here are a few tips on how to motivate yourself when things are stressful:
Try and stay away from Social Media: While it may be difficult to stop yourself from scrolling through your Instagram or Facebook feed, sometimes it's necessary. Being able to unplug from social media and that constant barrage from people can help reduce stress. So, if you want to get that motivation back, consider putting your phone away for a while.
Go for a Walk or Run: A little light exercise can also be a great stress-reliever. This is because exercise triggers the release of endorphins (commonly referred to as "happy hormones") that give you a boost of happiness. In addition, going for a walk or a run is a great way to get your blood flowing and release nervous energy causes stress.
Wake up a little earlier: Waking up an hour early may not seem like a good tip to reduce stress. However, if you use those extra minutes wisely then they can be incredibly helpful. This is especially true since morning hours set the tone for the rest of the day.
Do something that you enjoy: Joy is an antidote to stress. Consequently, taking a few minutes to do something that brings you joy can go a long way in relieving your stress levels. So find a few things you enjoy doing and do them when you get the chance or over the weekend.
How to keep yourself Motivated at Work
It doesn't matter if you what you do for work or how long you work, everyone needs motivation. Here are a few ways to motivate yourself and stay motivated at work:
Consider your work in Context: Unbelievable as it may seem, even dream jobs come with their share of frustrations and not so pleasant duties. At such times, remember how much you've achieved to get here you are. Also remember that while your current duties may be difficult, they will help you down the road with more important responsibilities.
Set your own Goals: Goal-setting and motivation go hand-in-hand. As a matter of fact, research shows that when people are free to set their own goals, they are more likely to reach them. Granted that you may not be able to set independent goals at work, you may be able to set personal goals within the framework of your company's corporate goals.
Step Outside your Comfort Zone: Sometimes, a lack of motivation could stems from feeling underutilized. Finding ways to try new things and take on more responsibilities could be the key to keeping yourself motivated at work.
Reward yourself and your Colleagues: Give yourself something to look forward to. Depending on what you're trying to get motivated to do, the rewards can range from small treats to larger indulgences. You can also apply this to your coworkers. For example, when your coworker completes a project in record time, buy them lunch.
How to Stay Motivated in School
Being in School also requires a motivation. This is because you're learning so much but not immediately using that knowledge for anything tangible. This can lead to boredom and a lack of enthusiasm for your studies. In this section, we've listed a few ways to keep yourself motivated if you are in School.
Remove Distractions when Studying: Distractions such as your phone or TV can prevent you from focusing on your studies. For example, an activity that starts off as flipping through TV channels could turn into a lengthy, unintended break from your work. Instead, clear your work space from these distractions so you can focus.
Use a Planner: One great way to stay on top of all your school assignments is to write them down. Organize your school projects, assignments and upcoming tests based on their priority. Not only will this keep you from forgetting an assignment, it will also make them easier to complete since you have enough time to work on them.
Make use of Study Guides: Studying for an exam isn't always easy because you may not have all the resources you need to study adequately. Study guides can help focus your study activities by providing a list of topics to focus on. Rather than pouring over textbook for hours, you can focus on topics listed in your study guide.
How have you kept yourself motivated in life? Are there any specific steps you've taken to stay motivated? Leave us a comment at the end of this post, with your thoughts.
Today's Funny Quote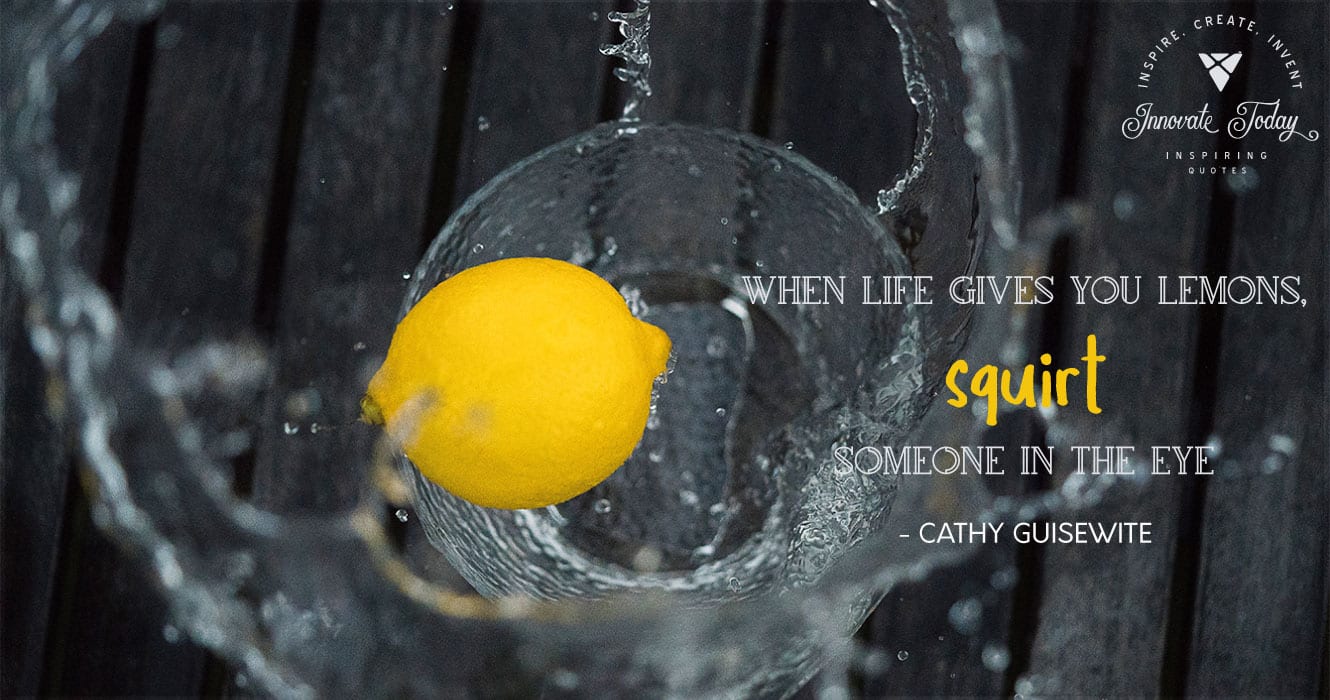 As is our custom, we end today's post with a funny quote. Our funny quote today is by Cathy Guisewite, the American Cartoonist
When life gives you lemons, squirt someone in the eye.
If you found this post useful, remember to share it on social media. Also remember to follow us on Facebook, Twitter and Instagram. Our social media handle is @idscreate.
Did you know that our Innovate Today blog is brought to you by Innovate Design Studios Ltd, a web design company? We provide graphics, branding, web design and website maintenance services. If you're interested in these services, contact us today to get a free quote and 10% off your next project.
Have a great week ahead and we will see you in a few days with another inspiring post.

Innovate Design Studios creates innovative web design solutions that provide you with a secure, custom designed web presence that promotes your business and generates revenue and exposure.