H

appy Valentine's Day everyone! Valentine's Day is finally here. It is a special day for couples everywhere; a day of love and of sharing. In our post today, we discuss ten romantic things you can do this Valentine's Day with your significant other. And since most men tend to feel Valentine's Day is for women, we list some things you can do for your man today.

Regardless of how long you've been with your significant other, it's important to spend quality time together. While there are stereotypical notions of what quality time means, in our context, we mean enjoying each other's company. The simple truth is that you don't have to do something extraordinary or expensive to have a good Valentine's Day. All that really matters is showing how much you care.

In the next section, we will take a closer look at romantic things to do this Valentine's Day. However, before we get into that, we would like to share other related post we have on the subject. We believe you will find them equally beneficial.
Also, if you've not done so yet, remember to subscribe to our electronic mailing list. Once subscribed, we will send you inspiring, funny and motivational posts like this via email. To subscribe, simply enter your name and email in the subscribe section below:
Please enter your name and email address to subscribe.
Now, let's take a look at five romantic things to do this Valentine's Day for Him.
Five Romantic Things to do this Valentine's Day for Him
A considerable number of men feel neglected on Valentine's Day. This may be because the task of being romantic is usually solely on them. If you have a husband, fiance or long time boyfriend, you could shake things up this Valentine's Day. Along with him buying you flowers and chocolate, you could also do some nice things for him. Here are a few ideas on what to do:
Bake something Delicious: Yes, a home-cooked meal is one option for Valentine's Day. But instead, you could consider ordering in and simply make some dessert together? Remember, everybody loves cake. Even if you don't know how to bake, you could lookup recopies online and try them out together. Part of the fun in this is spending the time together. Even if the cake comes out bad, you'll have fond memories of the experience.
Pamper Him With a Massage: Instead of making an appointment at a massage parlor, create a spa-like environment in your room with scented candles and rose petals. Giving a massage is the best way to develop a comfortable intimacy with your significant other. You can even take it a step further by putting on some romantic music and just going with the flow.
Show some (Social Media) Love: Valentine's Day is one time you can unabashedly show some Public Display of Affection that you would otherwise refrain from. Show him how much you love and care about him by posting an adorable throwback video on Facebook, Instagram or Twitter. Also, you could post a series of images to show how you two have come a long way. It will show how proud you are to have him in your life!
Get Crafty With a Card: Whether you've been dating him for a while or it's a brand new relationship, a personalized card is a good way to go. What's even better? When you actually create the card from scratch. Considering romantic things to do this Valentine's Day, such a personalized card will show how much thought and effort you put into the gift. One good idea is to make a collage of your pictures, starting from the day you started dating. Taking him down memory lane is a great way to show him how much you care!
Be the One Sending the Flowers Instead: Yes, we know, it's usually the girls who are on the receiving end of special gifts. But we've never been good at following rules. Do a little research and send a huge bouquet of red roses to his office. It's Valentine's day after all. He may act all embarrassed, but we know he'll love the show of love.
Five Romantic Things to do this Valentine's Day for Her
Valentine's Day is always a great opportunity to be creative and show her how you feel about her. In reality, some women care more about the holiday than others, so keep that in mind when planning the day. Here are five romantic things to do for her this valentine:
Plan an Outdoor Adventure: If your spouse or girlfriend loves to get out and explore, you can plan a romantic outdoor date. Depending on where you live, some gift options could include hiking, camping, boating, hitting the slopes and so on. A great gift to pair with this could be some outdoor gear that's on her wish list like a sleeping bag or a thermal water bottle.  
Movie Night: If you love watching movies together, there's nothing wrong with a simple evening of cuddling and cinema. You could even take your regular movie night to the next level by creating your own personal cinema. One way to do this is to rent a projector to watch movies on a blank white wall. Also, don't forget to get lots of blankets, pillows, and candles. As a snack, grab her favorite treats and drink to have alongside a nice big bowl of fresh popcorn.
Surprise Lunch Delivery: If your significant other is at work or school, visit her during lunch break with some flowers and food. Spend lunch with her, and when you leave, tell her that you can't wait until she gets home. If you can't make a lunch date work, have flowers and food delivered to her with a note. This sweet gesture will have her smiling the rest of the day!
Take her on a Shopping Spree: If you didn't have time to get her a gift, surprise her with a trip to the mall or her favorite store. Let her know she has all the time she needs, and be patient and helpful while she shops. By having her pick out her own gift, you won't have to worry about her not liking it!
Buy her tickets for an upcoming event: You can also go online and buy tickets for an upcoming event that she'll love; like a movie, concert or festival. As a bonus, the excitement of this gift will last all the way until the event and will be a fun date to look forward to.
How are you spending your Valentine's Day today? What romantic things do you plan to do this Valentine's Day with your significant other? Also, what is your best Valentine's Day memory? What did you do with your special someone? Feel free to leave us your comments in the comments section at the end of this post. We would love to hear from you.
Today's Funny Quote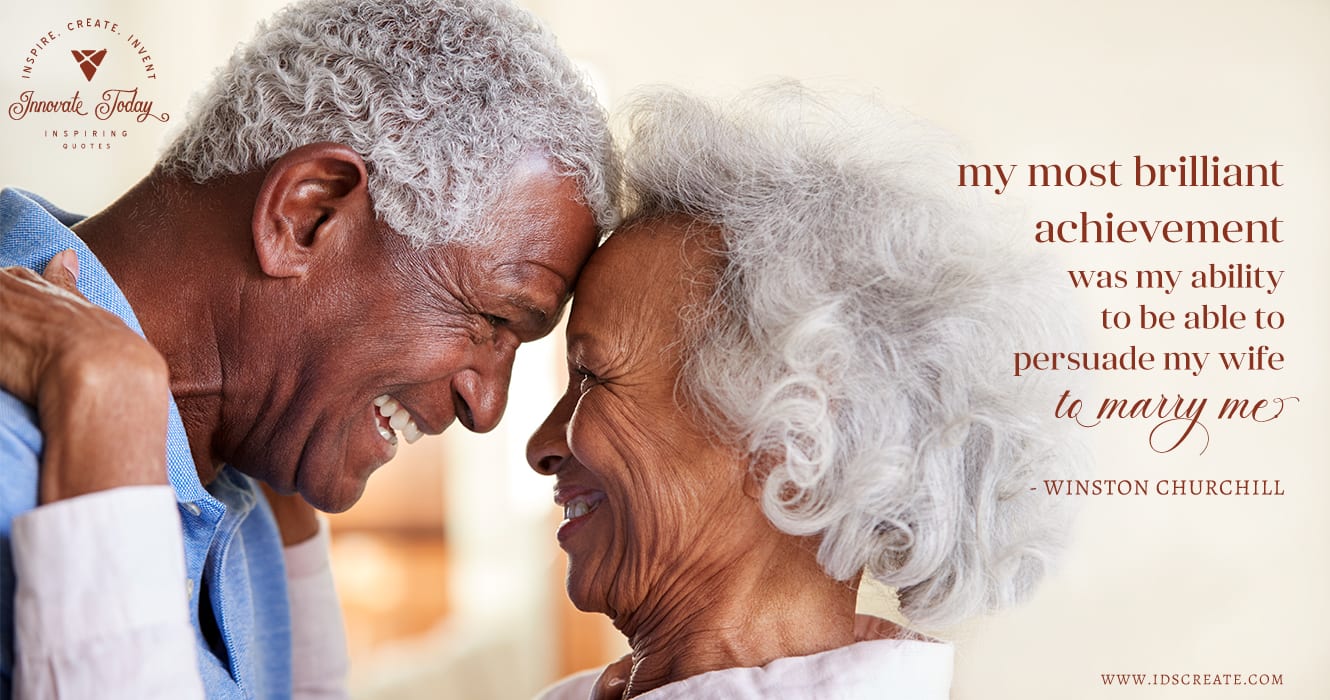 Our funny quote today is by Sir Winston Churchill, the British Statesman and Prime Minister during World War II. He said,
My most brilliant achievement was my ability to be able to persuade my love to marry me.
if you enjoyed this post, feel free to re-post it on Twitter or share it with your friends on Facebook or Instagram.
Have a great Valentine's Day and we will see you again on Monday with another inspiring post.

Innovate Design Studios creates innovative web design solutions that provide you with a secure, custom designed web presence that promotes your business and generates revenue and exposure.