D

o you feel stressed out by your daily work schedule? Or do you dread going to work every day because of the stress involved in getting there and performing your duties? If your answer to these questions is yes, you are not alone. Work related stress is one of the leading causes of unhappiness in adults today. In this post, we share five simple strategies for managing stress in the workplace.

If you are like most people, you probably love Friday's and dislike Monday's. This is because Friday's herald the weekend while Monday's are the start of the work week. On the other hand, if work related stress is affecting your mental health and family life, it may be time to look into strategies for managing the stress.

Before we proceed into today's post, we would like to share other related posts on Innovate Today that we believe you'll find useful. They are listed below for your convenience:
If you've found this post and our related posts helpful, we encourage you to also subscribe to our mailing list. Your subscription allows us to send you email notifications every time a new post is released. To subscribe, simply enter your name and email in the section below:
Please enter your name and email address to subscribe.
With that said, let's take a closer look at why it is important to manage work related stress.
Why Stress in the Workplace is Harmful
WebMD defines stress as mental tension caused by changes that require one to adjust or respond. In our context, stress is that feeling of being overwhelmed with work. Generally, while it is not unusual to get stressed once in a while, prolonged stress is not good. In this section, we discuss several reasons why stress in the workplace can be harmful.
Prolonged stress, especially stress that is not managed, can lead to depression and even sickness.
Work related stress can cause violence among employees. This becomes even more problematic if tangible steps are not in place to diffuse tensions and reduce stress.
Stress in the workplace reduces productivity. Research shows that happy employees are more productive.
Workplace stress should be actively managed, regardless of whether you are an employee or employer. This begs the question, of how workplace stress should be managed. In the next section of this post, we take a look at five simple strategies for managing stress in the workplace.
Five Simple Strategies for managing Stress in the Workplace
Here are five simple strategies that can be employed to manage stress in the workplace:
Identify Self-Imposed Stress: Identify stress that is caused by your own actions and attitudes. For example, if your work related stress is caused by a rush to meet deadlines, you may want to ask for more time for projects. Alternatively, you should also avoid procrastination so you're not stressed out by upcoming deadlines.
Prioritize your Work Assignments: An excellent way to manage stress in the workplace is by prioritizing your duties. By prioritizing, you can specify which assignments need immediate attention and which ones can wait. By doing this, you can reduce the mental stress involved in thinking about meeting all your deadlines at once.
Calm down and live your Life: The hustle and bustle of life can be very exciting. However, sometimes, in the process of trying to be the perfect spouse or coworker, we could stretch ourselves thin. The truth is that there is more to life than the work we do. Take some time out regularly to spend with your family, friends and in doing what you love. An excellent way to do this is by finding a hobby. This will reduce your stress level and stimulate your creative thinking.
Help Others: Studies show that when we help others, we reduce the effects of work related stress on ourselves. This is because helping someone else makes one feel good. Also, by turning your attention and efforts towards the needs of others, you stop the flow of negative energy. This in turn releases you to attend to your assignments with greater ease.
Prepare ahead: Sometimes, people have work periods of extra work. For example, the end of the year, elections or annual review periods can be stressful periods. One way to manage such stress is to prepare ahead for your daily assignments. By planning ahead on how you will attend to those duties, you can significantly reduce work related stress from work assignments.
How have you successfully managed stress in your workplace? What tips do you use to keep yourself productive? Feel free to leave us a comment at the end of this post. We would love to hear from you.
Today's Funny Quote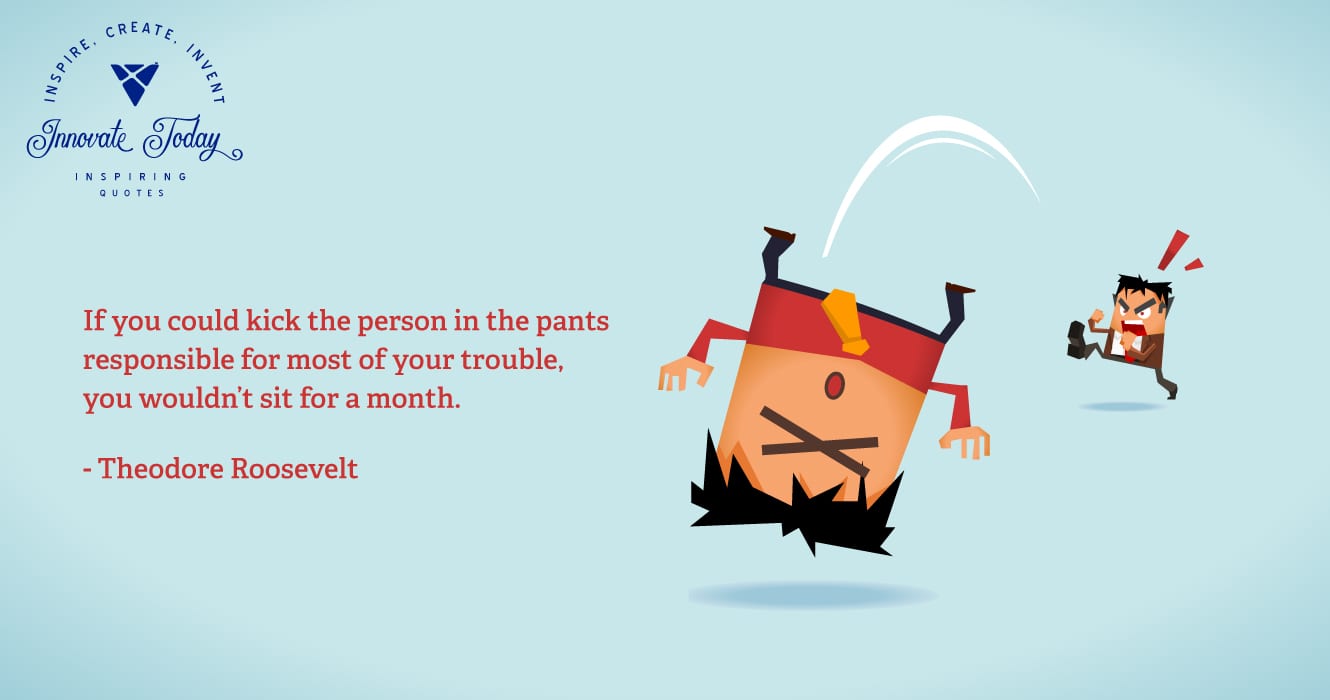 As is our custom, we end this post with a funny quote. Our funny quote today is by Theodore Roosevelt, the 26th President of the United States.
If you could kick the person in the pants responsible for most of your trouble, you wouldn't sit for a month.
Do you think this is true? Feel free to leave us your comments and thoughts.
If you enjoyed this post, remember to share it on social media. Also remember to follow us on Facebook, Twitter and Instagram. Our social media handle is @idscreate.
Have a great weekend and we will see you again on Monday with another inspiring post.

Innovate Design Studios creates innovative web design solutions that provide you with a secure, custom designed web presence that promotes your business and generates revenue and exposure.