C

ontrary to popular belief, failure is not always such a bad thing. As a matter of fact, learning from failure is one of the marks of a wise person. We believe that those who will succeed this year will discover the value of failure and how to learn from it. One shining example of learning from past mistakes was Thomas Edison, the American Inventor and Businessman. So in this Innovate Today post, we will be looking at how to learn from failure and five keys to learning from failure.

Learning from failure is important, considering that at some point in life, every one of us fails. Our goal through this post is to point out that sometimes, more can be learnt from failures than from success. We see the importance of learning from failure when we consider some things that were discovered by accident; Corn Flakes, the Mircowave Oven, Penicillin, Chocolate Chip Cookies, the X-Ray Machine, etc.

For additional reading, we invite you can take a look at these related posts from Innovate Today:
Also, if you are yet to, we encourage you to subscribe to our electronic mailing list. Your subscription allows us to send you inspiring posts such as this directly through email. Simply enter your name and email in the section below to subscribe
Please enter your name and email address to subscribe.
Now, lets take a look at four ways to learn from failure.
How to Learn from Failure
Hard as it may be to admit, we all have weaknesses; areas of life where we need to learn or get help. This is because nobody on earth is absolutely perfect at everything. Despite this truth however, most times, we allow the stigma and fear of failure to prevent us from actually learning from it. So how does one gather lessons from failure? Here are some tips:
Understand that it's OK to fail: Everybody fails, so you might as well accept it and find ways to learn from your failures.
Allow yourself the freedom to Fail: Sometimes, especially in business, you may need to try several things to see what works. By allowing yourself the freedom to fail, you ultimately allow yourself to succeed eventually.
Do your Homework and take Risks: Don't allow the fear of failure to prevent you from taking risks. Instead, prepare adequately and take risks so you can succeed.
Never give up: After you've done all that needs to be done, be persistent. Most times, persistence is the key that turns failure into success.
Five Keys to Learning from Failure
Like the accidental discovery of Penicillin, some failures can change the world for good. However, they'll only make such a difference if we take the time to learn from them. In this section, we look at five things to do to learn from failure:
Do not play the Blame Game: Regardless of whether you experience personal failure or business failure, avoid assigning blame. When blame is assigned for failure, it prevents one from being able to learn from it. The only purpose of blame is to find a faulty party. If that is done, it denies one the opportunity to learn from the failure and eventually succeed.
Reevaluate your Planning Process: Take time to consider how much time you spent planning for the goal. Also review the plans that led to the decision to pursue the specific goal that failed. The idea here is to review your original motives to determine if the goal was the right goal. If it was not, you can simply discard the goal. Consequently, learning from failure can help you determine which goals to pursue to become successful.
Reevaluate your Preparation Strategies: Stepping back to review your planning and preparation process is necessary for discovering the cause of failure. Let's say for example that you are a student and your goal was get straight A's in all your classes. By thinking back to your planning and preparation strategies, you can determine where things went wrong. For example, if you did not show up for classes, didn't take notes in class, or didn't study for your exam, you know that was your first mistake. By reevaluating the steps you took to get where you are, you can discover what you did wrong and how to avoid them in the future.
Reevaluate your Execution: Let's say you are a business man and your goal was to sell 10,000 boxes of your product. If you failed at that goal, you would have to evaluate your planning and preparation strategies as we've already discussed. However, you would also need to review how you executed your plan. How did you intend to sell 10,000 boxes of your product? Were you planning to hire sales staff? Did you plan on selling them online? Did you determine what cities in your country you would sell them? If your plan failed in its execution, you can identify reasons why it failed, what caused the failure and how to fix it for future sales. By reevaluating your execution process, you can gain excellent lessons from failure to use in the future.
Anticipate Variable Situations and make Backup Plans: Life is like an interwoven tapestry of various situations. Sometimes, our original plans work out and at other times, they may fall through. In those cases, if you don't have a backup plan, you may fail. This is why planning and having backup plans for certain scenarios is vital. For example, if you sell your products to a certain wholesale buyer, what happens if that client decides not to do business with you anymore? You could end up with all your money tied in products you don't have a client to sell to. In such a case, as a backup, you might want to cultivate relationships with other small scale buyers who can also buy the product from you.
The five steps listed in this section can help one learn from failure, make necessary changes and become successful. As we conclude, we leave you with this inspiring quote by Sir Winston Churchill, the Prime Minister of Great Britain during World War II
Success is not final; failure is not fatal: It is the courage to continue that counts.
How have you learnt from your failures in the past? Feel free to leave us a comment at the end of this post. We would love to hear from you.
Today's Funny Quote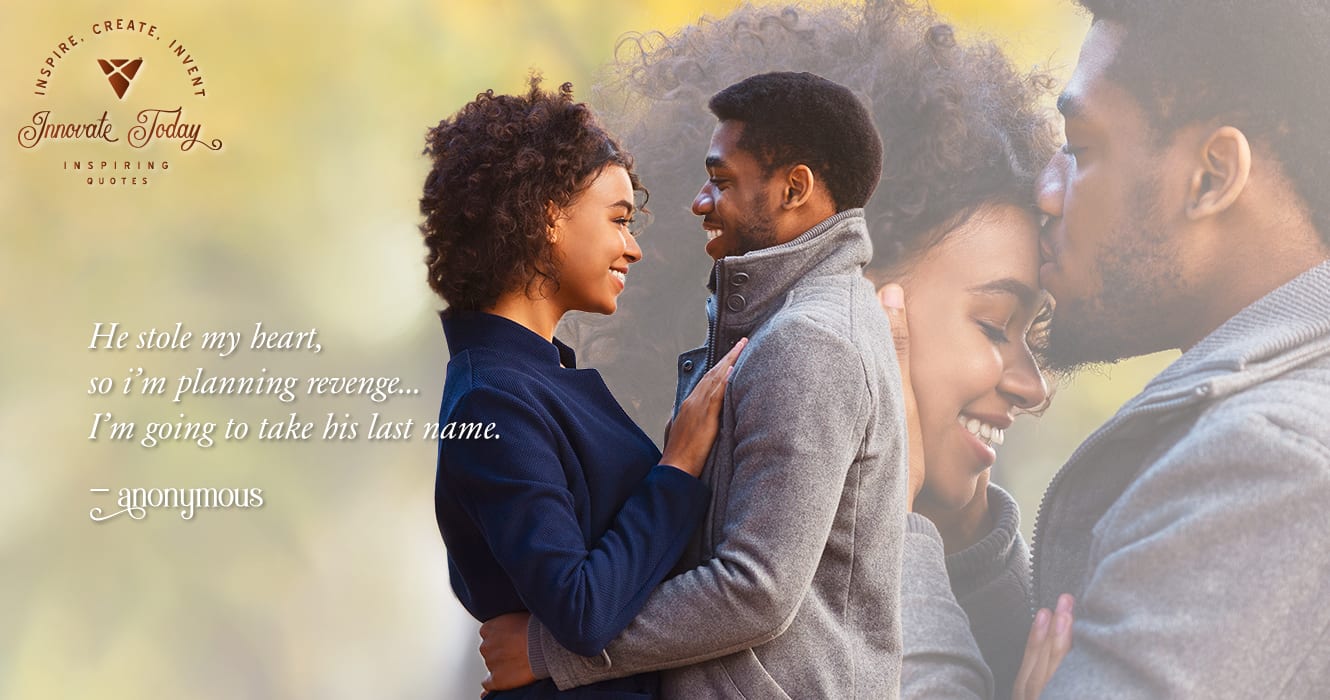 As is our custom, we end this post with an Anonymous funny quote
He stole my heart, so I'm planning revenge…I'm going to take his last name.
If you enjoyed this post, remember to share it with your friends on social media. Also remember to follow us on Facebook, Twitter and Instagram. Our social media handle is @idscreate.
Have a great weekend and we will see you again on Monday with another inspiring post.

Innovate Design Studios creates innovative web design solutions that provide you with a secure, custom designed web presence that promotes your business and generates revenue and exposure.