2

020 is finally here. The New Year has begun and the holiday season is officially over. Sad as that may be, it makes one wonder if there is a right way to start the New Year. How do you start the New Year right? Understandably, we know that starting the New Year on the right note will do a lot to make the rest of the year fall in place. So how do you start the New Year right? In this post, we offer five tips to start the year right that just might help position you for success throughout the year.

Before we get into these tips on how to start the New Year, we would like to remind you to subscribe to our electronic mailing list. If you've found this post or any of our previous posts helpful, we would love you to subscribe. Your subscription allows us to email you directly with links to our new posts so you continue to get these helpful, inspiring posts. To subscribe, simply enter your name and email in the subscribe section below:

Please enter your name and email address to subscribe.

On that note, we would like to provide you with a list of other relevant posts on Innovate Today that you might find useful. Do feel free to read through them:
If you've outlined specific goals you would like to achieve this year, starting the New Year right is important. As we mentioned earlier, how you start the New Year can set the pace for how the rest of the year goes. On that note, let's take a look at some tips to help start the New Year right.
Five Tips to Start the New Year Right
Expand your Thinking with New Experiences: The only true way to know what your limits are is to push yourself as far and hard as you can. Accepting the limits others place on you could severely limit what you can achieve this year. One way to start the New Year right is to commit to learning and doing new things regularly. So this month for example, we encourage you to try something new and stick with it for the next 30 days. It could be something as simple as exercising for 30 minutes a day or reading a new book. Commit to trying new things all through the year and reviewing the impact it makes on your life.
Build Value Every Day: When businesses commit to building the trust customers have in them, it is called branding. With individuals, it is called building trust. Customers prefer to do business with people they trust and people who make them feel special. One way to start the New Year right this year is to create a ritual that ensures you reach out to at least three possible or current customers every day. This isn't about asking for more business, it is about adding value to them. The more people you help, the more profits you'll see. When you or your business develops a reputation for adding value, you'll find that business opportunities come easily.
Be Realistic: Being optimistic is essential if you will achieve the extraordinary. However, optimists must also balance their dreams with the truth. As you start this New Year, dream big but also balance those dreams out with reality. You can do this by setting practical goals with measurable milestones. This is particularly important because if you set unrealistic goals, they won't be achieved. That failure will in turn lead to disappointment which can affect your other goals. By being realistic, you give yourself a better chance to achieve your set goals.
Create an Environment that fosters Success: Your environment plays a big part in your overall success. Having the right people around you can be the key to your success or failure. For instance, if being around a certain friend always leaves you discouraged, you should definitely limit how much time you spend with that person. Instead, nurture your mental and emotional well-being by choosing friends who genuinely want you to succeed. Also, make friends with successful, motivated people because their drive for success will rub off on you.
Be Selective with your Energy: Our last tip on how to start the New Year right is to be selective with how you use your energy. For example, if you're facing an unusually difficult problem, do all you can to resolve the issue. At the same time however, determine within yourself that if it can't be fixed, you will find alternate solutions. Whatever you do, don't invest more energy or resources than you need to. Doing this prevents you from spending valuable time on irrelevant things and helps you enjoy the peace.
Are there other ways you typically start your year? Do you have additional tips you engage when preparing to start your year? Feel free to share your thoughts with us. We would love to hear from you.
Today's Funny Quote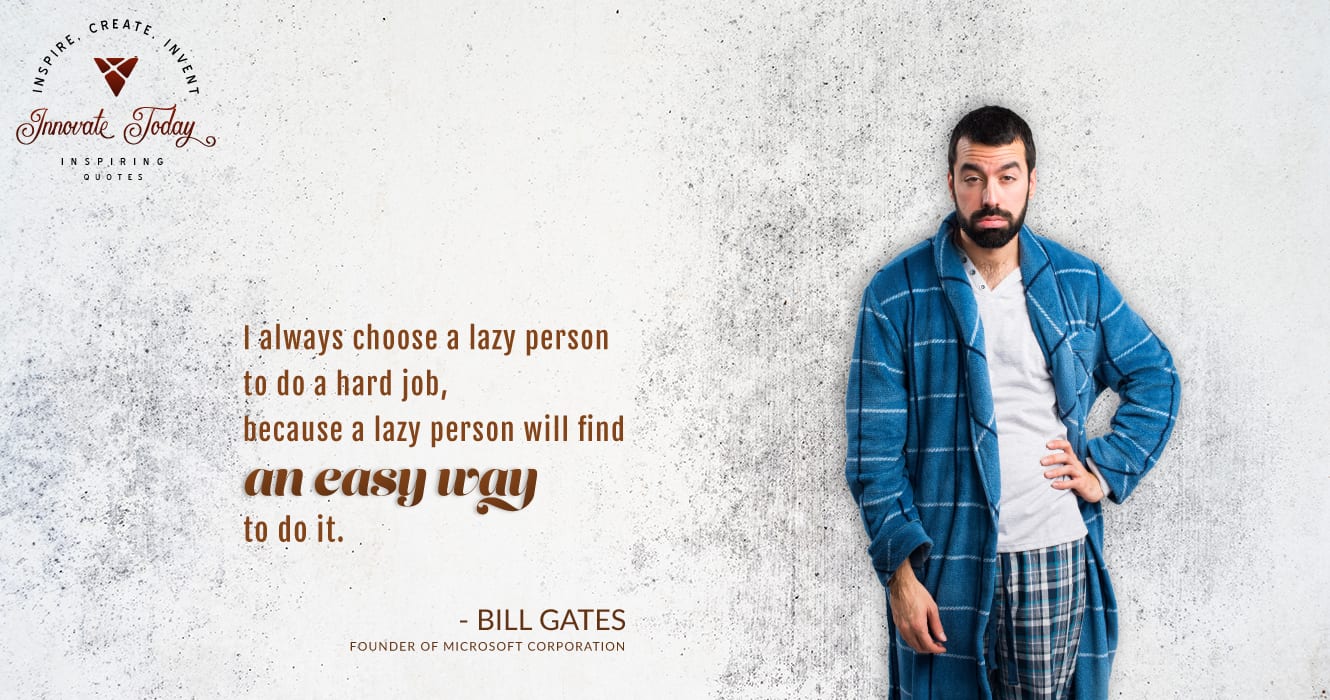 Our funny quote today is by Bill Gates, the American Business Magnate and Software Developer.
I choose a lazy person to do a hard job, because a lazy person will find an easy way to do it.
If you found this post useful, kindly remember to share it on social media. Also remember to follow us on Facebook, Twitter and Instagram. Our social media handle is @idscreate.
We hope that these tips on how to start the New Year right will help you as you kick things off this 2020. Have a great week ahead and we will see you again on Friday with another inspiring post.

Innovate Design Studios creates innovative web design solutions that provide you with a secure, custom designed web presence that promotes your business and generates revenue and exposure.