H

appy New Year! In this post, we've put together ten inspirational New Year quotes to start your year. These inspiring quotes for 2020 will get you motivated and ready to take on the New Year and this new decade successfully. In this New Year, we at Innovate Today are committed to inspiring you to accomplish your dreams and goals. We are doing this because there is so much negativity in the world today.

Everywhere you look, you find bad news and negative reports. Innovate Today, our blog at Innovate Design Studios Ltd is a beacon of hope in today's world of negativity. Our mission is to inspire you to be creative and pursue your dreams and goals. This is why we would like to invite you to subscribe to our electronic mailing list. Your subscription will ensure that you receive every inspiring post we publish this New Year. To subscribe, simply enter your name and email in the subscribe section below:

Please enter your name and email address to subscribe.

We are on your side. We believe in you and know that you can achieve the goals you've set out to reach this year. On this note, we would also like to share these related posts we've written in the past to further inspire you:
With that said, let's take a look at why we need New Year inspirational quotes as we start this year.
Why you need New Year Inspirational Quotes
Everyone needs inspiration. Regardless of what goals you're setting your New Year resolutions around, the truth is that it can be daunting taking up new challenges. This year is particularly unique because it is also the beginning of the 2020 decade. If you've started to feel the pressure of responsibility that this decade will demand, like we do, then you need these inspiring quotes for 2020 and inspiration all through the year.
As you start off in 2020, bear in mind that every New Year is a great time to change attitudes. What that means is that we all have the advantage of a fresh start. Even though you may have carried some burdens from last year into this year, remember that the New Year comes new possibilities. So leave 2019 in 2019!
To help you start your 2020 with positive vibes, here are the ten inspirational New Year quotes we've put together to help you start your year and keep you motivated in the New Year.
Ten Inspirational New Year Quotes to Start your Year
We all need a fresh start every year. It's important that we go into the New Year with an open mind and a new way of thinking. – Tony A. Gaskins Jr.
Take the first step in faith. You don't have to see the whole staircase, just take the first step. – Martin Luther King, Jr.
For last year's words belong to last year's language. And this year's words await another voice. – T. S. Eliot.
A new year is a time for inspirational dreams but more importantly a time to set your goals to see the dreams turn into a reality. – Samuel Fixon
Your success and happiness lies in you. Resolve to keep happy, and your joy and you shall form an invincible host against difficulties. – Helen Keller
Character is the ability to carry out a good resolution long after the excitement of the moment has passed. – Cavett Robert
New Year – a new chapter, new verse, or just the same old story? Ultimately we write it. The choice is ours. ― Alex Morritt
Each new breath and moment is a gift. We can choose to start with a clean slate in the here and now. – K. J. Kilton
Starting over is an acceptance of a past we can't change, an unrelenting conviction that the future can be different, and the stubborn wisdom to use the past to make the future what the past was not. – Craig D. Lounsbrough
If I'm an advocate for anything, it's to move. As far as you can, as much as you can. Across the ocean or simply across the river. The extent to which you can walk in someone else's shoes or at least eat their food, it's a plus for everybody. Open your mind, get up off the couch, move. — Anthony Bourdain
We encourage you to take some time to think over these inspiring quotes for 2020 as you make plans for the year. We particularly like the second quote on our list by Martin Luther King, Jr. about taking your first steps in faith. Also, we encourage you to read through the related articles we listed above. Our article on Preparing for Success in 2020, for example, will be quite helpful.
Which of our inspiring quotes for the New Year did you find most inspiring? Also, how were your holidays? Leave us a comment at the end of this post. As always, we would love to hear from you.
Today's Funny Quote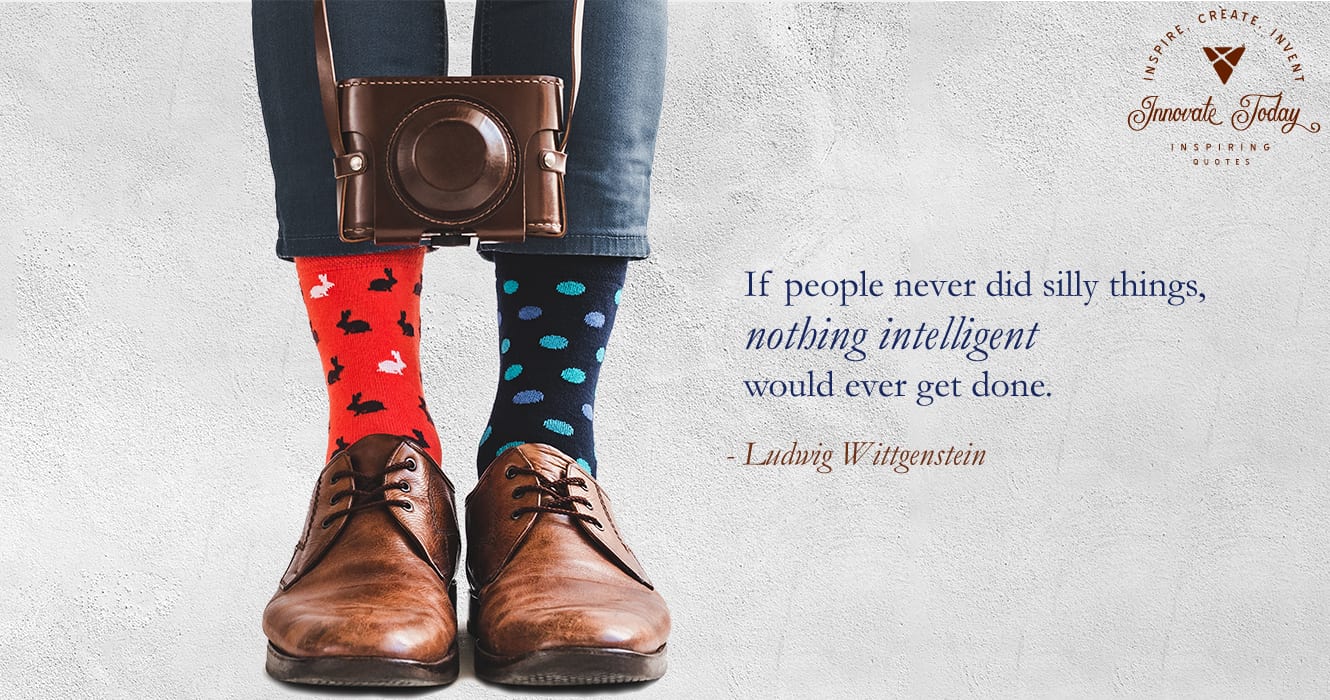 Our funny quote today is by Ludwig Wittgenstein, the Austrian Philosopher
If people never did silly things, nothing intelligent would ever get done.
If you enjoyed this post, kindly share it on social media. Also remember to follow us on Facebook, Twitter and Instagram. Our social media handle is @idscreate.
We look forward to an awesome year of inspiration and creativity this 2020. Have a great weekend and we will see you again on Monday.

Innovate Design Studios creates innovative web design solutions that provide you with a secure, custom designed web presence that promotes your business and generates revenue and exposure.