H

ard work usually pays off in the form of success. For most of us, its end result, success, is usually enough incentive to make us put our noses to the grindstone and strive towards our goals. Having that strong work ethic is essential, especially if you want to be very successful. Sometimes however, hard work is well, hard. At such times, what you need is a little motivation to get you going again.

In our post today, we share ten inspiring quotes about hard work to give you that extra nudge you need to succeed. Before we get into that however, let's take a quick look at some of its benefits and why it is so important.
What is Hard Work?
Oxford dictionary defines hard work as a great deal of effort or endurance. It involves perseverance, learning, skills, teamwork and effort. When a person works hard at their job, they are said to have a strong work ethic. This is good because a strong work ethic is the foundation for career success. So what are the benefits of working hard?
Benefits of Working Hard
The truth is that working hard is not glamorous. It's not easy to put in those late hours doing research, learning new skills or trying to meet tight deadlines. Nevertheless, hard work is at the heart of every successful person and organization.
In this section, we have listed five benefits of working hard:
It gives you an advantage in a competitive environment and helps you stand out and get noticed.
It builds confidence, which helps one achieve one's goals. Working hard also gives you the ability to push through tough times and learn from the experience. 
A strong work ethic allows you to experience the joy that comes from overcoming struggles and setbacks and succeeding.
Along with increased mental toughness, a strong work ethic helps you improve yourself. It also helps you develop self-discipline and focus.
It increases your motivation to achieve more and gives you that that satisfaction that comes from accomplishing important goals. 
Ten Inspiring Quotes about Hard Work
A strong work ethic is extremely beneficial as we have seen. It was Thomas Edison, the great inventor that said
Genius is one percent inspiration and ninety-nine percent perspiration.
While working hard is necessary, sometimes we may need to take a step back to get inspired and re-energized. So here are ten inspiring quotes about hard work that we hope will inspire you.
There is no substitute for hard work. Never give up, never stop believing. Never stop fighting. – Hope Hicks
There are no secrets to success. It is the result of preparation, hard work, and learning from failure. – Colin Powell
Success isn't always about greatness. It's about consistency. Consistent hard work leads to success. Greatness will come. – Dwayne Johnson
Opportunities are usually disguised as hard work, so most people don't recognize them. – Ann Landers 
Striving for success without hard work is like trying to harvest where you haven't planted. – David Bly 
Nothing worthwhile comes easily. Work, continuous work and hard work, is the only way to accomplish results that last. – Napoleon Hill 
Successful people are not gifted; they just work hard, then succeed on purpose. – G.K. Nielson
Hard work opens doors and shows the world that you are serious about being one of those rare – and special – human beings who use the fullness of their talents to do their very best. – Robin S. Sharma
I believe in work, hard work, and long hours of work. Men do not breakdown from overwork, but from worry and dissipation. – Charles Evans Hughes
Football teaches you hard work. It takes a lot of unspectacular preparation to have spectacular results in both business and football. – Roger Staubach
As we conclude, we would like to ask how you have motivated yourself when things get tough. Are there any particularly special quotes about working hard you find inspiring? Kindly share them with us in the comments section at the bottom of this page. We would love to hear from you. If you'd like to view more inspiring quotes on work, check out our post titled Ten Short Motivational Quotes for Work.
If you were inspired by our list of inspiring quotes, remember to subscribe to our Innovate Today mailing list. This way, you can get future post notifications by email. Simply enter your name and email in the section below
Please enter your name and email address to subscribe.
Today's Funny Quote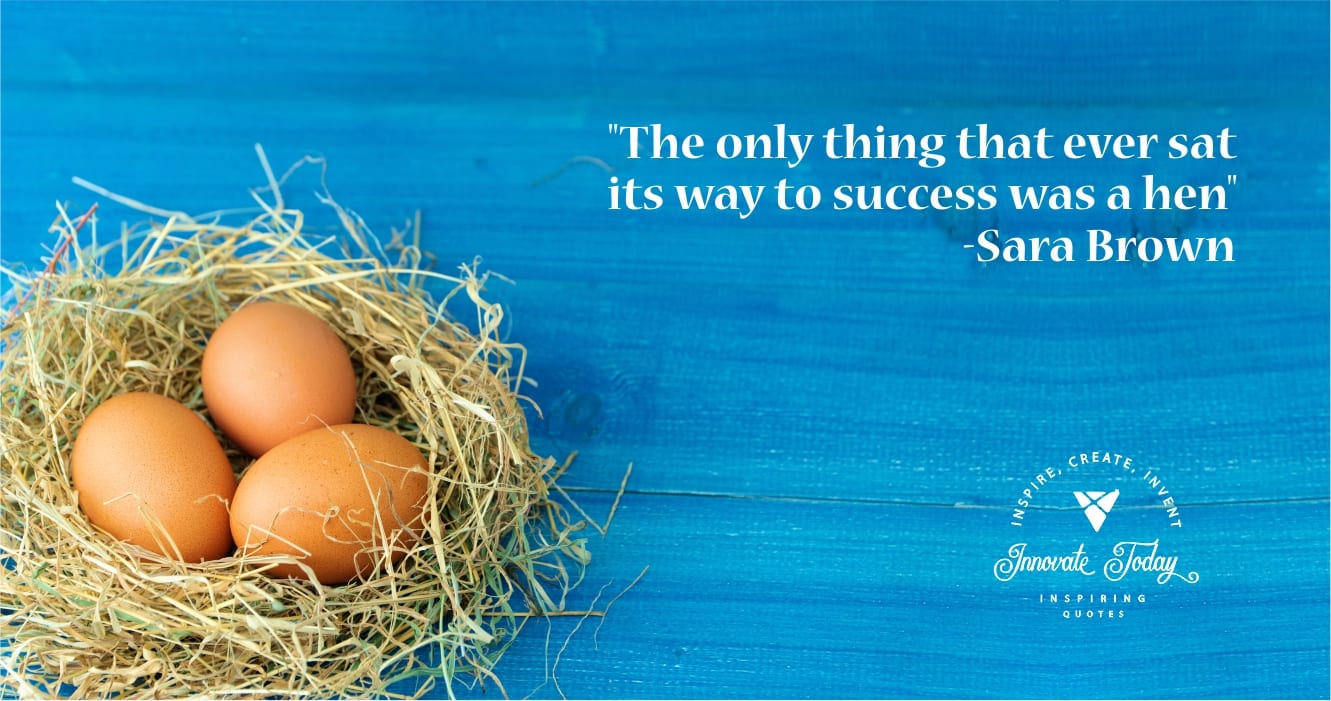 As is our custom, we end our post today with a funny Quote. Today's funny quote is by Sarah Brown, the Actress,
The only thing that ever sat its way to success was a hen.                                       
If you liked this post, take a minute to share it on Facebook, Twitter or Instagram. Also remember to follow our pages. Our social media handle is @idscreate.
Have a great week ahead and we will see you again on Friday.

Innovate Design Studios creates innovative web design solutions that provide you with a secure, custom designed web presence that promotes your business and generates revenue and exposure.